Our guide to Portland's best bakeries and chocolate shops – part 2
[updated 1.17] 

For visitors or locals, here is part II our guide to Portland's best bakeries, patisseries, chocolate purveyors and chocolatiers. You'll find part 1 of this series is here.
New Cascadia Traditional
This is a completely gluten-free bakery offering breads, pastries and cookies. New Cascadia sells at the Portland Farmers Markets, but they also have a new storefront cafe near SE Hawthorne with coffee, tea and other beverages. Cookies include peanut butter chocolate, ginger lemon, and a vegan chocolate chip version. Pastries include things like fruit pies, cinnamon rolls, cupcakes and brownies. Whole cakes are available by special order.
Nuvrei
"Founded by Owner/Pâtissier Marius Pop, Nuvrei is a pâtisserie in Portland's Pearl District, known for skill, sophistication and innovation. Marius Pop worked under François Payard in New York before returning to Portland to open his own shop. Trained in French techniques, Pop uses classic pastry as a platform for modern experimentation and creativity. Nuvrei uses the highest quality ingredients in all of their products, each made carefully by hand." Nuvrei sells wholesale to many of Portland's fine cafes and restaurants, so you might already be familiar with their brioches, chocolate chew cookies, and Wild Berry Danishes. Yet, Nuvrei also has a tiny little storefront located in a Pearl District basement. Orders can be placed, including special orders for cakes by calling ahead. Look for the bakery hidden below street level on NW 10th st. You'll know you are there by the odor of baking pastry. Their products are also available at many Portland coffeehouses.
 Papa Haydn
A Portland dining institution, Papa Haydn are full restaurants, but they are most well known for their huge selection of desserts. Desserts are available for carry out, and are often from the ooey-gooey chocolate and dairy rich school of pastries, but hey there's nothing wrong with that. They often look like something you'd expect to see on the British Baking Show. Expect a large selection of New York style cheesecakes, panna cotta, and crème brulee alongside Dobos torte, Cassata cake, and a variety of cream and fruit pies. Whole cakes are available for order with 24 hours advanced notice, and they do offer an extensive custom wedding cake service. One warning, both locations are extremely popular – be prepared to wait for a table.
Pearl Bakery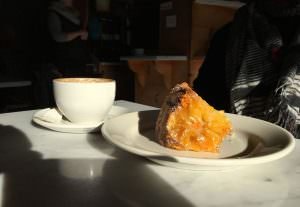 These pioneers have been baking artisan breads, cakes and other pastries since 1997 in Portland's Pearl district, when the area was still a gritty semi-warehouse district. As the neighborhood grew upscale, they've expanded the cafe offerings over the years to include soups and sandwiches, but the baked goods still hold court. Lately, they have upped their game substantially, adding a variety of pastries and cakes. Alongside croissants, scones and cookies, look for their signature Gibrassier – a traditional treat from Provence made from a sugar dusted brioche-type bun infused with anise. Other specialties include Parisian macaroons, several types of tarts and layer cakes, and a rare sighting in Portland bakeries, traditional Gateau Basque, which is really a crumbly double crust tart stuffed with pastry cream and cherry preserves. Time for lunch? The sandwiches are excellent, though a bit overly enthusiastic.
Piece of Cake Bakery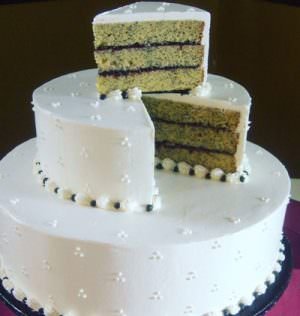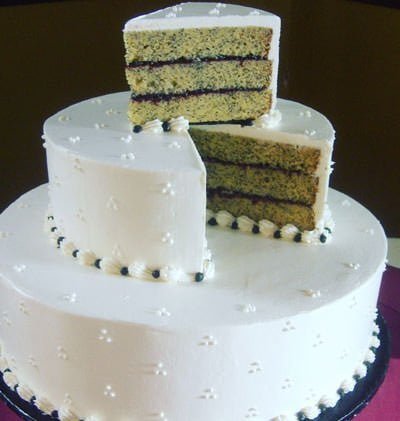 This bakery in the Sellwood neighborhood runs the gamut from elaborate tiered fantasy wedding and other cakes, to basic desserts, cookies, and other treats. Cakes come in a huge amount of types and flavor combinations. These include standards such as carrot, lemon poppy seed, and Devil's Food, alongside oatmeal cake, apple rum, berry, and chocolate peanut butter. They even provide options such as sugar free, vegan, and gluten free. You name it, they can probably make it. Living up to their namesake, Piece of Cake has all of their cakes for sale by the slice, while whole cakes come to order in several sizes. Pies include fruit versions as well as a signature Key Lime. Cupcakes, brownies, and tiramisu round out the offerings. This is not a place to visit if you are claustrophobic –  it is jammed from counter to ceiling with sample cakes, cake decorations and other bakery accouterments such as bride and groom toppings, ribbons and boxes. They do wedding cakes and custom orders, of course.
 Pix Patisserie
Pix is the Parisian princess of the Portland sweet shops, showing up in international guidebooks and is a de facto stop for many visiting guests and locals alike. Part quirky late night "date" bar serving champagne and other cocktails, part daytime cafe with the usual fixings, and part dessert shop, the funky French thrift store decor and late night hours only add to the vibe. Yet, Pix is also a serious patisserie and chocolatier featuring classic small pastry offerings such as Dobos torte, Gateau Opera, Macarons, and various creative creams, cakes and tarts. Their signature Amelie once won the Patis France Chocolate Competition. It is made with orange vanilla crème brûlée atop a glazed chocolate mousse, caramelized hazelnuts, praline crisp, and Cointreau génoise.  Chocolates include house soaked kir cherries covered in dark chocolate  and a variety of infused, stuffed and flavored selections; they also makes their own ice-creams. Pix has won many awards for having one of the best wine lists in the nation, and the best Champagne and Sparkling Wine List in the World… and the staff is knowledgeable about many selections. Look for special events such as their prix fixe dessert dim sum, spirit and dessert pairings, or kitschy movie nights.
La Provence & Petite Provence Boulangerie and Patisserie
La Provence has three formidably sized locations in the Portland area, and one in the Dalles, making them more Grande Provence than Petite. And even though this self-proclaimed boulangerie and patisserie has an extensive menu more suited to a restaurant, including sandwiches, soups, salads and full breakfast, they do indeed offer a huge selection of pastries. Look for French favorites such as croissants, pain aux raisins, and palmiers alongside more Yankee sweets such as Bear Claws, fruit turnovers and coffee cakes. Dessert pastries are indeed quite Gallic though, including Chocolate Mousse, Strawberry Charlotte, and a classic apple and salted butter caramel Tart Tatin. Custom catering orders and wedding cakes are also available.
Random Order Coffeehouse and Bakery
Random Order is a neighborhood cafe that makes cakes, pies and other baked goods, but also sources from bakeries such as the Pearl Bakery. Yet when it comes to house made pies, this is where Random Order really shines. Expect a dozen or so choices on any given day, including Banana Rum cream pie, Vanilla Apple Salted Caramel, or Oregon Cherry. Random Order Coffeehouse & Bakery has a full liquor license and is open till around 11 pm Thurs – Sat, making it a perfect stop for an end of the evening Spanish Coffee and a slice of Chocolate Cream pie, or a warm up with a glass of champagne and a slice of Marion Berry pie before a night on the town. Pieces are available by the slice, or whole pies are available upon special order. Contact them for details, and be sure to reserve in advance for major holidays.
Roman Candle Baking Co.
Roman Candle Baking opened in 2013 by Duane Sorenson, founder of Stumptown Coffee. As far as bakeries go, this one stands out for the amount of money spent on the building. Marble, rustic wood beams and dark walnut tables help create a comfortable ambience, but the star is the food. The selection of baked goods is small, but as of this writing, the quality is some of the best in the city. I'd put their puff pastry up against any in Oregon; full of crispy little layers that crackle gently when you bite into them. Selection rotates, but a few items are always on the menu: the crusty Kouign Amann cake, seasonal fruit danish, chocolate croissant, morning buns and bran muffins. Since opening, the bakery has expanded their offerings to include salads, sandwiches, and pizza. Like many people, I'm burnt out on kale, but the salad here with pine nuts, currants, pecorino romano, lemon and breadcrumbs is worth the rather steep $12; I get it every time I'm here. Breakfast is a bit more upscale too; try the "everything bun with steamed duck egg and aged cheddar". Of course, owing to the owner's roots, the coffee is terrific.
St Honore Boulangerie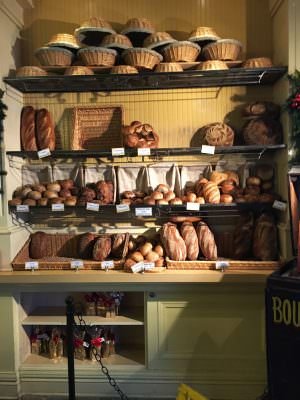 A quintessential Parisian style cafe-bakery-patisserie, or at least an American fantasy version of one. We'll let you be the judge of St. Honore's quality and authenticity, but feel free to read our hotly debated review from 2007. A variety of croissants, brioches and other classic French sweet breads share space with tarts, custard flavored Canelet, and Chouquettes – sugary, puffy baked pastry balls made from buttery pate á choux dough. Desserts include several French classics such as Eclairs, Napoleons, fruit and pastry cream filled Mille Fleurs, and the like. A great selection of sandwiches and salads are also available, making this a great place to end a hike in Forest Park, or from the second location, stroll around SE Division. Both are close to Salt & Straw – why not throw the diet out the window and truly go for it!
Sweets Etc.
Billing itself as "Portland's largest old fashioned candy store", Sweets Etc. does indeed have row upon row of American and European penny candies, including 15 different types of liquorice, and a large selection of gummies. Yet, this store in the heart of Multnomah Village also has a sophisticated side, carrying items from many specialty domestic and foreign chocolatiers such as Michel Cluizel from France, Caffarell from Italy, and Ke Kau Chocolatier from Eugene. Handmade fudge, truffles and bon-bons are made in store. Looking for that unusual German candy you once had as an exchange student, or that crumble candy bar you remember from your English grandmother? Then ask them, on the odd chance they don't carry it, they can probably help track it down.
Sweetpea Baking Co.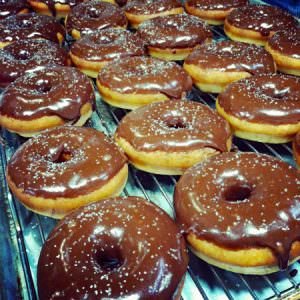 100% vegan, Sweetpea offers standard bakery fare, sans animal products, including cakes, cupcakes, cookies and other pastries. Boston Cream Pie, Banana Peanut Butter, Chocolate Decadence, Lemon Chiffon are but a few of the flavors. They can make cakes, gluten free in many cases, and can make some baked goods soy free as well. Custom orders, including wedding cakes, are available. The storefront is also a cafe offering soups, sandwiches and coffee/espresso beverages.
 Tulip Pastry Shop
Once upon a time in most American cities the term "bakery" conjured up images of places like Tulip – simple linoleum floored and florescent lit storefronts selling basic breads, row upon row of cookies, sticky buns, and custom cakes with fancy frosting and cursive writing. Located in the St. Johns neighborhood, Tulip Bakery is one of a few of its type left in Portland, but continues to provide the neighborhood with coffee cakes, seasonal items such as hot cross buns, and yes, cookies and cakes. This bakery is indeed cute – look for their whimsical seasonal window displays and a fancy vintage neon sign above the door. Do look past the design though, to try one of their freshly made maple bars made with real maple. Closed Monday – Tuesday.