Our guide to Portland Oregon Sweet Shops, Bakeries and Chocolate
(complete update: 1.17 – new additions, changes)
Part one A through M. Part two is here

Portland is well-known for great beers, coffee, and quality European style artisan breads, yet we also boast a very large choice of sweet shops, patisseries, chocolate purveyors and chocolatiers. For visitors or locals, here is our guide. Although this list doesn't include everyone in the Yellow Pages, it does cover many of the more popular spots. If we've missed your favorite, let us know and we'll investigate, and add them to future updates. We aren't focusing on ice-cream shops or bread bakeries here, we'll save those for another time.
Alma Chocolate
In the past five years of business, chocolatier Sarah Hart, who started from a small table at the Farmers Market, has become what French Elle Magazine named as 'one of the Up and Coming Young Chocolatiers in the United States'. You can read the Portland Food and Drink interview with Sarah here. Alma's signature icons, made from solid, dark single origin chocolates, in shapes such as traditional South American religious figures, the Hand of Fatima, and even an anatomically correct heart, are all dusted with edible gold. Dozens of bon-bons in creative flavors include a spicy Thai Peanut Butter Cup (one of my favorites), Salted Lavender Caramel, and a Chèvre and Black Pepper covered in dark ganache. Other items include toffee, barks and house-made candy bars. Mail order chocolates are available online, while the storefront features a small café with espresso drinks, hot chocolate, and homemade cookies and cakes. A rotating selection of local art for sale graces the walls, while chocolates from smaller chocolate makers (such as Portland based Lulu's Raw Chocolate Alchemy) are also available. You'll find an interview with Sara here.
Bakeshop
Bakeshop, which opened in early 2012, is owned by Kim Boyce, of the James Beard Award winning cookbook, Good to the Grain: Baking with Whole-Grain Flours. She worked for years with Nancy Silverton, founder of Campanile and La Brea Bakery. Bakeshop has a growing following for their seasonal pastries, specialty items. and wholesale products. The shop is very small – just a few stools, but is well worth the visit. You'll find an interview with Kim and Thomas Boyce here.
5351 NE Sandy Blvd, Portland OR. 97213 map
(503) 946-8884
Baker and Spice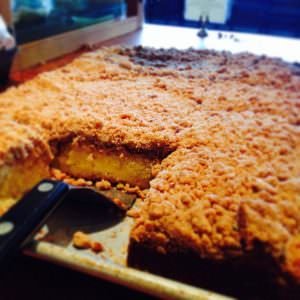 A successful bakery in the suburbs-meet-the-city Hillsdale area, Baker and Spice is one of the most popular bakeries in suburbs of SW Portland. You can read Portland Food and Drink's extensive write-up Baker and Spice here. They have also spun off  The Cakery – cake shop just a few doors down from the main bakery. I'm addicted to the cookies and the Irish Whiskey Cake (only available around St. Patrick's Day), but the coffee cake is a huge seller. The bakery also features soups, salads, "grab-and-go" sandwiches and more, all of which are above average in quality. Beware, during peak hours it can be difficult to get a table.
Cacao Chocolate
One of Portland's most extensive and knowledgeable chocolate shops, Cacao rivals the best of the best. We've waxed poetic about the wonders of Cacao before, and even the NY Times has taken note, calling Cacao "…where chocolate prêt-à-porter meets chocolate haute couture…". With chocolates from some of the world's leading chocolate makers, such as Vosges, Fran's, and Cafe Tasse, alongside up-and-coming locals such as Xocolatl de David, it's hard to disagree. The jewel case near the front counter features a rotating selection of individual pieces, while tables and shelves are stacked with bars of all sorts. The staff is knowledgeable, and can help pair you with a chocolate for your taste buds, or they will find absolutely the right chocolate for use in a specific dessert. Cacao is also a café worth lingering in. Their selection of thick European style drinking chocolates comes in your choice of traditional dark chocolate, a spiced version, or a lighter type. They are a decadent but affordable pick-me up, at less than $3.00 for a small, but very filling cup. Mail order is available by phone or email.
Crema Coffee & Bakery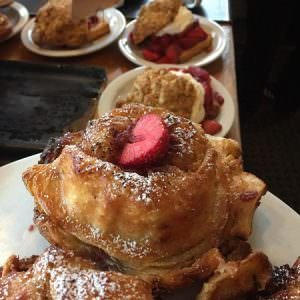 This café/bakery is almost always busy. It's gone through a few changes over the years, but continues to provide a bevy of house-made baked goods. It's a large, bright and cavernous space that can also be painfully loud at times, but no matter. When the weather is fine the large garage doors open to the street, reminding Portlanders why we put up with 6 months worth of gray and rain each year. Expect scones, croissants and other breakfast type pastries, alongside cheddar corn biscuits, bread puddings, and a very popular chocolate bread.
Cupcake Jones
Cupcakes! First opened in 2007, Cupcake Jones has now expanded from their first location in Portland's Pearl District to a second on NE Alberta. Everything is scratch-baked using natural ingredients. Their specialties include items such as the Velvet Painting – white velvet cake filled with vanilla bean pastry cream, topped with vanilla bean butter cream icing and a white chocolate pearl, or the Downtown Cupcake Brown – devil's food cake filled with sour cream chocolate ganache, topped with fresh grated dark chocolate. Weddings and events are a specialty. I'm partial to the pumpkin pie cupcakes, and anything with their lemon curd. Take the kids for mini-cupcakes.
Helen Bernhard Bakery
In a city with Parisian quality patisserie, and James Beard award-winning artisan bakeries, sometimes you just want a good old-fashioned American Bakery. The kind with a scuffled formica floor, a take a ticket number system for customers, cakes, cookies by the dozen, and even that antiquated, "ladies who lunch" classic: petite fours. We keep coming back to Helen Bernhard's because after being in business since 1924, they've perfected their craft. Bernhard's also makes bread daily from thin sliced white for canapés, to classic raisin bread.  A go to for custom birthday and other cakes – always moist, light, perfect using real butter cream, vanilla and sugar.
Jaciva's Bakery And Chocolatiers
JaCiva's is one of Portland's older gourmet pastry and chocolate shops, having opened its doors in 1986.  For many Portland families, this is still the de facto place to go for a wide variety of birthday or wedding cakes and other special occasion treats, many on sale in the shop every day. Napoleons, chocolate lava cakes and tortes sit alongside handmade chocolates, including candied and dipped orange peels, various flavored truffles, and all kinds of bon-bons. Chef Jack has a formal Swiss pastry education, so look for an upscale spin on their products. Their custom chocolates are a thing of beauty.
Ken's Artisan Bakery
Ken Forkish opened Ken's Artisan Bakery in 2001 to accolades from Travel + Leisure, The Los Angeles Times and more. Known mostly for their artisan breads, Ken's also makes a variety of pastries. Expect French traditional selections like croissants, cannelés, brightly-colored macarons, and seasonal fruit tarts. American-style baked goods include pound cakes, Valrhona chocolate chip cookies, and flaky, sweet, orange Morning Buns. This café is a popular spot on bustling NW 21st. Expect long lines and hectic service during the morning rush and especially on the weekends. However, hit it on an off time and have a moment of relaxation with a cup of coffee and a pastry. Ken's has recently started offering pastries along with pizza at Trifecta Annex in Pine Street Market, SW/Downtown. Want more? Try Ken's Artisan Pizza, which is consistently voted one of the best in Portland by our readers.
We have an interview with owner Ken Forkish here.
Lauretta Jean's
When you specialize in pie, you'd better be Blue Ribbon State Fair worthy. Loretta Jean's pulls through, with perfect pies – flaky, melt in your mouth crusts and tender, never too cloying sweet fillings. Pies are often seasonal: Strawberry in late spring, Blackberry in summer, S'mores Pie in winter. Other pies rotate on the menu from a textbook traditional pecan and coconut cream, to a fancy pear streusel and salted honey pie. The Division Street location also acts as a breakfast-lunch spot with a tight menu of biscuits such as biscuits Benedict or biscuit egg sandwiches, while lunch offers homemade soups, salads and sandwiches. The atmosphere is a flashback to cosy cafes, comfortable alone or with a friend. Don't miss the pies in the cooler behind the register.
The downtown location also serves coffee and espresso drinks out of a tiny, but charming storefront.
Little T American Bakers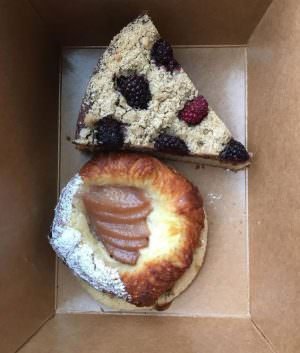 A newcomer to the pastry scene, this café/bakery opened in June 2008 and has already gained a legion of fans for their French baguettes, other breads, and pastries. Many people consider it a tossup with Bakeshop for best bakery in Portland. Sometimes I get up early on Sunday morning and drive over just to beat the crowds. I've been known to eat an entire mini-baguette in a sitting, and their toffee cookies call to me like a siren on the rocks. Just get over there and try them for yourself.
Lovejoy Bakers
A recent post on the Lovejoy Bakers Blog read, "Light, Airy, Buttery, Goodness." Yep, that pretty much sums it up. Baked in the Viennoiserie style, this means baked goods here are in the classic patisserie tradition of feather-light croissants, creamy éclairs, and a very addictive hazelnut caramel tart. Scones are textbook British with the addition of things like crystallized ginger or dates. American treats include rich moist coffee cakes, muffins, and Walnut Cinnamon Gooey-Buns. This is also a full service café serving breakfast and lunch alongside espresso and coffee.
The Meadow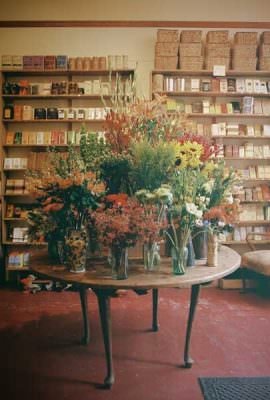 Although internationally known for their large selection of specialty salts, The Meadow is also florist, wine and gift shop combined, and carries a fine selection of chocolates. A wide variety of international and domestic artisan producers are available, including several local chocolatiers, including Xocolatl de David. They also carry caramels, and have launched their own line of different flavored salted chocolates, such as Iburi Jio Cherrywood Roasted Salt on 75% São Tomé dark chocolate, or another covered in Moshio Seaweed Salt. Owner Mark Bitterman has authored multiple books, including the well-regarded Salted: A Manifesto on the World's Most Essential Mineral with Recipes. The store has now expanded to New York City, and there are two Portland locations. The largest collection is at the NW 23rd Ave. store, where they stock around 400 chocolates. The staff will help you narrow down exactly what you want. Mail order is available online.
Moonstruck Chocolate Co.
Before terms like Cacao Percentage or Nibs made it into Portland's culinary vocabulary, there was Moonstruck. Moonstruck began in the early part of the 1990s chocolate truffle craze, and has continued to expand into the Portland area. Making "Oprah's Favorite Things" list, has increased their popularity even more. The chocolates are high quality; but don't expect bitter-sweet single-origin dark chocolates here. This is the place to go for smooth and sugary truffles made with a wallop of local Clear Creek Pear Brandy, Bunny shaped milk chocolate versions with almond "ears", or the Wild Huckleberry – a milk chocolate shell stuffed with white chocolate ganache and huckleberry preserves. Moonstruck also makes a few solid bars and caramels, and a variety of "goo-goo clusters" with nuts, creamy caramel and chocolate shells. The store locations serve coffee, hot chocolates and some specialty drinks such as chocolate-chai. Note: the flagship downtown store on SW Alder is not for the claustrophobic. The customer area is only about 10 feet long x 6 feet wide, making it a mad house if more than three people are there at the same time. Mail Order Available Online.