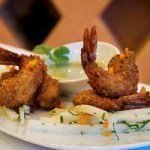 Andina – honors the American Thanksgiving celebration on Thursday, Nov. 22 with a Peruvian three-course prix fixe menu (tapas, main entrée and dessert) featuring celebrated favorites and specials that honor Andean flavors and ingredients. The Thanksgiving menu is available from 1 p.m. to 9:30 p.m. with the courtyard and bar open to 11 p.m. The price is $55 per adult and child over 12, and $27.50 for children 5-11 years. Children under the age of five may order à la carte from the regular menu. The entrée special will be Pavo al Horno con Calabaza y Salsa de Saúco, heritage turkey, dusted with a tres ajies rub and slow roasted, served with quinoa-hazelnut stuffing, mâche salad, caramelized Uncle David Dakota squash, and elderberry gravy. Live music will take place throughout the day. For reservations, please call Andina at 503-228-9535 or book online at opentable.com. 1314 NW Glisan St, Portland, OR 97209. Map
Bistro Maison– We are open all day on Thanksgiving Thursday, November 22, 2012. Accepting Reservations from noon to 7:30pm. Why cook when you can dine out in the most quaint and charming settings? We have a delicious & super festive alternative to endless shopping lists and hours spent slaving over a hot stove. Added bonus: no dishes to wash and lots of time to enjoy your company. Now there's a reason to give thanks.
This year join us once again or start a new holiday tradition and celebrate Thanksgiving Day at Bistro Maison. Enjoy the holiday spirit with a three-course prix-fixe featuring the delicious holiday-inspired cuisine of Chef Jean-Jacques Chatelard. For more information call (503) 474-1888. 729 NE Third Street, McMinnville, OR 97128. Map
Bluehour – Thanksgiving Dinner 2012 at Bluehour – $50 per person, 3-course menu.
To view the menu, please click here. For reservations and information call (503)226-3394. 250 Northwest 13th Avenue, Portland Oregon 97209. Map
Country Cat – The Country Cat will have a 4-course prix fixe Thanksgiving Dinner for $45 per person. At The Country Cat, all meat is butchered in-house by chef Adam Sappington. The menu will feature delicious traditional Thanksgiving dishes like Brined, Smoked & Braised Turkey with Granny Criss's stuffing, Mashed Potatoes & Gravy, Honey Glazed Carrots, & Cranberry Sauce, but diners can also find delicious vegetarian options on the menu, and a kids menu is available upon request. You can see the menu here. Reservations are available for all sized parties up to 12 people. Price does not include beverages or gratuity. 7937 SE Stark St, Portland, OR 97215. (503) 408-1414. Map
Gracies at Hotel DeLuxe – guests will find the restaurant's delectable new small plates menu enhanced with enticing holiday specials in celebration of Thanksgiving.
Gracie's new small plates menu stars the very best regional ingredients and has been inspiring gratitude and rave reviews from diners since debuting earlier this fall. Highlights include: butternut squash bread pudding with fontina and leek cream, crispy polenta with braised greens, spiced cherry duck breast with Szechuan pepper and, the dish that earned Gracie's the top prize in last month's Portland Lamb Jam contest, braised lamb with fruited Israeli cous cous.
On Thanksgiving only, this small plate menu will be offered in tandem with entrée-sized options featuring elegant twists on iconic Thanksgiving dishes and regional favorites.
Gracie's will serve their regular brunch menu from 8 a.m. to 2 p.m. and the small plates menu with Thanksgiving specials from 3 p.m. to 8 p.m. on Thursday, November 22, 2012.
For reservations, call (503) 222-2171 or visit www.opentable.com. The restaurant is located at 729 SW 15th Ave., Portland, OR 97205. Map
Imperial – Those looking for an urban Thanksgiving experience can enjoy an Americana Thanksgiving meal to remember in the heart of downtown Portland at Imperial. The new restaurant will serve its first-ever Thanksgiving to guests from 11am – 9pm and offer a limited regular Imperial menu along with delicious Thanksgiving special, a Roasted Turkey Dinner: Spit Roasted Breast, Confit of Leg Meat with Oyster Stuffing, Mashed Potatoes, Gravy and Cranberries. Pastry Chef Michelle Vernier whips up some Thanksgiving gems for dessert: Old-fashioned Apple, Pecan and Pumpkin Pies; Baked Butterscotch Pudding; as well as Chocolate Hazelnut Icebox Cake. For reservations and information call (503)228-7222.  410 SW Broadway Portland, Oregon 97205. Map
Kenny & Zuke's Delicatessen offers a Thanksgiving take-out menu for those looking for a quick and easy Thanksgiving celebration at home. Order by Monday, November 19 at 3 p.m. and your holiday meal will be ready for pick up on Wednesday, November 21. Menu includes:
Butternut Squash and Hazelnut Soup, Roast Turkey Breast Stuffed with Wild Mushrooms, Ken's Famous Giblet Gravy, Sausage, Mushroom and Sage Stuffing, Cornbread Stuffing with Chestnuts and Caramelized Onions, Garlic Mashed Potatoes, Candied Maple Yams, Roasted Brussels Sprouts with Bacon (available vegetarian), Cranberry/Tangerine Relish, Twice-baked Truffled Potatoes with Pecorino, Pumpkin, Apple and Pecan pies.
For prices and ordering info, please call 503-222-DELI(3354) or visit the website at KennyandZukes.com. 1038 SW Stark St., Portland, OR 97205. Map
Paley's Place will celebrate Thanksgiving this year with a grand feast on Thursday, November 22, presenting plates of traditional holiday favorites with unique Northwest flavors. Paley's Place will serve Thanksgiving offerings like Spit-Roasted Turkey Breast and Confit of Leg, Savory Bread Pudding, Mashed Potatoes and Cranberry-Orange Compote from 2:30 p.m. to 8:30 p.m. The regular dinner menu will also be available. Pastry Chef, Michelle Vernier, will prepare traditional and seasonal desserts. Please call 503-243-2403 for reservations or visit www.paleysplace.net for more information. For reservations and information call (503)243-2403, or go to PaleysPlace.net. 1204 NW 21st Ave, Portland Oregon 97209 Map
Roots – Thanksgiving Day we will offer some Roots favorites such as: King Salmon with fried oysters and sweet potato leek hash, Tomato Bouillabaisse with clams, mussels, prawns and scallops along with traditional Thanksgiving offerings such as:  Sage roasted organic turkey with courdough apple and sausage stuffing, organic cranberry relish, mashed potatoes, gravy and green beans.  Maple glazed ham with sweet potato purée, brown butter brussel sprouts walnuts and quince pear butter. Pumpkin cheesecake and pecan tart.
We hope you will join us! Reservations highly recommended. Call the restaurant at 360-260-3001 or make them online at rootsrestaurantandbar.com. 19215 SE 34th Street, Camas, WA. 98607 Map
Salty's on the Columbia Thanksgiving Buffet  will feature everything from shucked-to-order oysters and their famous seafood chowder to traditional favorites like roasted turkey with chantrelle mushroom gravy, apple-bourbon glazed ham, green bean casserole, and butternut squash with pancetta and sage butter.
First seating 10:30am, Last Seating 6:30pm. $47.99 Adults, $54.99 with bottomless champagne, $1.50 per year of age for children 12 and under.
If you'd like to spend Thanksgiving at home but want some help in the kitchen, these traditional favorites will also be offered for pick-up. Salty's is offering a Thanksgiving "to-go" option. Orders can be placed now through November 21st. Prices are as follows:  $79 for 2 people, $150 for 4 people, $225 for 6 people, $300 for 8 people . For reservations and information call (503)288-4444, or click here.
The Oregon Garden – This Thanksgiving, let the Oregon Garden Resort do the cooking for you and your family. The Resort will be serving a special buffet offering traditional Thanksgiving fare as well as breakfast options on Nov. 22 from 10am to 3pm. The menu features prime rib, roasted turkey and Northwest salmon, as well as waffles with berry compote, fennel and leek bread pudding, baked yams, garlic mashed potatoes and more. Delicious desserts include eggnog cheesecake bars, pumpkin pie with nutmeg cream and chocolate mousse cake. The full menu can be viewed at http://oregongardenresort.com/Restaurant.htm.
Prices for the buffet meal are $25 for adults, $20 for seniors and $12 for kids ages 12 and under. Reservations are required and can be made by calling 503-874-2500.
Following the Thanksgiving buffet, the Oregon Garden View Restaurant will open at 5:30 pm for its regularly scheduled dinner service, including a special Thanksgiving dinner option; reservations are highly recommended.  895 West Main Street, Silverton, Oregon, 97381. Map
Three Degrees Waterfront Bar & Grill – We are open 7-11am for breakfast and 12-5pm for dinner. We are also open for Brunch on Black Friday at 5:30am. Diners can expect dishes such as Roasted Pumpkin Soup, Crisp Duck Confit, Roasted Squash Salad, Red Wine Braised Pot Roast, Maple Glazed Duck Breast and Crispy Whole Trout.. For reservations and information call (503)295-6166, or go to ThreeDegreesPortland.com. 1510 SW Harbor Way, Portland Oregon 97201. Map
Three Square Grill – 2 seatings: 4:30 and 6:30 pm. $50. Per person, kids $15.
Featuring turkey, pork, 3 different stuffings, all sorts of picklopolis stuff including our cranberry preserves and much more.
For 10 years it was invite only. Now we are inviting you. Check out the menu and call for a reservation. . For reservations and information call (503)753-3477, or go to ThreeSquare.com/thanksgiving2012. 6320 SW Capitol Hwy, Portland Oregon 97239. Map
Urban Farmer – will serve a Thanksgiving feast with offerings like Oregon Raised Thanksgiving Turkey, Carmen Ranch New York Strip Steak with Cipolinni Onions and Rosemary, Smashed Red Potatoes and Cinnamon Maple Candied Yams, inspired by seasonal ingredients and sourced from local farmers and ranchers. The three-course dinner menu is $49 per person for adults and $29 per person for children, served from 12:00 p.m. to 9:00 p.m. on Thanksgiving day. Urban Farmer will also be open for a Black Friday Brunch from 6:30 a.m. to 3:00 p.m. to fuel your Day-After-Thanksgiving shopping spree. Reservations are recommended.. For reservations and information call (503)222-4900, or go to UrbanFarmerRestaurant.com (503)222-4900. 525 SW Morrison St., Portland, OR 97204. Map
Wildwood: Enjoy Thanksgiving dinner at Wildwood from 2:00 PM to 7:00 PM. Reservations are required. Our menus are seasonal, featuring the best ingredients of the Pacific Northwest. The Thanksgiving menu will feature Mesquite Roasted Confit of Turkey Leg and Thigh with chanterelle mushroom bread pudding, buttermilk mashed potatoes, cranberry sauce and rosemary gravy. The dessert menu will feature house made apple, pumpkin and bourbon brown butter pecan pies. A variety of other seasonal starters, entrees and desserts will also be available. Please visit our website to view the 2011 Thanksgiving Menu. 1221 NW 21st Avenue, Portland, Oregon 97209.  (503)248-9663. Map
Other Thanksgiving Related Events/Ingredients:
Baker & Spice – Our Thanksgiving menu is up and running! Seasonal pies packed with local fruits & berries, encased in an all butter flaky pastry, holiday galette, caramelized pecan tarts, butterscotch cream pie, savory butternut squash galette and a selection of rolls are available along with a selection of holiday treats, such as gingerbread, cranberry buckles, pumpkin bread, frozen pie pastry, cranberry sauce and sweet & spicy pecans! Visit our website to view the entire menu and read the delicious details.
We highly recommend pre-ordering your holiday treats. Ordering with prepayment guarantees we will have your Thanksgiving goodies set aside just for you. Quantities are limited so please order early to guarantee your selection.
We will take orders & alterations up to 3pm Sunday November 18th. Call (503) 244-7573. 6330 Sw Capitol Hwy, Portland, Or 97239. Map
Please note, we work quickly & efficiently to move our line along briskly however a wait will be inevitable. We appreciate your support of our small bakery!
Elephants Delicatessen – Whether you'd like a little help cooking Thanksgiving or want us to take care of everything, Elephants prepares traditional favorites your guests are sure to love. Orders are welcome online or by phone, for pick up at NW 22nd Ave or Flying Elephants @ Kruse Way, November 19th – 21st, 2012. We've rounded up all the treats we'd love to get, making shopping easy for you! Take care of your whole list with Elephants Gift Baskets & Bags –  perfect for corporate giving! And to make this busy time even easier, we're offering 10% off gift orders over $350. Just enter coupon code "HolidayHerd2012″ when you shop online before 12/01/12 (for delivery or pick up any time this season).
In Good Taste Cooking School – There are exciting events and classes throughout the month of November to help you get ready for Thanksgiving. For more information and to register for the events, please visit our class calendar at www.ingoodtastestore.com. Questions? Call (503) 248-2015. All events will be held at our Lake Oswego Cooking school at 6302 SW Meadows Road, Lake Oswego, OR 97035
– Hands on Holiday Baking on November 10 at 1 pm
– Hands on Huntsman's Thanksgiving – 100-miles dinner on Sunday November 11 at 2 pm
– Hands on Thanksgiving for Two on Friday November 16 at 6 pm
– Hands on Thanksgiving Side Dishes Perfected on Sunday November 18 at 2 pm
– Hands on Kid's Harvest Baking Workshop on Monday November 19 at 10 am
– Hands on Teen's Harvest Baking Workshop on Tuesday November 20 at 10 am
Milwaukie Kitchen and Wine – Don't sweat over the stove! Sleep late! Watch football or movies! Spend time with family & friends… You take care of the turkey and we got you covered for the rest!
Order your sides and desserts at the kitchen. Come pick them up on Thanksgiving Day from 8am to 1pm All you'll have to do is roast, grill or fry your turkey! Sides: Giblets Gravy, Cranberry Grapefruit Chutney, Sausage, Hazelnut & Sage Stuffing, Potato & Gruyère Gratin, Roasted Winter Vegetables, Orange, Pomegranate & Arugula Salad. All 6 sides: $15.00 per person. 
Desserts from Kir Jensen of "The Sugar Cube". Caramelized Apple Crostata – Serves 8/12 – $40.00. Similar to a free form galette, this amazingly flaky, all butter crust nestles up to a mix of juicy Honey Crisp and tart Granny Smith Apples. The warm flavors of caramelized apple and tender, melt in your mouth crust is not to be missed!
Hazel-Can Pie – Serves 8 – $30.00: this is our version of the classic pecan pie, but even better! A mixture of Freddy Guys roasted hazelnuts, buttery pecans and a good dose of Bourbon are baked in all butter crust with just a hint of fine cornmeal. We finish the pies with a light sprinkling of Jacobsen sea salt. It's to die for! Chocolate Coffee Mallow Pie – Serves 8 – $30.00: a rich chocolate, brownie base pie, filled high with an ethereally light coffee mousse. It's then topped with thick drizzles of our famous salted caramel and shaved dark milk chocolate. This is the ULTIMATE in chocolate decadence.
Also, make sure to pick up great bottles of wine from our shelves. Pascal will be available for recommendations and advice. Call in your order: 503-653-3228. 10610 SE Main Street
Milwaukie, OR 97222. Map
OSU Food Safety Hotline – How do you quickly thaw a big turkey? Should you stuff it or not? How do you make turkey giblet gravy like your grandma's? As Thanksgiving approaches, you can get answers to questions like these by calling the Oregon State University Extension Service's holiday food safety hotline at 1-800-354-7319.
The statewide hotline runs from Nov. 13-16 and 19-21 between 10 a.m. and 2 p.m. It's staffed by Extension-trained Master Food Preserver volunteers.
The Extension Service has offered the hotline for more than 20 years. Every November, volunteers with the OSU Extension Service in Douglas and Lane counties field an average of 200 calls from throughout the state, said Nellie Oehler, a retired family community health educator with OSU Extension.
Parties that Cook – Join Parties That Cook this December for a special hands-on baking party where guests will learn to make festive cookies for the next holiday party or potluck. Whether you're a veteran or newcomer to the kitchen, the Parties That Cook chefs will teach you time-saving tips and guide you through baking a variety of delicious cookies for your repertoire. For more information call (503) 441-3595. NW 24th Ave., Portland, OR. 97210. Map
Random Order Bakery–
This year Random Order is celebrating their local partnerships and offering pies like 'New Deal' Coffee Liquor Cream Pie, 'Old World Apple Farm' Apple Pie and SDF-PDX Salted Pecan Pie (made with Temperance Trader Bourbon). Also available will be Spirited Pumpkin Pie andTahitian-Vanilla Salted Caramel Apple Pie. Each pie serves 8 and costs $35; $5 will be refunded if the glass pie plate is returned within 14 days. Any of these pies will be the perfect addition to your Thanksgiving table, an ideal gift for other Thanksgiving tables, for holiday parties, or even to spruce up a weeknight meal.
Random Order will be taking phone-in or in-person orders through Saturday, November 17th. Ordering early is strongly recommended as these pies are all made by hand in a small hard-working kitchen. Payment will be due when you place your order and a friendly Random Order employee will help you schedule a pick up time between Tuesday evening and Thursday morning at the pie bar located at 1800 NE Alberta. Please call 971.340.6995 to place your order.
Saint Cupcake – owner Jami Curl focuses on offering seasonal sweet and savory treats made daily in small batches using flavors approachable to everyone from children to adults. With the holidays fast approaching, Jami wanted to offer something special and thought about combining traditional goodies with her top choices to serve and eat. The answer was clear, pie and ice cream done Saint Cupcake style! This means upping the whimsy by pumping up the flavor and scaling down the size. As of November 5th, Saint Cupcake will offer 24 tiny pies plus one pint of ice cream for $45.
Jami perfected three classic pie recipes and created signature ice cream flavors to compliment each pie. The tiny pies offer versatility during the time of year when folks host guests in from out of town, are invited to holiday parties as well as hosting parties themselves. Starting Monday, November 5th and going through New Years Eve Day, patrons can order any of the following choices: Apple Crumble Pie with Chinese 5 Spice Caramel Ice Cream, Pecan Pie with Chai Ice Cream, Pumpkin Pie with Nutmeg Ice Cream 
Saint Cupcake does require 48 hours notice as these pies are made fresh! To place your order please call 503-473-8760.
Tails & Trotters – Still can't believe that it is time to start thinking about holiday recipes! Luckily, Tails & Trotters is opening their first brick-and-mortar this month and offering products that will take your meal to the next level. From over-the-top Thanksgiving sides to the centerpiece of your Christmas table to each pie in between, Tails & Trotters has everything you need to make every meal special from now through New Years!
Tails & Trotters offers three sizes of Applewood Smoked Holiday Hams – from Mini Hams,perfect as a compliment to your feast, to large ½ Bone In Hams ideal as the centerpiece. We also offer a full product line ideal for cooking everything from sides to dessert. Spice up those Brussels sprouts with Bacon, Aged Pancetta or Back Bacon aka "Proper Bacon." Take your stuffing to the next level with Chorizo, Sweet Italian, Spicy Italian, or Sardinian Sausage. Keep impatient relatives out of the kitchen by laying out an impressive charcuterie board with Liver Mousse, Country Pate, and Rillette.
If your family is anything like mine, rice is key as we need a vehicle to soak up the delicious gravy spooned over our turkey and stuffing; intensify it's flavor this year by using Pork Stock from T&T! The holidays would not be complete without pie and for all you bakers out there, T&T has a way to ensure your pies won't go unnoticed. Bake your crust using T&T Leaf Lard for an old world flaky crust that is the perfect complement to any pie.
Want to add your event? Just fill out the form here.