This is an update of my trip to Italy in 2007, one of the most read series of posts I've ever written, with lots of new details and photos.  I'll be putting one up every few days.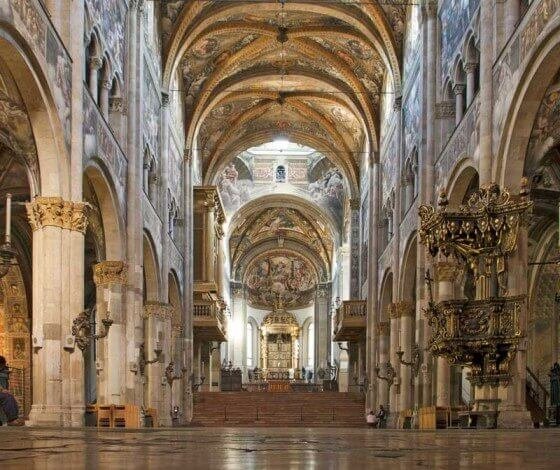 I would like to say, "having a wonderful time, wish you were here", but I always enjoy traveling solo. However, through the magic of unsecured wireless I will write about my adventures as I go along. It won't necessarily be about food, but if I'm true to form, both food and wine will likely be involved.
As I write this, I am sitting in Parma, Italy, not far from Bologna. It has been a cold afternoon, only about 40 degrees, but therein lies the benefit: few tourists. We have just had some wonderful pasta… but I am getting ahead of myself, and better start at the beginning.
I decided to fly out of San Francisco, so it seemed entirely logical that I should finagle a short layover and spend a day in my old stomping grounds of Napa Valley, hanging out with a friend of mine who, because he works in the industry, has a magic key that opens lots of doors. We took the insiders off the beaten track tour, tasting as many new wines as possible – I'm good at that. It was great catching up with some of the wine makers I used to hang out with, and gave me the opportunity to taste some older vintages that aren't normally poured.
As we drove out of Napa, I decided to make one final stop at an Italian restaurant where I once cooked. I hadn't been there in years, but was welcomed as an old friend and immediately deluged with food and… god save me, more wine. When I told the owners that I was heading to Tuscany, they immediately called over their newest waiter to meet me. He had arrive from Italy only two months ago. We sat and talked for an hour between the lunch and dinner rush and really hit it off. I gave him advice on American women – as those who can't do, teach, and he gave me lots of tips on getting along in Italy; things I'd forgotten, like the art of reading Italian train schedules which would challenge the patience of a monk. After an hour of conversation, we exchanged phone numbers and parted with my promise to show him Portland if he ever made it up this way.
The flight was long and cramped; 14 hours including the stop to change planes in Frankfurt. I spent the time working on restaurant reviews, sleeping, and staring out the window, contemplating the road ahead. My dad used to say, when traveling,  to leave you troubles in the airline terminal, and start every trip with a fresh perspective. As the plane circled Florence and came in to land, I felt free for the first time in a long while.
I made it through Italian customs with little difficulty, as my only luggage was a small backpack – my style is to travel light. I powered up my cell phone so I could confirm my hotel reservation in Florence, the only one I'd made for my trip. No sooner had I turned it on, than it rang. A woman asked in broken English, "What clothes is it you are wearing… we can't find you". Wow, I thought. I've heard a lot about these aggressive Italians, but this is amazing! At the same time two rather striking women tapped me on the shoulder and asked if I was Jim's friend from California. It seems word travels fast.
I didn't have a chance to say much – these women clearly were in control. It crossed my mind that I was being kidnapped, but that seemed like an interesting adventure. They whisked me away to an old Fiat, saying "Cancel your plans, you are staying with our family".
This entire family has taken me under their wing just because I had a conversation with their son. I'm not sure what he told them (he was a bit of a mama's boy – I am beginning to realize that lots of Italian men seem that way), but you would have thought I was a long-lost relative. My first night here, jet lagged out of my mind and confused about where I was going and who these people were, was a blur of screaming down little winding roads in the back of their Fiat, squeezed in between two Italian women (who kept squeezing me) and talking frantically in a mix of English and Italian about everything we passed. I felt plunged into the middle of a video game; the driver would be hurtling into turns while at the same time steering with his knees and gesturing wildly with both hands while turning back to look at me. This went on for 124 kilometers! I think I found God somewhere on the twelfth turn.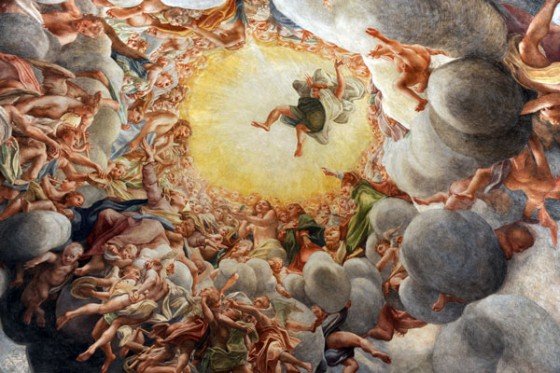 When we reached the city, our first stop was at Parma Cathedral, an excellent introduction to this deeply religious city. Construction began in 1059 by bishop Cadalo (who later became the antipope Honorius II) and consecrated by Pope Paschal II in 1116. A year later, the new cathedral was badly damaged by an earthquake. Remains of the original building of which can still be seen. Unbelievable to run your fingers down something with so much history – I've seen lots of cathedrals, and maybe it was the jet lag or that I had seen god twice in a few hours, but I was feeling a little overcome.
The most famous work of art in the cathedral is the Assumption of the Virgin by Italian Late Renaissance artist Antonio da Correggio decorating the dome. Correggio signed the contract for the painting on November 3, 1522 and it was finished in 1530. The fresco features the Virgin Mary ascending through a sea of limbs, faces and swirling drapery.  The imagery of the Assumption has been met with some bemusement over the years, with a contemporary comparing it to a "hash of frogs' legs" and Dickens commenting that the scene was such that "no operative surgeon gone made could imagine in his wildest delirium." Tradition has it that Correggio was paid for the painting with a sackful of small change, in order to annoy the miserly artist. The story goes that he went home with his sack of coins in the heat, caught a fever, and died at the age of 40; truly a dickensian tale.
A few hours later, squeezed back into the Fiat, we headed out of town; where we were going, I had no idea.