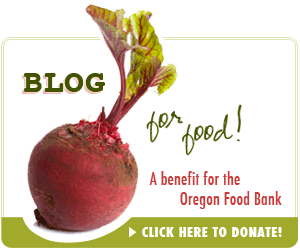 As we have done over the past few years, from February 15 to March 15th, Oregon bloggers are participating in an effort to support the Oregon Food Bank in its mission to feed everyone in Oregon who needs a meal.
The reality is that the economy has tanked over the past few months. That's not news. And as I'm sure you're already aware, joblessness is increasing rapidly. Unemployment rates all over the country are skyrocketing. What that means is that there are a lot of people in need…the Oregon Food Bank set a record for food distribution in 2008-09; according to CEO Rachel Bristol, OFB distributed more food last year than it ever has in its history. That's pretty incredible. (see the full news release here).
I'm privileged enough to never have had to rely on food stamps or a food bank for a meal. But my feeling is that if there are a bunch of people out there suffering, I'm going to work on making it right. Our community isn't whole if there is a big divide between the haves and have-nots. We're all in this life together. That's why I'm pitching in, and I hope you'll think about it too.
You've probably already given money to relief efforts in Haiti, and if you're in Oregon you may have just pledged to OPB in their recent public radio pledge drive. This is one more thing – yes – but it's an important thing.
Please – give if you can. You can donate by clicking here, on the graphic, or on the logo on the right side of the site.

note: when donating, please add the note "blog for food" in the "In Honor of" section on the Food Bank donation page, so that we can track our totals.
Portland Food and Drink will be donating, and I hope you will too.