Caffé Umbria appeared on the scene a few months ago, with all the flash and glamour you'd expect for a major restaurant opening. Getting through the door and fighting my way through the mob, it was hard to believe all of this fuss was for yet another coffeehouse.
This new cafe is in the Casey Building, at the corner of NW 12th and Everett St (Across from Everett St. Bistro). They put a lot of thought into the design and it shows; black granite counters, new glass display cases, both stand up and sit down tables, and high quality fixtures throughout. According to one of the employees, many of the design elements were shipped over from Italy. Every detail has a slick "planned" feel. This is not necessarily a bad thing. It fits the neighborhood, and is the only coffee house I can think of in the Pearl District that has a modern feel but isn't part of a huge corporate conglomerate. I can't imagine how much money they spent on the build-out, but rumor on the street, is they are paying upwards of $38 dollars a square foot.
Caffè Umbria roasts their beans in-house in Seattle. You've probably had their brew at various restaurants around town. I'm certainly no expert on coffee, but to me it's rather unremarkable; smooth, without a whole lot of depth. Still, it is a huge step up from Starbucks, and I know a lot of people that will love the space.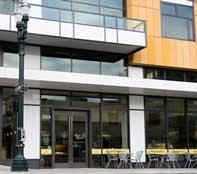 Drinks are as well made as you might expect; certainly better than the chain shops. Orders to be consumed on premise are in a nice ceramic cup, accompanied by a small chocolate. On busy days the employees behind the counter are frequently talking back in Italian. Made me all misty eyed, wishing I was back in Italy. They also play a selection of music that fits the Pearl District vibe, but it's never too loud. A large plasma TV is in a nook around the corner, that I'm told will be used to show Italian soccer.
Along with traditional coffee drinks, they serve various scones, pastries, pannini, and cold sandwiches, as well as gelato. I'm not sure where they get the gelato from, but the over saturated colors put me off a bit. Beer and wine are also available.
If a smooth cup of coffee in a modern, slick environment is your thing, Caffè Umbria may be what you are looking for. For best results, I'd suggest you stay with simple drinks. My only complaint, no free internet. I was going to try to sneak some pictures, but the website is pretty thorough. Check it out through the link below.
Phone: (503) 241-5300
Address: 303 NW 12th Ave, Portland OR. 97209
Hours: Mon – Wed 7am – 9pm, Thurs -Sat 7am – 10pm, Sunday 7am – 7pm
Website: CaffeUmbria.com/PDXCafe