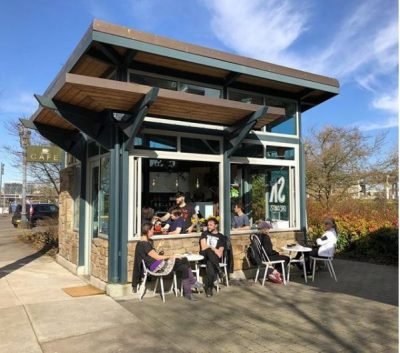 Kiosko – a unique twist on Portland coffee
If you follow our Instagram, you' know we are fans of Kiosko, the tiny coffeehouse at RiverPlace.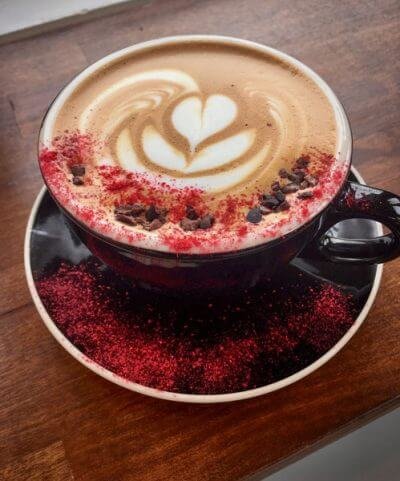 The kiosk only has about eight seats, but on warm days the windows are thrown open and tables with umbrellas provide a terrific place to drink coffee, people watch and get some sun.
The idea for the shop came out of the owner's desire to raise money for the youth-led non-profit United We Dream. Owner Angel Medina was working at a tech company while experimenting with roasting coffee beans at home. He started giving 1/2lb bags of coffee for friends in exchange for a $10 donation to the organization. Demand soared – at one point they had an order from Airbnb Portland for 100lbs a week for ten weeks. Within three months they raised over $3,700. After receiving orders from across the nation, he realized more space was needed to sell the coffee and continue raising awareness. In April 2017 the little kiosk shop or "Kiosko" became available and Angel convinced the Portland parks department to lease him the cafe which opened July 1st.
KIOSKO Coffee is a love offering.
We opened this shop in hopes of creating something that was different and special. A place that welcomed all backgrounds and cultures.  A community space where new friendships could be formed, differences could be celebrated, and great coffee could be shared.
We love coffee; roasting it, drinking it, talking about it… and above all sharing it with anyone that comes through our door.
Nowadays they roast for six wholesale accounts under their Smalltime Roasters name, have an online coffee subscription business and are opening a second cafe named Con Leche on the South Waterfront.
The menu includes standard espresso drinks, but most are available with a Latin twist. Try the True Mexican Mocha with cocoa nibs and freeze-dried raspberries or the Cafe de Olla – they use piloncillo, unrefined Mexican sugar made from boiling and evaporating cane sugar juice, Mexican cinnamon, orange peel, cloves and fennel seed. If you crave something sweet, one of the three ahogato is a perfect accompaniment to a warm afternoon on the patio. They are made from local Mexican ice cream with a pour-over of espresso. I like the horchata version with toasted almonds.
Address: 1816 S.W. River Dr., Portland OR. 97201 – Map