Portland private dining/rental infomation for: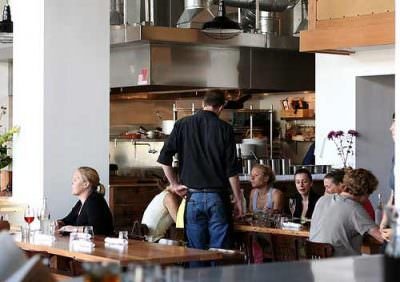 Information last updated: January 23, 2017
For private events, reserve The Cleaners space next door to Clyde. The 1200-square foot event space offers 18-foot ceilings, 15-foot windows with roll-up blinds that allow for privacy and lots of natural light, beautifully restored fir floors, gallery track lighting, a high quality AV system with DJ/iPod plug-ins, wifi and wrap-around window seats. Standing capacity is 140, with a maximum seated dinner capacity of 70. Visit the website or call to reserve The Cleaners: (503) 546-8509
Address: 1014 SW Stark St. Portland, OR. 97205
Phone: (503)228-3333
Website: clydecommon.com
Cusine: New American
Neighborhood: Downtown, SW Portland
Amenities: Audio visual facilities, Private bartender, Wheelchair accessible, WiFi
Liquor license: Full license
Type of business: Full Service restaurant
Additional Information: Sunday through Thursday, the restaurant is available for 3-4 course pri-fixe meals for groups of 13-22 with at least 4 days notice. Please direct inquiries to taylor@clydecommon.com. For parties of more than 22, please contact Jennifer Alfieri-Adams, Catering and Events Director, for availability at The Cleaners, a spacious and versatile private event space shared by Clyde Common and the Ace Hotel. Further information about The Cleaners can be found here or by contacting Jen at 503.546.8509 or jen@acehotel.com.