Left your Easter planning to the last minute? This is a list culled from press releases from Bakeries with specials.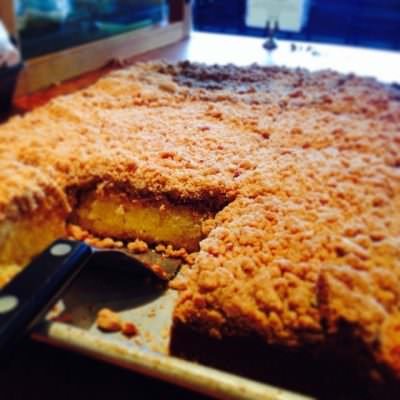 Bakery and Spice will be featuring Easter treats through Easter. Hot Cross Buns, Bunny Eared Strawberry Cupcakes, Chocolate Egg Cakes, Spring Shortbreads and more. Click here to see the menu.
6330 SW Capitol Hwy., Portland OR. 97239 (503) 244-7573
Hot Cross Buns, available all Easter weekend. Starting 9am Good Friday (14 April)
Did You Know ?  In Tudor Britain, it was illegal to sell spiced buns on any other day than Good Friday, Christmas and funerals. Order yours now.
Easter Cake – simnel cake is a light fruit cake with two layers of almond paste or marzipan , one in the middle and one on top,that is toasted, and eaten during the Easter period in the United Kingdom. Conventionally eleven, or occasionally twelve, marzipan balls are used to decorate the cake, with a story that the balls represent the twelve apostles, minus Judas or Jesus and the twelve apostles, minus Judas. This tradition developed late in the Victorian era, altering the mid Victorian tradition of decorating the cakes with preserved fruits and flowers. Order yours now.
Delicious handmade sweets and breads perfect for your Easter and Spring celebrations. Easter treats are available April 12th – April 16th. Hot Cross Buns, Decorated Chocolate Shortbread Bunnies, Shortbread Easter Eggs, Baby Chicks & Hatchlings, and more.
Many locations, see website for a bakery near you.
What are you doing for Easter this Sunday? Bring a delicious quiche or a basket of fresh biscuits to your Easter brunch. You could grab a spring pie or a carrot cake for the perfect Easter dessert! Please be sure to pre-order your Easter pie, quiche, or biscuits by Saturday, April 15th, at 5:00 PM. Cake orders must be placed by Friday the 14th. To order, please call 503-235-3119. The following is a list of seasonal pies and quiche that will be available to order for your Easter gathering:
Quiches:
Asparagus with Bacon and Swiss
Asparagus with Goat Cheese
Roasted Rapini with Bacon and Mozzarella
Roasted Rapini with Goat Cheese
Pea Shoots and Sorrel
Carrot Cake: We will be making extra special 9″ layered carrot cakes for Easter this year! We make our carrot cakes with pecans, coconut, and grated carrots – all topped with cream cheese frosting, of course. The cakes are $46 a piece and each serves 12-16 people. Please place cake orders by Friday, April 14th.
Pies: We've got a whole bunch of bright and delightful spring pies, such as Rhubarb Streusel, Rhubarb Raspberry Sour Cream, Blueberry Victoria, Key lime, Lemon Chiffon and Coconut Cream. Plus an assortment of our classic pie flavors: Tart Cherry, Blackberry Raspberry Streusel, Salted Honey, Salted Pecan, and more. Go to laurettajeans.com for a full list of our current pies!
Biscuits: One dozen freshly baked buttermilk biscuits for $25. The perfect accompaniment to any Easter feast!
Easter Pre Order: Interesting legends surround traditional Hot Cross Buns. One of our favorites suggests that friends who gift them to each other will remain friends for life. Sharing is excellent, but be sure to save a few for yourself. They are a soft, buttery roll flavored with cinnamon and nutmeg and full of candied orange and currants. Pre-order today by clicking the link below. Don't forget to order a few of our other Easter offerings or some fabulous pastries to serve to your out-of-town guests.
Please note: Our bakers need 72 hours advance notice for all food pre-orders.
Easter Sunday orders must be placed by noon on Thursday, April 13th.
Lovejoy Bakers | 939 NW 10th Avenue  + 33 NW 23rd Place | lovejoybakers.com
We have hot cross buns and Easter cookies ready to go at the bakery this week! We'll be closed on Sunday, but give us a call if you'd like us to set aside some Easter goodies for you to pick up on Saturday.
102 NW 9th Ave., Portland, OR.  (503) 827-0910
Ever have a Kinder Egg? They are all over the world, except in the United States. These dual layered white and dark chocolate eggs come with a secret prize hidden inside and have a cult following. But the US customs have banned them from crossing the border through importers and at airports. So, we made our own! And the Valrhona chocolate is so much better. $5 each or $30 for a gift carton of six. We can ship up to 4 cartons anywhere in the US for a flat rate of $15.
Pix Peeps and chocolate novelties are now available! House made marshmallow chicks made with the real deal Tahitian vanilla beans. $3.50 each. Don't miss our chocolate rabbits, eggs and Eiffel towers. You should get your bunnies at a chocolate shop, not a grocery store…non?