For a Last Minute Gift – "How to Cook Everything – iPad"
The How to Cook Everything iPhone/iPad application, is based on the best-selling book by Mark Bittman. I've seen it advertised on Culinate.com for ages, but haven't gotten a chance to try it until recently. From the opening screen, I was impressed: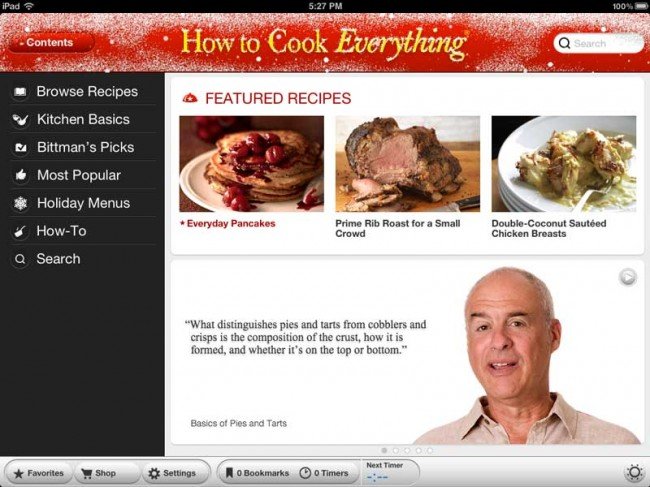 The layout is logical and beautiful. The front page always has new featured recipes, along with a quote from Mark's book. For instance, today the quote is "In most of my recipes, I assume that a pound of meat serves three to four people rather than the two or three it did not long ago". Pretty basic, yes, but this is an application for all levels of an amateur cook's skill. Inexplicably, that section has a play button so you can listen to Bittman's tips. I didn't notice any other audible areas in "How to Cook Everything". Also, though they take a lot of memory, I find it strange that no videos are included. Some of the technique sections could really benefit from such a feature.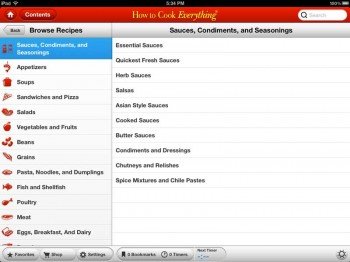 On the side, the menu lists Browse Recipes, Kitchen Basics, Bittman's Picks, Most Popular, Holiday Menus, How-To and Search. The app is regularly updated with latest featured recipes, menus, etc. For instance, I'm writing this in December, and the Holiday section is full of recipes for Thanksgiving, Christmas and Hanukkah.
The Browse Recipes section opens a series of sub-menus, which allow you to quickly navigate your way through the program. For instance, touching "Browse Recipes" takes you to "Sauces, Condiments, and Seasonings." From there touching "Butter Sauces" takes you to the recipe selection: "Brown Butter", "Béchamel", "Holindase", "Béarnaise" etc. Recipes show the number of positive votes from other readers – though I can't find a way to give a thumbs down. The recipe section includes "Variations" and "Related Content" which, with the help of drawings, explains the various steps related to your recipe. There is also an area where you can add your own notes; a nice touch. Every recipe is coded for the time it takes to make it, whether it can be made ahead, if it's vegetarian, and if it is considered "an essential." This is nice, but the buttons are so small I can hardly read them with my glasses on.
As you run through the steps of a recipe, you'll see little timer buttons. Press one, and a timer which is preset for that step pops up. This makes it very easy when you are cooking multiple dishes at once. You can switch between different timers with the touch of a button.
A shopping list function is included. All the ingredients of a recipe can be added at the touch of a button and then printed, or emailed. Making multiple lists is a snap, and the software will even separate ingredients into basic grocery store aisles to make shopping easy. As items are purchased, they can be marked off with a quick touch, a method you could also use for ingredients you already have at home. Of course you can set metric or US measurements
A great search function is fully integrated, which lets you narrow down what you can cook based on items you happen to have in your pantry, such as a "bacon" or "tomatoes". It is even possible to limit your browsing by cooking techniques, such as steaming or broiling. Carrying it even further is the ability to search by flavors, such as African or crunchy; I didn't know the latter was a flavor either.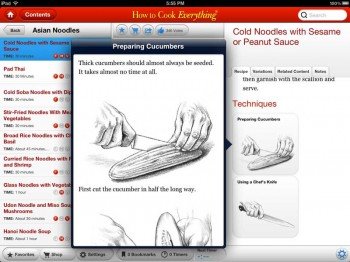 Some of the other functions include Top 102 Essential Recipes, Top 100 Fast Recipes, Top 100 Make-Ahead Recipes and Top 100 Vegetarian Recipes. These selections are based on user ratings. Of course all the recipes can be printed, emailed – though you are limited to ten per month, or with one touch, added to your iPad calendar for easy weekly menu planning.
This application is so inclusive, I've skipped over lots of features. Little touches like a "constant on button" so your screen doesn't go dark while your hands are wet or greasy, show that a lot of thought was put into its development. Even with all the different recipes and tutorials, navigation is logical and easy to follow. Limited integration to Twitter and Facebook is built-in, so you can share what you are cooking with friends.
This application is not perfect, but my only issues are with the user interface. Even with the font-size at the largest setting, some people may find text difficult to read. Using the application in portrait mode makes it much easier. You cannot pinch and zoom sections to enlarge them, a feature that could mitigate the small type.
Multiple versions are available: one for $9.99 which works on both the iPad and iPhone, $4.99 for an iPhone only version, and one that is free, though somewhat limited, for the iPhone. An all vegetarian application is also available. For many of us who are used to paying a dollar or two for a program, this is a lot of money. Is it worth it? Yes. For the beginning to intermediate cook, I highly recommend How to Cook Everything for iPhones/iPads.