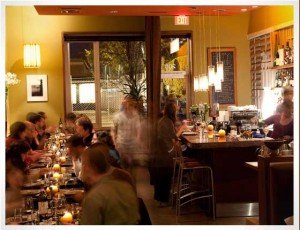 This restaurant closes December 3rd 2016
[Updated 10.12. – new prices and various other updates]
Since I reviewed Tabla in 2006, it has been through a few transitions. Chef Anthony Cafiero has left, and though the menu seems slightly less complex, the restaurant is still quite good, drawing regular crowds of happy diners.
Tabla may feel like a local, neighborhood restaurant, but it strives to be something more. Located on the NE corner of Davis and NE 28th, it has plenty of windows for a bright airy feel. The space is long and thin, a full bar taking up a good part of the north side, and a large open kitchen in the back. For the spectator among us, there is a chef's counter that puts you in the center of the action. Down a hallway, separate from the rest of the dining room, is a private party space that holds up to about fourteen people. Additional tables stretch down the Davis street sidewalk. The atmosphere of the entire restaurant is very comfortable and relaxed, though the noise level can get fairly high on busy nights.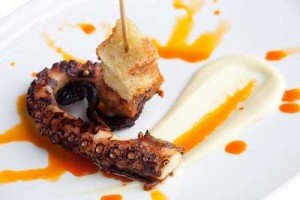 The wine glasses and flatware are of better-than-average quality, showing Tabla is serious about your experience. Most importantly, you are made to feel welcome the moment you walk through the door. Unfortunately, the total service experience doesn't always stand up to the greeting. On some visits, service has been excellent, on others, the staff has obviously been overwhelmed. If I have to wait fifteen minutes to get my order taken, it's too long, and if you haven't put a drink in my hand during this time, you are losing sales. To be fair, this only happens when they have a packed house.
A few things set Tabla apart from mainstream Portland restaurants. First, they have a $39.00 three course dinner. If you go with this choice, you'll be choosing one item from each column of the menu: an appetizer, one half pasta portion, and one full entrée. This is a great introduction to the restaurant, and the portions are easily large enough to satisfy. A few of the more expensive choices have a slight surcharge of a couple of dollars. Of course you can ignore these prix-fixe options, and order as you normally would. When I note pricing, remember you can get items as part of the fixed rate, or individual small and large portions.
Tabla has a good selection of wine at good prices, all served at the proper temperature. 12 by-the-glass pours are available. Six house cocktails lean towards simpler times, instead of blasting with multiple ingredients.  Occidental Brewing and Cloudy Summer Kolsch are available on draft, along with two more selections by the bottle, Ninkasi Brewing Radiant Ale and Nectar Ale's Red Nectar Amber Ale.
While older menus focused on somewhat pedestrian appetizers, over the last few years the bar has been raised. A sherry and mushroom pâté was of a lighter style than you might expect, still nice and earthy, but better for summer. It was paired with a light Spanish sherry, the combination a perfect antidote for our recent hot weather. I also enjoyed a chilled cucumber soup, finely pureed with mint, piment d'Espelette (a very finely ground red pepper from the Basque region), and olive oil, served with a muscadet which cut through the slight astringency of the soup. I have to say, this wasn't my favorite soup of all time, but it was very interesting, and I totally appreciated the thought that went into it.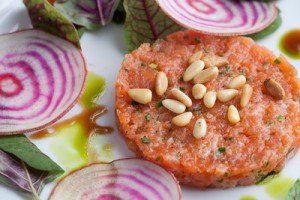 The red-veined sorrel and salmon tartare salad with shaved chioggia beets, rosemary oil, shallots and sherry was quite impressive, especially when I kept some of the elements separate. Eaten together, I think the somewhat mild chioggia beets still overwhelm the other components – chioggia is an early 1800 variety of beet with concentric rings of red and white inside. The salmon tartar was light and delicate, little pine nuts giving a slight crunch, and perched atop, an interesting light wafer with a brushing of rosemary oil. The ring of sorrel salad around the outside was a gentle compliment to the rest of the dish .
A better than the average green salad, "baby lettuce with anchovy and egg dressing, spiced pepitas, grilled garlic whips and shaved Parmigiano Reggiano" tasted exactly like you would expect from the description. It was like a modernized Caesar, reconstructed (note I didn't say deconstructed) for modern palates, everything balanced.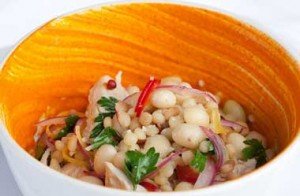 The second course is a choice of pastas. Five are available to pick from, all homemade, and all of extraordinary quality – among the best in Portland. My favorite pastas are always the simple ones, and at Tabla this is in the form of the tajarin (ti-ya-reen), just like I've had in Piedmont – thin house-made pasta, truffle butter and grana Padano cheese. Give me a big plate of this, and closer to God I'll be. The pasta is perfectly made, almost elegant, giving ever so slightly to the tooth, the truffle butter and cheese setting off a wave of aroma that washes over your palate. I've had similar dishes elsewhere, and have made it many times myself, but I've never had it like this in Portland. Every time a server walked past with a dish of this pasta, every head turned to catch the truffle scent. This is a must for at least one in your party
The Tabla ravioli is a similar sensory experience. A ring of chard and ricotta is layered atop a thin sheet of house-made pasta. An egg is nestled within the ring, and the pasta shell applied to the top. After a quick cooking, it is brushed with poppy-seed butter and cheese. The overall effect was of a silk purse on the tongue, the egg flavor throughout, unexpectedly bursting as you bite into it like warm velvet river.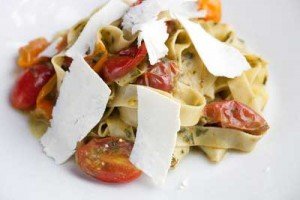 The green fettuccini adds an unexpected element by using pistachio in a lighter than expected sauce. The cherry tomatoes are bright little bursts of flavor, and the milky white dry Ricotta puts it over the edge. Another winner is the spicy pork sugo tagliatelle. Again the pasta is perfect; house-made, with a porky sauce of tomato, basil, and grana Padano cheese. A slight spice gives a long, unexpected finish. This is a good dish, but pales in comparison to the other offerings. Let's face it; though some pastas at Tabla are slightly better than others, they all run rings around those offered at most of the restaurants in town.
If you are doing the three-for-$39 deal, your entrée will arrive next. On my first return visit, I decided on the confit, which derived from a method of preserving meat, whereby it is cooked in its own fat. At Tabla, a large duck leg and thigh comes to the table with a crackly, perfect skin. The meat is moist and flavorful, and pulls easily from the bone. In an ideal counterpoint, the duck is matched with a slice of port-poached orange, and placed over a bed of light mashed potatoes whipped with chives. Alongside are braised greens, almost crispy, and so sweet they are practically a dessert. I absolutely loved them. One of the better presentations of duck I've had in a long time.
Other entrees are also terrific. Try the unique clams with pork belly. You'll get a bowl of little mollusks, dressed in the minimalist attire of a broth of sweet vermouth and tomato. Within the clams you'll find little gougère-like crispy garlic croquettes, and bits of pork belly. It's a wonderful dish, which could only be better with the addition of some Pearl Bakery bread to sop up the last bit.
Chef Anthony also does justice to fish. Especially recommended is the coriander-crusted Oregon albacore. The sauce intrigues the senses from the moment it is placed on the table. The fish is cooked perfectly, bathed in a hailstorm of coriander, the roasted red pepper and pine nut agrodolce (an Italian version of sweet and sour sauce), accompanied by minted yogurt, and couscous will have you reaching for the bread once more. It strives for and achieves an unexpected excitement to what is often a lackluster type of dish.
Finally, the salmon. The large fillet is pan-seared and placed on a bed of roasted mushrooms, Roquefort beans, sautéed mustard greens and saffron fumet (a concentrated stock). The salmon tasted like it had been caught that morning, the produce like it was picked hours before. The skin crackles under the teeth, the interplay between the stock and other ingredients was just marvelous. This is a wonderful dish .
Overall, complaints are few. All of my issues from my last review have been corrected. The staff is friendly and knowledgeable, mostly efficient but not overly so. When queried about a specific dish, the servers know the ingredients, and can rattle off suggestions from the excellent wine list with no trouble. My biggest question is how they could turn out food of this quality and measure for such low prices. Overall, Tabla is the best it has ever been, chef Cafiero making it an exciting "new" addition to the NE side of Portland. It is an excellent choice that I will routinely recommend to friends and out-of-town guests.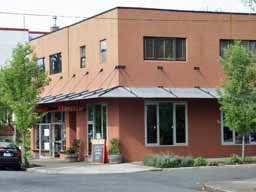 Reservations recommended.
Phone: (503) 238-3777
Address: 200 NE 28th Ave., Portland OR. 97232 Google Map
Hours: Tues-Sun 5:00pm -"close"
Website: TablaPastaeVino.com