There are times I just can't help myself. I could just write a boring summary of the steakhouse project and even insert some charts and graphs – and I love charts and graphs! However, I decided to go with my heart and tell you about a memory from long ago. I eventually get to the summary, but you'll have to work for it, or you can just click here to jump past the sentimental stuff and go right to the spreadsheet. You've been warned.
On a recent warm night, I stuck my head out the window and smelled summer; the odor of fresh-cut grass and brush drying, triggering memories of long ago.
I've talked many times about my summers on the family ranch in Texas. I'll never forget my last trip as a kid of 16. My grandmother was getting old, and we knew she wouldn't be able to stay there much longer. My visit was as much to say goodbye to the ranch as it was for anything else, as I knew I probably wouldn't be back again.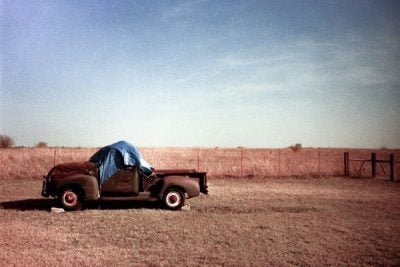 Much like the other trips, I pretty much hung out with my cousin Paul. He was the epitome of the Brad Pitt, aw-shucks type – blond hair blue-eyed, complete with a cowboy hat and a piece of straw dangling from his mouth, whereas I was a gawky nerd from the big city. I had one thing on him though, the ability to rewire the old 52 GMC truck he'd spent an entire year restoring. Grandmother had a barn full of abandoned equipment; everything from milk wagons, ancient tractors, threshers, Jeeps, and a few old pickups. Paul had picked this truck out for his own. The only problem was, the wiring had been eaten by various creatures and was completely shot.
During the day we walked through the hot fields loading hay bales on the lumbering wagons as they lurched across the ruts, but we spent happy evenings rewiring the truck. Though it finally started, it wasn't street legal, so quite a bit of our time consisted of roaring back and forth down the dirt ranch roads, the rusted exhaust system providing a tympani to our adventures, clouds of dust billowing behind.
That was a glorious time, fishing, catching snakes, building huge forts complete with long tunnels made out of stacked bales of hay, and chasing girls from the neighboring town of Maypearl. That's where I learned the phrase, "She's just naturally horizontal." We didn't have air conditioning; in those days it was just the "buzz" fans like they sell now for a small fortune at Restoration Hardware. On hot nights, grandmother would shepherd us out onto the old screened porch that wrapped around the ranch house, and we'd sleep on top of blankets, listening to the chorus of crickets. Fireflies winked into the night, and if you lay near the screen, you could see the palate of stars splashed across the sky; something new to a city kid like myself.
Evenings in the house were so hot we'd go to bed early, but grandmother would regale us with stories of years past; of a time when the ranch was booming with thousands of head of cattle, an active dairy, and a full complement of cowboys to manage it all. It sounded like a glorious time, and of course, we drank it in, eager for new tales every night.
One night she made a huge mistake. Grandmother started talking about the atomic bomb, and how scared they had been during the Cuban missile crisis. There was, she said, a fallout shelter still on the ranch, buried somewhere along the long dusty driveway to the main house. She told us not to go poking around, but being children of the "drop-duck-and-cover" days of school, Paul and I looked at each other across the porch; we had a new summer goal.
The next day we set off. My Aunt would say it was "so hot the hens were laying hard-boiled eggs", but we were determined, packing the Ford with ropes and shovels, and canteens with sweet Texas iced tea. I don't know why we thought we'd need these things, but they sounded like a good idea at the time. The two ranch dogs, Sue and Wingo, looked at us from the shade of an old baler and refused to go.
Halfway to the gate, we came across an armadillo. I hadn't seen one up close before, so Paul put on a baseball glove and caught it as it rolled up into a ball. After we poked at it for a while, he let it go, and we sat and watched as it finally unrolled and scuttled off under some old corrugated metal not far from the dust of the road. We drove on and started working our way back from the barbwire gate, digging here and there, but finding nothing until we got close to where we'd let the poor animal go, and realized it had led us to the shelter. Sure enough, once we pulled back the metal and carefully checked for copper-head snakes beneath, we found a depression in the ground, and just below, a heavy round metal door secured by a large chain.
We did our best to get the damn thing open but to no avail. That's when grandmother showed up, "madder than a wet hen". Paul was sent home and I spent the afternoon on the front porch shucking peas for punishment, doing my best to look forlorn. Later that day, she showed up from 'old Mr. Jackson's place' with lugs of okra and tomatoes, and a bushel of corn. Grandmother gave me a hug and said she could never stay mad, she was just afraid of what might be lurking down there in the dark. We pulled big steaks out of the refrigerator and brought them up to room temperature before carrying them outside to the grill. Paul's family showed up along with some relatives from Dallas, and we cooked up a feast. One of the men grilled them low and slow with a quick sear, medium-rare steaks with nothing but salt and pepper, from cattle that had been raised on the grass and maize grown in the fields surrounding us.
I never got to see the fallout shelter. Grandmother eventually moved to California where we often reminisced about Texas, until she died at 98 years old. Her death was one of the hardest things I've ever gone through, but I managed to deal with it, until, many years later I had an urge for something different and ordered a steak a Paley's Place – a 40-day dry-aged ribeye with creamed greens. I took a bite, and then another, and everything about that hot summer barbecue so long ago rushed back like a wave. I had to excuse myself from the table and step away from the porch for a few moments to regain my composure; it was the first steak I have had which was as good as the one on that warm Texas evening. It is my benchmark for all the steak dinners to come.
The Steakhouse Review
I went into the project without any real idea of how it was going to turn out, but halfway through my first meal at Ruth's Chris, I turned to my companions and said, "This is going to be interesting." I had anticipated that the food would be pretty good, but the meal clearly wasn't meeting those expectations. Thus began a long and surprising sojourn into the steakhouse scene.
Take a look at the first chart:
| | | | | |
| --- | --- | --- | --- | --- |
| | Morton's | Ringside | El Gaucho | Ruth's Chris |
| Ambiance: | B | A | A | C- |
| Service: | D- | A- | A- | A- |
| Salads: | B | B- | C- | C+ |
| Sides: | C- | B+ | A | C- |
| Steaks: | C- | B- | A | C |
| Desserts: | C- | C | B+ | C |
| Averaged: | 2 | 3.2 | 3.5 | 2.2 |
| Final Grade: | C- | B | B+ | C |
Here is the spreadsheet showing prices. I've added the cost of corkage, and after my speed meal at Morton's, I looked up the length of time each meal took and added it too:
| | | | | |
| --- | --- | --- | --- | --- |
| | Morton's | Ringside | El Gaucho | Ruth's Chris |
| Caesar for two: | $20 | $17 | $24 | $16 |
| NY Steak: | $49 | $45 | $65 | $43 |
| Porterhouse: | $49 | $49 | $68 | $48 |
| Potato Dish: | $9 | Included | $9 | $9 |
| Vegetable: | $11 | $9 | $9 | $10 |
| 2 Desserts: | $15 | $15 | $16 | $16 |
| 2 Cocktails: | $29 | $17 | $16 | $17 |
| 2 Glasses Wine | $30 | $16 | $24 | $15 |
| | $211 | $167 | $231 | $174 |
| | | | | |
| Misc. Charges | | | | |
| Corkage: | $25 | $20 | $20 | |
| Length of Meal: | 1 hour | 1.5 hours | 2.5 hours | 1.5 hours |
First of all, as I finished the first meal at Ruth's Chris, I never expected that, overall, it would score equal to Morton's, though, with the poor rating for extremely bad service backed out, Morton's would have a higher score. It just wasn't that great, and I expected the others to be better. For the prices, I was surprised that none of the restaurants did terribly well. It seems that none of the chains can do a really good meal from start to finish. Is it so difficult to make a good Caesar salad? A few sides? Even though both Ringside and El Gaucho had a few problems, the experience at both was good, and I would return to either, though El Gaucho would be my preference.
On the first version of this roundup, Ringside scored lower than two other restaurants. Then it moved to a temporary location in Fox Tower, and now, after a major remodel, it is back in its original location.  The score changed with each iteration, but interestingly enough, in my experience, the location in the tower was best. On my final visit, the meat just wasn't up to previous quality; perhaps they have changed to offset rising prices.
Here is the spreadsheet showing prices. I've added the cost of corkage, and after my speed meal at Morton's, I looked up the length of time each meal took and added it too:
The price spread from the lowest at Ringside to the highest at El Gaucho is $64. Is El Gaucho worth the difference? That depends on what you are looking for. If I just want a good steak dinner at a 'reasonable' price, I'd go to Ringside. However, if it is a special occasion, especially something romantic, I will head to El Gaucho. More likely than anything else, I'll buy some really good meat, invite family and friends, start the barbecue, and grill them myself, taking a pause to smell the summer air and think of waving fields of grass and fallout shelters.
This is the summary of a group of four steakhouse reviews: