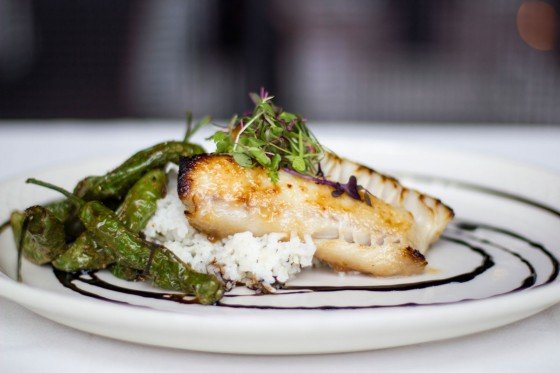 To many, El Gaucho epitomizes what a steakhouse should be. It feels sophisticated. The atmosphere is formal, the lighting dim and romantic, and lots of dark wood provides a backdrop to tinkling stemware and white linens. Live jazz wafts from the background as tuxedo-clad waiters scurry by with carts for tableside Caesar salads, the darkness punctuated by an occasional burst of flame from bananas Foster in the making. To many people, this type of ambiance is it, as fancy as they will ever dine, a place where a strategically placed ring might magically appear, sparkling on a plate.
Ambiance: I've pretty much painted a picture. The bar fits right into the theme, also with white linens, though there are some good happy hour specials to be found here. The restaurant feels large. Though there are some two tops, many of the seats are booths, including the half ovals that allow a larger party to talk comfortably. Several rooms are available for private dining, and this is the only Portland restaurant I know of that still has a cigar room. One caveat, the tables closest to the kitchen can get a bit warm at times. Grade A.
Service was interesting. In every steakhouse I have been to, I asked a specific question about a cut of meat. The waiter here apologized for not knowing the answer, but unlike many restaurants, didn't offer to try to find out. Most of the servers at places like this have been there for years. They have heard and seen everything, but I got the feeling that if they stepped out of their script, they had no clue what to do. When I asked if a wine by the glass was available by the bottle, the waiter said yes, just multiply the cost of a glass by four, as he walked away. His reply just didn't seem to fit the service one would expect from an ambiance such as this, and also added quite a bit to their normal markup. No thanks.
Other than these admittedly minor hiccups, service was top-notch throughout the evening. The waiters were quite affable, giving helpful advice, such as how we could split side dishes among the three in our party to save a few dollars. The only "up-sell" I encountered was when I was going to order the smallest size steaks, and the server said we would be "much happier with the larger, slightly thicker steak that has a better flavor". Maybe he was right; I didn't go back to try the small one. Grade A-.
Drinks were excellent, perfectly made standards, though I can't speak for the house specials which we didn't try. The stemware is good, whether you are buying a bottle of wine or a glass. Sixteen different selections are available by the glass, with Oregon and Washington's vineyards well represented. There is something for everyone on the bottle list, with choices from France, South America, Spain, Italy, and Australia, along with a good number of domestics. I was surprised to find many choices in the $50-$70 dollar range, with some lower. Of course, if you really want to seal a business deal, you can find wines up in the $2,400 range. Overall markup is normal for a restaurant at about 100% over retail. Corkage is $20.
Caesar salads are made tableside in the old school way. The waiter looked like he'd been doing this his whole life, and had the practiced rhythm of a machine. It took quite a while but was fun to watch. However, the end result was unimpressive; I'd say Ruth's Chris was better.  There was way too much grated cheese which muddled the flavors, with no brightness, nothing standing out. I would imagine it is difficult to get the balance right when you are making the dressing in the dark and are unable to taste it. About the only good thing I could say (besides it being entertaining to watch him make it), was the quantity was large ($12 each, 2 minimum). In the future, I'm more likely to add the El Gaucho salad which is just greens and blue cheese dressing. Grade C-
Steaks are dry aged and perfectly cooked; all were served exactly medium-rare all the way through. The char was perfect, giving it a slight wonderful crust when we bit down. These are excellent steaks, loaded with flavor. The next day I went to cut the leftover and grabbed a chef's knife. It cut as thin as sashimi, delicate little translucent strips.  16oz New York $59, 24 oz Porterhouse $62. Grade A.
Sides are fairly large, easily enough to share between 2-3 people. We tried roasted sweet corn with chipotle honey butter which was amazing for this time of year. It was loaded with Midsummer corn flavor ($11 – ouch). Asparagus tasted like spring, fresh and properly trimmed/cooked, a line of flawless béarnaise was drizzled over the top ($12 – double ouch). Finally, southwest scalloped potatoes were spicy and decadent, loaded with cheese and cream –  a terrible idea with a heavy meal like this, but I wouldn't have thrown myself on the grenade if I hadn't ordered them – I do it all for you ($7). Grade A
After the mains have been cleared away and you are pondering the dessert menus, a tray with a bowl of fresh fruit, Roquefort cheese, nuts and a nutcracker is brought to the table gratis. It's a pleasant way to end the meal right there; however, I had to move on to –
Dessert: bananas Foster is a steakhouse classic, though it was originally invented at Brennan's in New Orleans. This dish is made tableside too, rolled out on a cart by a wonderful server named Sherwood, who offers to "teach you how to make this at home".  The El Gaucho version does not follow the classic Brennan recipe but is close enough. Rum is flamed in a pan, a large pile of butter is added, a pile of brown sugar, then bananas, banana rum. Add more flame. Carefully lay bananas on a plate, add two scoops of vanilla ice cream, pour sauce gently over the entire thing. Sounds great, but though it was fun to watch the preparation, and the waiter was fantastic, the dish itself was just… ok. I believe the problem with this dish is that it really doesn't get hot enough when prepared tableside. The brown sugar didn't quite melt, leaving a grainy mouth feel. However, it's fun, romantic, and I'd order it again ($9 per person, minimum order of 2). Grade A+ for the server, but the dessert was just a B+.
For some, El Gaucho is over the top expensive, and just not worth it. For others, it is the ultimate dinner out. When I look at my spreadsheet of costs between various steakhouses, El Gaucho is definitely at the upper end, but when compared to Ruth's Chris, which I reviewed last week, the winner is clear, and between the two, The Cowboy takes the prize.
The total cost of an average meal for two, consisting of two cocktails, two Caesars, two steaks, two sides and two glasses of wine, priced in the center of the wine list, was $212.00
This is the summary of a group of four steakhouse reviews. You can see the:
Address: 319 SW Broadway, Portland OR. 97205  Map
Phone: (503) 227-8794
Hours: Mon-Thurs 5pm-12am, Fri-Sat 5pm-1am, Sun 5pm-11pm
Website: ElGaucho.com