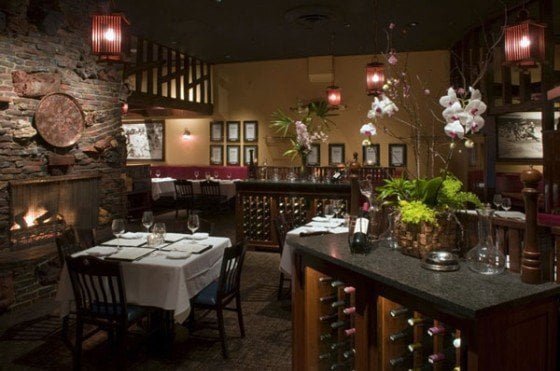 [updated 2017] Ringside Steakhouse was been closed, extensively remodeled and has reopened. I thought it was time to go back and take another look.
In the early 90's, I had my first dinner at Ringside, yet I remember the night like it was yesterday. It was a cool, crisp winter evening. I wanted to impress a date, and knowing nothing about the Portland food scene, was told it would be a safe bet. Going inside was like stepping into a steakhouse circa 1960. It was dark and clubby with deeply padded burgundy booths. A large fireplace took up the center of the room, the fire pushing back the winter chill. Autographed photos of various celebrities lined the walls. I kept looking around, expecting to see the Rat Pack in the next booth. Attentive tuxedo-clad waiters did their best to make us feel special. The food was good, the date went well, and when we walked back out into the night, it had snowed several inches – the first snowfall I'd ever seen.
I've never forgotten that night and looking back, it reminds me how much an evening can be influenced by factors other than the food. In later years, Ringside became shopworn, and the quality of the food slowly drifted downhill. In mid-2010, the owners temporarily moved the restaurant to the Fox Tower, and completely renovated and enlarged the original space, before moving back in March 2011.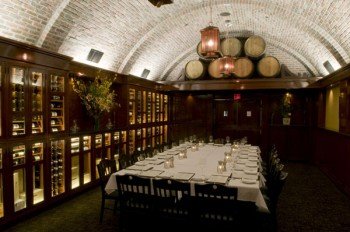 Ambiance: Post remodel, Ringside looks very similar to the original, down to the kitschy table lamps, the celebrity autographs, and the old stone fireplace. It has a classic 60's steakhouse feel; either you will love it or hate it. If I hadn't heard about the remodel, I wouldn't have realized such extensive work had been undertaken.  It is nice to see the owners stayed true to the original decor, and that most of the major reconstruction was behind-the-scenes, such as a much a larger kitchen, dry aging rooms, and a wine cellar. Additionally, a new dining room was added, which can be closed off for special events.
I like the classic feel: Grade A.
Service: We arrived at the restaurant not long after it opened on a Tuesday night, and was surprised to find it full; it seems Ringside is more popular than ever. The tuxedos are gone, and the service has a more up-to-date feel. Though they were quite busy, servers were prompt and professional; we never felt rushed. My only complaint is that some of our party had their plates removed while others were still eating. It's disruptive and awkward. Overall, the service it was excellent, and up to the standards one would expect. Grade A-
Salads: Following our steakhouse comparison formula, we each ordered a Caesar salad. They were properly dressed, and the lettuce crisp, but the flavors were unmemorable.  The croutons were large and boring, tasting slightly better than out-of-the-box versions. Even so, it was better than all of the other steakhouses in our survey with the exception of Morton's. I'm not sure why this type of restaurants have such a difficult time getting Caesars right.  ($9.75). Grade B-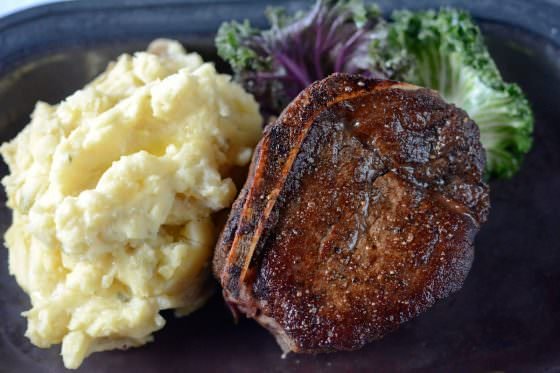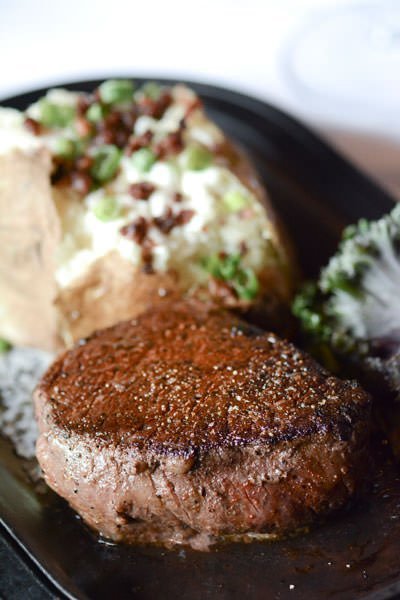 Steaks: The steaks arrive sizzling on the platter, thick, moist and juicy. My 12 ounce New York was cooked to medium rare as I ordered, but the meat itself was not as tender and flavorful as I expected ($56.50). The 24oz. Porterhouse was cooked properly ($87.75), but both steaks also had a bit more gristle than at the other steakhouses in this survey. They were fine, but a few steps below El Gaucho. Grade B-
Sides are much better than average. Entrees come with "Choice of Garlic Mashed Potatoes, Baked Potato, French Fries, Wild Rice Pilaf or Cottage Cheese", which brings down the overall price of a dinner.
As a starter, I highly recommend the onion rings. They are fabulous, crunching lightly and then giving way as you bite down, bursting with sweet moist onion. Though they could learn a thing about the catsup and ranch dressing from Micha Camden at Little Big Burger, these rings are the best in town. They are $10.50 for a small basket, which can easily be split by several. The baked potato was just the way they should be – hot, light and fluffy, the accompaniments about what you would expect. An order of asparagus was ok, though it really shouldn't be on the menu in August. The accompanying hollandaise was unmemorable ($10.95).  Grade B+.
Desserts: After having tried the El Gaucho Bananas Foster, I was interested in trying the Ringside version. No ostentatious table-side show here, just a plate from the kitchen, vanilla Haägen-Dazs ice cream in the middle of the plate, surrounded by a ring of bananas and a mild rum-caramel sauce. It was unimpressive, and I'd use the space for onion rings instead ($8-$12). Grade C
Miscellaneous factors: Drinks from the bar were fine; a gin and tonic was $10. The list of wines by the glass was good, with a mostly west coast focus, but unlike the last time I visited, a nice selection of Oregon and Washington wines are available. More than 60 wines including reds, whites, sparkling, dessert, Port and Madeira are available by the glass. Prices ranged from $11 to $22 dollars a glass. A flight of three sparkling wines is available for $22. Corkage is $20.
The bottle list is impressive, with over 700 in the cellar from around the world. The list is kept up to date and designates the proper vineyard and year. A little symbol is shown next to the wines they think are drinking well – a nice touch. The glassware is of good quality. A random sampling of markup versus retail found it to be higher than other steakhouses I have reviewed. For instance, a 1995 Brewer-Clifton, Rio Vista which I've seen elsewhere for $90, is $140 here. A 2004 Anne Amie which runs $30 retail, is available for $100.
The beer list is also large, with 11 imports, 14 domestic and six drafts. Prices are average. The selection is average for Portland, which is nothing to sniff at. A few less common bottles like Froach Heather Ale, Speakeasy Brewing Prohibition Ale are added to the mix.
Overall impressions: In my last review at this location, I was rather scathing about my entire Ringside experience. However, I am happy to say everything has changed, and all is forgiven. My overall score is just three-tenths of a point below El Gaucho, though, unfortunately, the steaks are their weak point, falling slightly short tenderness and quality. Solve that problem, and I'd walk out a very happy man.
The total cost of an average meal for two, consisting of two cocktails, two Caesars, two steaks, two sides and two glasses of wine priced in the center of the wine list, is $168, $64 cheaper than El Gaucho for a similar meal. Is El Gaucho worth the difference? That depends on what you are looking for. If I just want a good steak dinner at a 'reasonable' price, I'd go to Ringside. The overall score is a B.
One note: if you want to experience Ringside without the higher prices, try the "Steakhouse Supper Special", which runs daily. It costs $40 before 6 pm or $50 after 6 pm. You can select between soup or salad, prime rib, filet mignon, chicken, or seafood over pasta, and a dessert for $40.00.
This is the summary of a group of four steakhouse reviews. You can see the:
Phone: 503-223-1513. Reservations recommended
Address: 2165 W Burnside, Portland OR 97209
Happy Hour: Mon.-Sat. 9:30pm-close, Sunday 4pm-5:30pm & 9:30-close
Website: RingsideSteakhouse.com
photos courtesy Ringside Steakhouse