I hadn't been to Morton's in at least eight years when I pulled up to the valet a few weeks ago. The last time my experience had been pretty good. On this warm Thursday evening, I was expecting a meal that would be close to the quality of El Gaucho.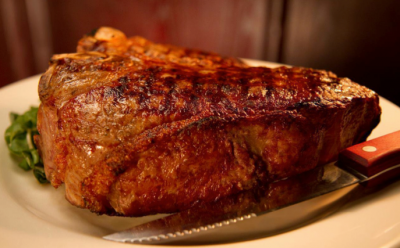 Morton's was founded in 1978 by Arnie Morton and Klaus Fritsch. According to Wikipedia, Morton's is the world's largest owner and operator of company-owned upscale restaurants, with locations in six countries. The Portland branch is located downtown in the Koin Tower.
Ambiance: Dark green carpet, white linens, light walls with dark wood accents, and a liberal sprinkling of Morton's logo give it a rather corporate feel. Personal wine lockers for high-rollers surround the entrance. The lighting is muted, yet brighter than some of the other steakhouses. Where we were sitting, the noise level was higher than I expected. At times the waiter had trouble hearing us, and we found we frequently had to repeat ourselves. Overall though, the interior is perfectly acceptable. Grade B.
The service was unforgettable. I'll go through a timeline to illustrate what I mean.
We were greeted at the door, ushered to our table, and given drink and wine menus.
The waiter was there within three minutes, asking for our water order. A long list of bottled choices was given, with no mention of tap water being an option. We asked for it anyway. He then asked for drink orders, though I hadn't even opened the cocktail menu.
A few short minutes later, the famous "meat cart" was rolled up to the table. If you've ever been to Morton's, you'll know exactly what I mean. There are several trays on the cart which hold plastic-wrapped cuts of meat. The server first holds out a large tomato and explains how it is sliced to make a salad. He then points out each cut of meat, running quickly through them. Finally, he holds up a potato, a single unpeeled potato, and tells us it's used in all their potato dishes. The whole thing is so strange, by the time he got to the potato, I was having a difficult time not laughing. Someone in my party asked if they had a menu because she couldn't keep up with his automaton delivery. We did get paper menus when he finished the spiel – the quality of which didn't match the other bound menus.
Less than ten minutes later, he took our orders. About five minutes after that the salads arrived.
The drinks didn't arrive until we were halfway through the salads.
We barely finished our salads, and certainly had no time to catch our breath, when the steaks arrived.
As soon as we finished the steaks, the plates were whisked away. No mention was made of dessert options; we had to stop him and ask.
The dessert tray came out immediately, but no prices were given as there was no menu. They arrived moments after we ordered. The moment we finished, the check came. The change took all of three minutes.
Here's my problem. First of all, the cart is incredibly stupid. I couldn't help but wonder if Morton was short-changed during childhood show and tell. A freaking tomato? A potato? How dumb is that? Second, at no time did any personality emerge from a well-rehearsed robotic cadence. Our server seemed bored with his job. Finally, we felt rushed to the point where it ruined the dinner. From the moment we sat down, I could barely catch my breath. Later that night, I dug out all my steakhouse receipts and added up the times. Morton's was 62 minutes, start to finish. The next closest was an hour-thirty-five from Ruth's Chris. We hadn't told them we were in any hurry. The restaurant was only half full, so they weren't going to turn the table, and it wasn't late. Unfathomable. If I pay $300 for dinner, I want it to last a while. As one of my friends said, "Morton's has managed to destroy the magic of dining". I quite agree. Grade D.
Salads: We ordered Caesar salads as we did everywhere else. They were ample with good fresh greens, though slightly overdressed. Little bursts of anchovy flavor peeked through now and then, and even the croutons were decent. Overall, the salads here were better than anywhere else, though none of the steakhouse Caesars were anywhere near as good as say, Café Castagna ($10). Grade B.
Steaks: For comparison purposes, we stuck to the same cuts as everywhere else, a Porterhouse and a New York. The fillet side of the Porterhouse seemed a bit small, but the flavor was pretty good. The strip side was not nearly as flavorful as the other steakhouses and was a bit tougher than usual. This surprised me because that cut's lack of collagen means the meat is usually pretty tender. It was cooked medium-rare as ordered and had nice sear and seasoning ($49).
The New York was cooked just right but had a weird mealy texture like it had been over tenderized. The sear was nice. Based on flavor and texture, I liked this steak Morton's steak the least of every steakhouse we went to, even Ruth's Chris, where it was overcooked. An interesting side note, which maybe someone can explain; it bled a huge amount, and in spite of the wait time the meat must not have rested. It must have had a quarter-inch of red blood in the dish. I thought maybe it was just me that was bothered, but someone at the next table leaned over and said, "Your steak looks disgusting" ($49). Grade C-.
Sides: We had two sides. Asparagus, which was advertised as "Jumbo", came grilled with a balsamic reduction, which was, in a word, horrible. The vinegar was incredibly sweet, which muted any asparagus taste. I managed to choke down a few spears, but that was the best I could do ($10.50). The potato was just fine, no complaints, except that they come dressed with nothing. The waiter stands at the table with a selection of butter, sour cream, and bacon, spooning on your choice until you say stop. It felt stupid to me; just give me a few little ramekins as everyone else does, and at least put butter on it! ($8.50)  Creamed spinach tasted like some sort of dessert dish. It was sweet, with a predominant taste of nutmeg. The ratio of cream to spinach was way off, leaving us with a gloppy bechamel with some sad chopped greens. Grade C-.
Desserts: The oh-so-chic 1960's dessert tray is also paraded to your table. Honestly, none of them looked particularly good. Among the choices was a piece of a key lime pie with so much whipped cream it wasn't appetizing, a plate with about 24 raspberries laid out in rows with a small amount of whipped cream, and a crème brûlée, which is what I chose. The filling was slightly undercooked, and the sugar coating was a bit too thick, which left it chewy ($9.50). Strangely, we were never told the dessert prices, nor did we receive a menu for them. I should mention that the server warned us there were several desserts, soufflés as I recall, that we had to order at the beginning of the meal because of the cooking time. I wish I had, as they might have been better, but I forgot in the rush. Grade C.
Miscellaneous factors:
Drinks from the bar were less than stellar. Several basic cocktails were way out of balance and took forever to come to the table. Not only that, but they were expensive – $14.50. The wine list is decent, but nothing that really raised my eyebrows. The selection focuses very heavily on California wineries, though they have some European choices. I didn't notice any Oregon wines on the list. The markup was the highest of any of the four restaurants in my comparison. One of the house wines we were served had been opened too long and wasn't any good. Though we didn't drink more than a few sips, no one asked why. I was so disgusted with the whole experience, I didn't try to send it back.
Even the bread annoyed me. A whole round loaf of onion bread is brought out when you order. It comes with a huge knife to cut both the loaf and butter the bread, an awkward proposition. On top of that, I didn't like the flavor and texture.
I walked into Morton's expecting it to be about equal to El Gaucho, but couldn't have been more wrong. The entire meal experience was disappointing, from the service to the steaks, sides, and desserts. All in all, the hype was much ado about nothing.
The total cost of an average meal for two, consisting of two cocktails, two Caesars, two steaks, two sides and two glasses of house wine, priced in the center of the wine list, was $196.00.
This is the summary of a group of four steakhouse reviews. You can see the
Address:213 SW Clay St, Portland OR. 97201 (in the Koin Tower) Map
Phone: (503) 248-2100
Hours: Mon-Sat 5:30pm-11pm; Sun 5pm-10pm
Website: Mortons.com