Lots of people seem are talking about the iPhone, so I decided to take a look at a few new applications. This is the first of those reviews.
As the name suggests, Fromage is a cheese reference/database. At this time the program includes 225 French cheeses by region, 90 from Spain, 95 from Italy and 85 from the USA.
Each listing gives a photo the region, type of milk, texture and a suggested wine pairing. Tapping on this information flips the screen, giving further information. For an example, here is a random listing –
Ossau-Iraty -

Region: Aquitaine France

Milk (Raw): Ewe

Texture: Semi-Hard

Wine Pairing: Red: Cötes-de-St-Mont (Tannat. Cab.-Sauvignon grapes). White: Irouléguy (Manseng, Courbu grapes).

Ossau-Iraty is probably the least known 'Appelation d"origine Controlee' (A.O.C) cheese. The Ossau-Iraty unites two regions of France inthe Western Pyrénées: Ossau in the valley of the Bearn, and Iraty in the bech forests of the Pays Basque. The Ossau-Iraty is full of a delicious, nutty robust taste if it is produced during the period from June to September when the herds move up to  the high mountain meadows. Covered by a thick orange to grey rind, the pâte is white, supple and creamy. It becomes more firm as the maturing period is longer. An artisan pâte may have small holes and should not stick to the palate.
Some listings have more information, some less. For each cheese, you are given an option to add your own notes, add a cheese that is not in the database, or to "share" the information via email, which sends the entire listing. It's a nice feature.
Cheeses are listed alphabetically by region, milk type or texture. Strangely, you can only search by cheese name. You should be able to search by any characteristic, and not just by the name, or by going to the region and scrolling through the long list.
The "add notes" feature allows you to set a star rating (1-5), and by selecting the appropriate button, one can set a tag of "Try, Buy, or Favorite". The same section also enables further notes such as place found/price, tasting information, notes, keywords, etc. However, like the general search, I can't find a way to locate information based on personal notes. One has to scroll through the list of favorites.
Despite the missing search functions, I like this application. I never can remember more than basic cheese information and it is nice to have it in a device you can carry. Furthermore, the programmers seem to be very responsive to feature requests, and are adding more listings on a regular basis. If you are interested in cheese, this program is worth the $2.99 price, and is my favorite of the large number of cheese applications now available at the iTunes store. Note that this is a native iPhone application, but it works on the iPad too. It's just not quite as sharp when expanded to fit the larger size.
You might notice that you aren't seeing as much local artisan cheese in stores the past few months. Winter months divulge cheese-making secrets: it's a seasonal activity. Goat and cow milk production naturally follows seasonal cycles, waning in the fall and winter and escalating in the spring and summer after pregnancies and spring births have stimulated milk production. We tend to forget that milk is linked to fertility; the reason that cows and goats (and other animals, for that matter) produce milk is because it serves as food for their young.
You may see the problem here for a commercial dairy producer or cheese-maker …demand for your products doesn't necessarily decrease in the winter months, so how do you keep making cheese when milk supplies are naturally low? One thing you can do, of course, is simply follow the seasons–some of the smaller cheese producer such as Sally Jackson in Oroville, WA or Moonstruck Organic Cheeses on Salt Spring Island, British Columbia simply take a break and don't make cheese during the winter. Cheeses made in prior months are still aging happily in cellars and storage areas during the down times.
But farmers, clever as they are, have developed ways to keep milk production even throughout the year. One way is to stagger birth cycles…by this method, some animals are bred on a spring birthing schedule, while others might be on a winter birthing schedule. Cows, in particular, may be re-bred as soon as 60 days after giving birth on large industrial dairy farms in order to keep them productive. Dairy farmers have fertility patterns planned in ways that are not always appealing or even humane. But on the other hand, if milk production (or cheese production) is your livelihood, you must carefully consider where your milk is coming from.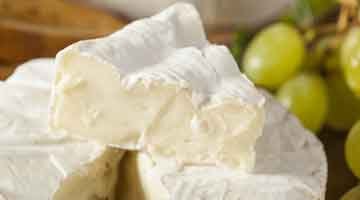 Another seasonal issue that directly affects dairy/cheese production is the food that the milk producing animal eats. In the spring and summer, grazing may be at least one source of food for dairy animals, but in winter, those pastures full of lush, green grass are long gone. During the winter, animals may be fed various types of grain and supplements as an alternative, which affects their milk and the cheese made from that milk. Many cheese aficionados will say that the best cheese can only be made with summer milk, when the cows or goats or sheep have been grazing on sweet grass and (using my imagination) pretty meadow wildflowers. Variations in food and environment brought by changing seasons also affects the color of milk, which is why a natural coloring called annatto is often used to give commercial cheese (as well as butter) that characteristic yellowish color. This reminds me of a section in Laura Ingalls Wilder's Little House in the Big Woods, I think it was, where Ma colors the winter butter with carrots to give it a warm yellow color. (On the other side of the issue, see [link no longer valid 9.09] for a somewhat disturbing discussion of milk "bleaching.")
Seasonal changes reveal herd and supply management issues inherent in cheese making – whether it's directly (where the cheese-maker is also the farmer who raises the animals, i.e. Juniper Grove Farm, Moonstruck, Alsea Acre) or indirectly (where the cheese-maker buys milk from elsewhere, i.e. Beecher's, Tillamook etc). These management issues, while always lurking in the background, are easier to see in the winter months than in the summer, when grass is plentiful and milk production is effortless (at least metaphorically).
Local Cheese Notes: Estrella Family Creamery cheeses are now available in Portland! Kelli Estrella and her family are making some of the best cheese in the Northwest, but until recently, you would have had to travel to Washington to find any. Now look for Estrella at Steve's Cheeses and at Foster & Dobbs. Lately I've particularly enjoyed Old Apple Tree Tomme and Domino, both made from a blend of cow, goat and sheep's milk.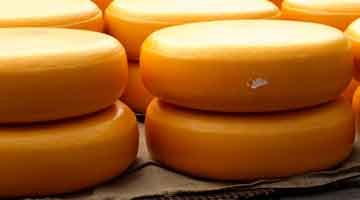 This article from 2006 by author Tami Parr of The Pacific Northwest Cheese Project answers many questions about the care and storage of cheese.
Let's start with a basic precept: cheese is high maintenance. From production to storage to consumption, cheese demands the full attention of the cheesemaker, the cheesemonger and the cheese enthusiast. Cheese is not a food specially developed to have a long stable shelf life; you have to approach cheese storage with more patience (and perhaps a sense of adventure) than you may be used to devoting to other food products.
Some background. From the minute that the cheesemaker separates the curds from the whey, cheese is in a continuous state of dehydration. Fresher cheeses such as ricotta or fromage blanc are moist, even runny cheeses. Age a cheese and you get a progressively harder and firmer product like a cheddar or a tomme. Throughout the maturation process, cheese breathes and exchanges moisture with the surrounding air. This process sounds a little creepy, but in fact nurtures all of the various organisms that make cheese so amazing. The take home message here: be ready to commit to your cheese and spend some time with it to foster this process. Treated well, great cheese will be its own reward.
First things first. Cheesemongers repeat this mantra over and over–don't buy more cheese than you can eat within a few days. Cheese shops have specially controlled refrigeration and the time and know-how to monitor the state of their cheeses, turning the wheels, trimming mold, bathing washed rind cheeses and otherwise maximizing the cheeses' life span.
Wrapping Cheese. Once you buy a wedge of Juniper Grove Tumalo Tomme, a hunk of French Cantal, or a gushy Epoisses, what should you do with it? Some cheese aficionados criticize grocers for wrapping their cheese in plastic. I asked Sasha Davies, cheese affineur at Murray's Cheese Co. in New York, her opinion on plastic-wrapping cheese. She says, "plastic wrap is not totally evil–once you've cut a piece of cheese it needs to be protected from losing moisture–plastic wrap can help with this." Opinions may vary on this point, but my feeling is that plastic wrap for a few days is not going to hurt your cheese. Carmen Bleything, cheesemonger at Beecher's Handmade Cheese in Seattle, recommends wrapping cheese in porous material like waxed paper, freezer paper or butcher paper that allows cheese to breathe for short term storage. "If all you have is plastic wrap," Carmen says, "I would suggest just changing it every couple of days, or each time you unwrap the cheese." Fresher cheeses such as ricotta should be stored in a plastic container.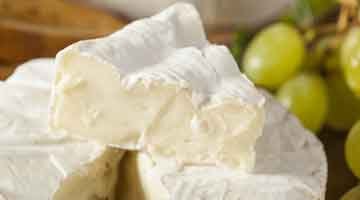 Controlling Humidity. In a perfect world, you would have a cheese cave at home where you could store your cut cheese at around 50-60 degrees Fahrenheit and 80% humidity, as Neal's Yard Cheese Shop in London recommends. In Cheese: A Connoisseur's Guide to the World's Best, Max McCalman suggests that, as an alternative, you could store your cheese in a corner in your basement (approximating a cheese cave) . . . but I'm afraid this could lead to other problems. Really, the simplest and most practical solution to the problem of where to store cheese is the refrigerator. Unfortunately, refrigerators desiccate whatever is placed in them. If your refrigerator allows you to control the humidity of some areas, store your cheese in a higher humidity area or drawer. Aged cheeses that have already lost a lot of moisture can handle lower humidity better than younger, moister cheeses, which will lose their character quickly if they're allowed to dry out. Lacking humidity control, place wrapped cheese in a vegetable bin or other environment (even a large plastic container) that will shield the cheese from your refrigerator's dehydrating air flow.
Learn to Love Mold. Mold and bacteria are an integral part of the cheesemaking process; they impart flavor and character to cheese. Soft ripened cheeses (of the Camembert genre) are intentionally sprayed with mold cultures, which leads to the development of the semi-firm rind that preserves the softer insides. Cheeses like cheddars or Stiltons, which may be aged anywhere from eight months to several years, form a crusty, moldy layer on the outside of the cheese that is generally wiped or washed off by the cheesemaker periodically as part of the aging process. So if your aged cheese picks up mold while in the refrigerator, simply trim it off and enjoy what's left. Mold on a softer cheese, however, most likely means that it's well past its prime.

Other Tips:
• Store like cheeses together. Parmigiano Reggiano is going to store much differently than a Reblochon or other soft ripened cheese, so it doesn't make sense to wrap these two up together in the same piece of waxed paper. Aged cheeses are more durable and will store better than softer, fresher cheeses.
• Milder cheeses are best stored separately from stronger cheeses, which can impart their flavors to the milder ones. Blue cheeses should generally be stored on their own, since the mold from the blue cheese can particulate over whatever is stored with it.
• Don't freeze cheese! Freezing destroys the character of the cheese. As Steve Jenkins says in his Cheese Primer, "simply get (the notion of freezing) out of your head." If you choose to freeze your cheese, use it for cooking rather than enjoying on its own. Some people have reasonable success freezing high moisture, fresh fromage blanc style cheeses, however.
• Trust your instincts. Ammonia smells, black mold and slimy surfaces are all good indications that your cheese may be too old for consumption. Different people have different levels of tolerance for this sort of thing, but here's my suggestion: if it grosses you out, throw it out and don't look back.
• Your results may vary. Remember, good cheese is a high maintenance gem; variables like room temperature, humidity, the temperature inside your refrigerator and the temperature outdoors will all affect the lifespan of cheese. Experiment with what works best.
Visit Tami's excellent site: Pacific Northwest Cheese Project
by Tami Parr
Now that spring has officially arrived you'll be seeing more and more local cheeses in stores as Oregon's artisan cheesemakers go into full production for the year. You might even say cheese season has arrived! And with the start of the Portland Farmer's Market (as well as others around the area) local cheese is now readily available directly from the cheesemakers themselves. I'm offering this list of picks to get you started this year exploring all of the great locally made cheese that's available and waiting to be tasted.
Willamette Valley Cheese Company's Brindisi Fontina – Rod and Melissa Volbeda make Dutch cheeses like Gouda and Havarti that reflect the Volbeda family heritage, but they've stepped out a little bit with this Italian style Fontina. Named after Rod Volbeda's mother (Brindisi is her maiden name), this cheese is available in a softer, more buttery style or an aged variety. I'm particularly partial to the aged Brindisi, a straw-yellow gem with small holes and a big flavor. Widely available at retail outlets and farmer's markets.
Rivers Edge's soft ripened goat cheeses have won me over….the first time I tried Pat Morford's Full Moon (brie-style) cheese I was amazed by the complex flavors she coaxes out of her goat's milk. Must be the marine climate (Pat's farm is close to Newport)! Rivers Edge soft ripened cheeses come in several varieties including the Mary's Peak pyramid and an ash-coated pyramid called Cape Foulweather, and there are plenty of other variations to try. Available at Curds & Whey, New Seasons and Market of Choice, as well as at the Oregon City Farmer's Market.
Rogue Creamery Smokey Blue – These days you can have Rogue Creamery's Smokey Blue crumbled on a salad at Burgerville, but next time you're in the market for some blue cheese, it's worth picking up a wedge of this gem. While you might be suspicious of a smoked blue cheese, the smokiness of this cheese is subtle and mingles with the concentrated blue, pungent flavors to create something really special, almost sweet. Widely available around town, at most farmer's markets, or from Rogue Creamery's website.
Fraga Farm Goatzarella – Jan and Larry Neilson at Fraga Farm make great organic goat cheese, but I especially like their goatzarella. A fun and addictive take on "regular" or cow's milk mozzarella, this goat cheese is stringy just like you'd expect but also has a tangy goat flavor that's a nice change from the bland rubbery stuff you may be used to. This is a good snack or picnic cheese, and also melts well. Fraga Farm products are available at local farmer's markets, Market of Choice, Alberta Co-op, People's Co-op and Food Front.
Juniper Grove Farm Tumalo Tomme – For me, this is one of the best cheeses being made in Oregon today. Tumalo Tomme is an outstanding example of what a master cheesemaker like Pierre Kolisch can do with a little time and good milk. This raw goat's milk, washed rind cheese, made in the shadows of the Three Sisters Mountains, brings a little bit of central Oregon to your tastebuds. Consider this instead of the Manchego, the British Cheddar or the Tomme de Savoie that you might otherwise bring home…you'll be impressed. Juniper Grove Farm Cheeses are available wherever fine cheese is sold, and at most local farmer's markets. And while you're looking at Juniper Grove cheeses, check out the Redmondo as well.
Visit Tami's excellent site: Pacific Northwest Cheese Project
Note: Steve's Cheese moved, expanded and now serves sandwiches and small plates. The name has changed to Cheese Bar. The new address and other information is below.
A couple of weeks ago, Steve Jones celebrated the one year anniversary of Steve's Cheese, his cheese and cured meats shop located in Northwest Portland. The anniversary was a milestone of sorts for this city, which up until a few years ago had only a couple of sources for good cheese – Pastaworks and Elephant's Deli. Over the past year, Steve's Cheese has rapidly developed into a preferred destination for local cheese lovers. I spoke with Steve recently about his shop, his philosophy and – well, about cheese.
Tell me a little bit about your background – how did you originally get into cheese?
I cooked professionally for awhile. I didn't care for the hours, basically – but I knew I wanted to stay in food, so my wife suggested that I try retail food. I ended up managing a deli and I fell in love with buying cheese and cured meats. That was ten years ago. After that, I was contacted by a guy who wanted to build a cheese counter that was based around American artisan cheeses…this was way before anyone else was really doing it. So I got to build the main store (this was the Wine Merchant in St. Louis, Missouri). That's where I became focused on American products.
At that point my wife and I decided we wanted to move back to Oregon, and I ended up doing a couple of years at Provvista here in Portland, learning the distribution end of the cheese business. I left Provvista with the idea of opening a shop in mind, wanting to do it within a year or so, but one thing led to another and I ended up working at New Seasons for 2+ years. While I was there, I built a brokering business. I was brokering for Rogue, Oregon Gourmet, Juniper Grove and Willamette Valley Creamery. Brokering is a little different than distributing – you're working with placement, making deals. Interesting, but not very profitable.
I left New Seasons with the idea of definitely opening a shop. I was working in the front of the house at Park Kitchen at the time just to generate money and have time to get the place open. The original location I was looking at was located next to Park Kitchen, but the lease negotiations fell through. So then I said – hey, why not look at this totally differently.
How did the space at Square Deal Wines come about?
I had read about Square Deal wines, and so I went up there and started buying wine. I noticed that they had a really big space, and I was also thinking – well, this is a great neighborhood that had everything we were looking for, well educated, well traveled, affluent people in a pedestrian area. It was amazing how quickly it came together. It was a real leap of faith from both ends.
Can you talk a little bit about your approach to selling cheese, the philosophy behind it?
Whenever anyone asks what we're about the single word answer is "small." We're small in every possible way. We try to deal with the smallest farmers we can, the smallest producers we can, the smallest businesses. And we're about 80% effective….there's some semi-corporate stuff we have to deal with, for example, there's not a lot of artisan brie out there from France.
But we spend all of our vacations visiting cheese producers. Usually cheesemaking regions are beautiful…we just went to Piemonte in Italy a few weeks ago. We were immersed in Robiolas; we were in a hilltop village and one producer was at the bottom of the hill, and as you looked off into the distance you could see something like 8 different Robiola producers within a 5K area, it was very fun.
Another thing that is really important to me is education…not being elitist at all. I don't want people to be intimidated by cheese. It's frustrating that people put cheese on a pedestal because it's such a peasant food. A certain percentage of people come up to the case here to look and get really anxious. When I see that I try to give them a taste of a middle of the road cheese – here, I say, try this. But that helps me tell where they are at.
What appeals to you about small producers?
I grew up in a small farming community in Iowa, and I watched my grandfather's farm be taken over by a corporate farm. Even as a little kid I knew that was terribly wrong. And I've always said that I will do my best to keep small business alive. I think it's what the US is based on, we're about freedom and small business and individuality and that's what I want to support. So it's political first and foremost. But fundamentally, I think you get better, more interesting products from small businesses. You get the variance and the seasonality. And a lot of it is just greed – I like knowing these people, I like our conversations, I like their quirkiness.
In European Union, food traditions are going in a very negative direction, long term. I would like to see the US keep some of those food traditions going in our own vein. I know people over there are going to fight it – and hopefully they will win, because I like European cheese too, I'm not just American at all. In many ways, we're becoming a world market, and with Lufthansa flying directly into Portland now, that's opened a whole new window for Portland. Now at least we have a direct connection to Europe…and you can see it from the great fresh cheeses that have started to come in, many are coming from very small European producers.
In the last couple of years there's been a cheese shop renaissance in Portland – suddenly there's you, Foster & Dobbs, Curds & Whey – why do you think this has happened?
I think it was long overdue in Portland. Pastaworks, for example, has been around a long time and Liz Wehrli and Peter de Garmo have done a great job for a number of years, but Portland has been ready for a cheese dedicated shop for a long, long time. I'm not surprised at all to see that we all popped up as close to one another as we did. People sometimes ask if it worries me, and I say no for several reasons…one being that we're in different parts of Portland, which works out great for all of us. And consumers are so well educated about cheese these days – a well educated consumer is your best consumer. I love it that people are starting to come in and ask for things that I used to have to tell them about. Our time spent educating is becoming less and less and our time spent serving is more. I like the education process, but it can be hard to both educate someone and sell them something. But I think it's great that we're all here and Portland could probably handle a couple of more shops, even.
Where do you want to be 5 years from now?
I'd like to work on direct importing. I really want to continue developing relationships with cheesemakers. Also, though it's a huge undertaking on a number of levels, I'd love to do more with affineurship. I did an internship with Neal's Yard awhile back, and it's really helped me with how I handle cheese. I probably get 25% more life out of my cheese because of that experience. But in order to really focus on affineurship, I'd love to do another internship…affineurship is something I don't want to go into half-cocked. I think a lot of people call themselves agers, but if you're not doing it right, you're just holding cheese in a refrigerated case.
There's a lot of things I wouldn't mind doing, but one thing I definitely don't want to do is make cheese. I go out and make cheese with producers a couple of times a year and I love doing that, but ultimately it's back breaking work, very hot and humid over very long days with tons of cleaning, and that's just not my gig.
Yeah, a cheesemaker once said to me that cheesemaking feels like it's about 90% cleaning up.
It really is, it's amazing. That and looking at lists of numbers….you're looking for that intrinsic moment when the curd is breaking. But beyond that, quite a bit of cheesemaking is looking at ph and such. I think of it as comparing cooking with baking. Cooking is much more artistic and baking is much more scientific; both have aspects of the other, but you kind of have to have that scientific mind to be a baker and you don't have to in order to be a cook. That's why I don't bake. But I have the utmost respect for people who do make cheese day in and day out. It blows my mind that they can do it seven days a week for years on end.
Ultimately I just really like being a retailer. It's really fun to get to know customer's tastes and so on. There was a woman who was in here earlier today….I'm starting to just get her tastes figured out and it's fun. The biggest part of selling cheese is really just communicating, listening to a few key words, figuring out the right adjectives to say back to people.
What do you think about the current state of artisan cheesemaking? There is a sort of a local and national renaissance going on…
I'm really happy about everything that's happening, but I also think there will be critical mass and some cheesemakers will fold in the process. There are always certain people that are a lot better cheesemakers than others. And I also think that the Pacific Northwest will be a major contender nationally…we have green grass year round and hardly anyone can claim that. California can't. Wisconsin can't. Vermont can't. It used to be that I knew all the local cheesemakers by their first names… now it's hard to keep up! Kelli Estrella from Estrella Family Creamery in Montesano, Washington is, in my mind, the most gifted new cheesemaker in America. I once asked her – Kelli, how do you make such beautiful cheese? And she laughed and said – I've got a problem, and pointed to her head!!
I would like to see people coming into cheesemaking with a little more preparation. I see a lot of problems in the cheeses from the newer producers. I see a lot of overdeveloped rinds, rinds pulling away, just technical flaws that, with a little bit of education, people could do well. Most of the producers do eventually overcome these things, but it's frustrating that people aren't entering the market at a higher level.
Besides selling cheese and cured meats, you offer classes at your shop as well. Do you do events or catering, things like that?
We sell cheese cut to order, but I don't do catering. We don't sell sliced cheese for a couple of reasons: one reason is that we just don't have the space, but the main reason is that we don't believe in cutting cheese before it needs to be cut. But we love to help people set up parties, and we do sell the cut meats. Ultimately we just don't have room to pull off a full fledged catering business. But we're always tasting Square Deal's wines and they're tasting our cheeses all day, and as a result we're really good with putting together wine and cheese pairings.
We also do farmhouse dinner events, which are large picnics with cheeses and pretty much everything out of the case – a whole bunch of cheese and cured meats and pates, pickles and olives and nuts. Those are really fun, and a festive way to get familiar with all of the products that we sell. But I really prefer that people come in and do the class. You get to taste a lot of product, but you also walk away better informed. Our classes are a great deal, all of them are $15 and you get 5-6 wines and 5-6 cheeses. You can't buy a flight of wine for that in most places. But we don't look at it as a money making endeavor, it's good advertising.
How about some cheese basics…what's your position on plastic wrap for cheese? What is the best way to store cheese once someone brings it home from your shop?
Plastic wrap is a necessary evil for a retailer, because customers have to be able to see the cheese. The eye eats first. We do use cheese domes quite often, and if the cheese has enough moisture we'll let it sit out. But you have to use something that holds the moisture while still allowing people to see the product.
As soon as we cut the cheese for the customer, we take a face cut. We never give you the taste beside the plastic because it tastes like plastic. That's something people should always be aware of; if they're having someone unwrap a piece of cheese and give them a taste you might want to ask for the second cut instead of the one right by the plastic. Once we cut cheese for a customer, we wrap it in cheese paper.
My unofficial motto is: buy less and come back more. I truly believe that's the way to go. But if you can't eat your cheese within 3 days we recommend wrapping it in fresh paper, it can be wax paper or whatever else is handy, and then putting it into a Tupperware container. Then, not only will it have the breathability of the waxed paper, but the Tupperware container is going to keep the moisture in. That's how I store my cheese at home. People sometimes say things like – I really don't like that Cowgirl Creamery cheese, it's just terrible tasting – and inevitably it's because it's been wrapped in plastic too long almost every time. It's expensive, and it can go south so quickly. They make such great cheeses, but so few people get to taste them in great shape.
Can you give us some cheese recommendations?
People always ask me – what's your favorite cheese? It's a hard question to answer because today it might be Montgomery Cheddar, but tomorrow it's going to be a stinky washed rind cheese from Corsica. Today I'll say this: first and foremost, try anything you can from Estrella Family Creamery. Also, I love the fresh cheeses of northern Italy – I'm a huge Robiola and Brescianella fan. I'm fascinated by the cheeses from Piemonte and Lombardia. The thistle rennet cheeses from Spain are also really interesting, the Torta del Cassero or Torta de Casar. People should start paying attention to affineurs, that's a really interesting way to shop. Pascal Beillevaire is doing some really interesting stuff; Jean d'Alos is my personal favorite of the affineurs. These are the people who are really working the magic with cheese. And this time of year, I'm always hot on Neal's Yard Dairy cheeses – in the winter, they're just so good, so appropriate for this cold wet weather. I'm also really into cured meat right now, my focus lately has been on small artisan cured meats, I'm just enamored with them.
Cheese Bar

Address:  6031 SE Belmont, Portland OR. 97215. Google Map
Phone: (503) 222-6014
Hours: 11 am-6 pm Sunday-Tuesday, 11 am-8 pm Wednesday-Saturday
The Pacific Northwest Cheese Project is a blog run by Tami Parr. Visit Tami's excellent site: Pacific Northwest Cheese Project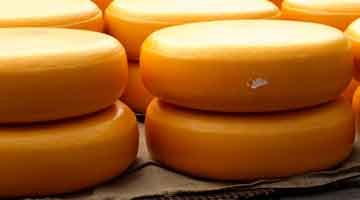 Dear Diary:
Today I went to a cheese festival. It was sort of like Disneyland for cheese lovers, and I left feeling a lot like I do after a visit to the Magic Kingdom–exhilarated and slightly sick to my stomach.
The annual conference of the American Cheese Society-yes, the one and only, accept no substitutes-hit town on Thursday, and all sorts of cheese makers and fellow travellers were in town to talk about milk and curds and rennet and all sorts of other technical cheesy stuff. They came from as far away as Vermont and Quebec in the northeast and Texas and Louisiana in the south. They brought chunks and wheels and buckets and bricks of their cheeses for judging in 22 main categories and too many subcategories to count. At the end, on Saturday, is the Festival of Cheese, which is like the grand finalé at a Fourth of July fireworks display. All the entries are put on exhibition, with the lucky winners accompanied by their blue, red or white ribbons, and samples of each are cut for the assembled cheese mavens and any locals who had heard about the Festival and were willing to pay $75 for a ticket. Cheese tasting, along with consumption of lots of wine, beer, smoked meat and other things that go with cheese began at 4 and was set to continue until 9.
I arrived a little before the opening bell with nothing in my stomach save for some fresh fruit gelato which might just as well have been nothing since gelato melts pretty fast once you eat it. I was ready for some serious noshing. And I had come to the right place. In front of my eyes was 10,000 square feet of cheese; a giant ballroom with large display tables throughout, each groaning with a payload like you have never seen in your life. Someone said there were 1,000 different cheeses, which sounds about right, though it could just as easily have been ten thousand or a million. All I know is that there was a mountain range of cheese and I intended to conquer it.
After my last all-you-can-eat fancy food extravaganza, I promised myself that next time I would rigorously pace myself. I want you to know, dear diary, that I kept that promise for roughly eight seconds; it was quickly forgotten amidst the abundance. I saw lots of people daintily using the dishes and silverware provided for sampling. A friend of mine-the notorious food blogger Extramsg-was dictating sage commentary about the cheeses into an official looking portable electronic device. Something about grassy flavors and metallic aftertastes. I was laughing and scarfing samples by the handful, though I was careful to attempt to taste each one. My notes are somewhat obscured by smears of what could be camembert, but with respect to most, my comments appear to counsel, "tastes good" or "kind of stinky." This will, no doubt, be a real boon to future buying habits.
I managed to sample continuously for about two hours, starting with the grand prize winner from Vermont, Cabot Clothbound Cheddar, which had been aged by my favorite fanatical cheesemakers, brothers Mateo and Andy Kehler of Jasper Hill Farm in Greensboro, Vermont. I had the privilege of visiting Jasper Hill in May even though it is not normally open to the public. Mateo generously took time to lead a tour of the operation, during which I happened to spy several wheels of the future award winning cheese. I want to thank Mateo once again for the tour and tolerating my insightful journalistic queries, such as "why are those dairy cows humping each other?" As far as the prize winning cheese, my notes say that it "tastes good."
After about an hour of initial grazing, I started to feel full, took a bit of a break by eating some of the wonderful fresh fruit, including glorious fresh blackberries, that was strewn about randomly on the cheese tables, then went at it some more until my stomach felt distended and the very sight of more cheese induced waves of post-Matterhorn-like nausea. So you shouldn't think I took nothing for posterity from my Festival of Cheese visit, I would like to share my personal two prize winners from the event. First, from the butter table, to which I was drawn like a moth to a flame even if butter is not technically cheese, kudos to the "White Chocolate Praline Butter" from Bittersweet Plantation Dairy of Gonzales, Louisiana. Throw away the Mrs. Butterworth's and instead slather this wonder of the world on your pancakes, waffles or toast, or the body of your significant other if you are into such things. After at least ten samples consumed purely to advance the public interest, I can assure you, dear diary, that this stuff is like the two-in-one oil of pancake toppings-at once subtly sweet and oh so buttery. It was beyond delicious; it was. . . .butterific.
My other cheese choice is, in fact, cheese, but not like one I had ever tasted before. It is a fresh goat's milk product called "Brandywine" from Rollingstone Chevre, just a cheese ball's throw away from Portland in Parma, Idaho. Though my notes only say that it "tastes good and is kind of stinky," my memory is that it was about the size of a small wheel of brie, carefully wrapped in chestnut leaves. The flavor was a haunting mix of herbs, fruit and a slightly sweet, mild goatiness. I could have eaten a pound of it, and perhaps I did, but only in pursuit of analytic accuracy.
My watch said 6:30 when I finally left the Festival for good. It was a melancholy moment, even if I could not eat another gram of the still remaining edifices of the milk-based munchies. I was told that next year's event is in Burlington, Vermont. Dear diary, I hope I get to go. It will surely be another wild ride.
Your faithful correspondent,
Michael
By Tami Parr
In my last discussion about cheese here at Portland Food and Drink, several commenters mentioned price as a big part of their decision to buy (or not to buy) domestic artisan cheese. This intrigued me, so I've been pondering the issue for awhile.
The first part of my thinking involved some retail research. I visited a local cheese purveyor a few days ago and randomly compared prices on a few foreign vs. domestic cheese. The result? It's a mixed bag. Here are some retail prices (per pound) for a few types of cheese:
Domestic
Rogue River Blue $27.99/lb
Juniper Gove Tumalo Tomme $16.99/lb
Pleasant Ridge Reserve $24.99/lb
Willamette Valley Gouda $13.99/lb
Foreign
Colston Bassett Stilton $16.99/lb
Manchego $13.99/lb
Tomme de Chevre $15.99/lb
Ossau-Iraty $20.99/lb
Obviously this is unscientific, but overall, I don't think one can necessarily generalize that domestic cheese is more expensive than foreign. The more obvious conclusion is that cheese is expensive, period.
I tend to think there's more to the issue of how we buy cheese than strictly price. Many of us might be willing to spend money on wine, specific cuts of meat or exotic produce but why don't we automatically make the leap to justify paying for (domestic) artisan cheese in the same way? I know I frequently ogle Cowgirl Creamery Mt. Tam and Red Hawk in the store, but either one can cost nearly $35 retail, and that price gives me pause. Some stores helpfully sell half rounds, but even at upwards of $15, the price still makes me wince a little. If you buy organic produce, you're probably paying more for it than "regular" produce because of the perceived benefits (to your health, to the environment, etc). I don't think we make the same conceptual leap in relation to cheese purchases, or at least not so easily.
To some extent, consumer cheese buying habits are the result of personal taste and preference, but as I'm thinking about this, I'm interested in how those preferences are shaped. I think a large component of our (lack of) perception about cheese is that we simply do not have a centuries-old tradition of cheesemaking and cheese consumption as does, say, France, where cheese is an inseparable part of culture and national identity. Per capita consumption of cheese in France is said to be more than 50 lbs per person, per year. This is a country that's slightly larger than Oregon and Washington combined, which produces upwards of 500 types of cheese (Steve Jenkins puts the figure at around 650). In the US, we consume about 30 lbs per year, and I think it's fair to say that a large portion of that is in the form nacho cheese sauce, not artisan cheese. The states of Oregon and Washington have around 30 cheesemakers between them. I'm not sure what in our culture qualifies as significant enough to be comparable to the importance of cheese to the French; the only thing I can come up with is Coca-Cola – not a very good example. We're a much younger, larger country made up of diverse regions of microcuisines and local agricultural specialties which arguably work against any one product carrying deep cultural meaning. But I also think this is why it's easy for us to pass by the cheese aisle altogether and focus on other parts of a meal that we're more comfortable with and more educated about, like Oregon Country Beef or heirloom tomatoes.
Here's another angle on the cheese buying issue. I asked a group of friends who carpool to and from Salem every day and have a lot of time to chat on the way, what their thoughts were about paying premium prices for artisan cheese. These are people who are interested in food and who have some disposable income to spend on cheese despite their meager state salaries. To my surprise, two of three discussion participants said that they were intimidated by cheese generally; this influenced their buying decisions, they said, because they weren't willing to spend a significant amount of money on cheese if they felt uncertain about what to choose and/or how good any given cheese would be.
This tells me that another part of issue is education. Cheesemakers and cheesemongers need to do a lot more to educate people about their products, and about cheese in general. People simply aren't going to purchase something that they don't understand and don't feel motivated to understand – and whether it's foreign or domestic isn't going to matter on this level. Farmer's markets go a long way in this regard, bringing domestic artisan cheese directly to people who might otherwise be too intimidated to go to a cheese shop or to the cheese section of a deli. But even those of us who consider ourselves more savvy in the area of cheese appreciation might choose to buy the default Roquefort or Bucheron or Manchego we're familiar with – and perceive the choice to be potentially better because it's foreign – rather than try an unfamiliar domestic artisan cheese with an iffy pedigree.
Immigrants brought cheesemaking expertise to the United States from their respective countries, but cheesemaking for the most part took a back seat to survival in the New World. Today, in our twenty-first century United States, people are talking about an emerging "new wave" of domestic artisan cheesemakers. Clearly, said domestic cheesemakers have their work cut out for them if they hope to achieve the cultural prominence afforded the Old World fromageur. Whether or not that's possible or even preferable, we cheese appreciators can contribute by taking the time to learn about cheesemaking in our own backyards.
Today's Cheese Recommendation: New Seasons has just started carrying goat's milk cheeses from River's Edge Chevre, a new Oregon goat cheese producer out of Logsden, Oregon (near Newport). I tried their soft ripened cheese recently and it was really remarkable – rich, creamy, complex and a little oozy around the sides. This is really good stuff if you like smelly, brie-style cheeses.
(Editors note: the River's Edge is really good!)
You can read more of Tammy's writing at Pacific Northwest Cheese Project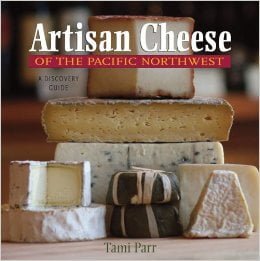 It is about to get even more so. You may be aware of the terrific cheese blog, The Pacific Northwest Cheese Project run by Tami Parr. I've always wanted a cheese writer (not cheesy, I do that all by myself), and prevailed upon Tami to bring some of her expertise to this site. Like the others, she'll be writing what she feels like, when she feels like it. I asked her to write a quick bio:
My family comes from a small farming community in southern Wisconsin. Growing up, I visited Wisconsin just about every summer and while there, spent a lot of time on my aunt and uncle's dairy farm. Here I learned about the hard work that goes into creating the food that goes onto the dinner table, the relief of getting the milk check in the mail, and the joy of a good harvest.

In Wisconsin cheese is a way of life, much the same way salmon represents something essential about the Northwest….so perhaps some of my passion about cheese comes genetically. Mostly I'm fascinated by cheese as a living, breathing food and a complex intersection of animal, land and craft. This terroir, if you will, is what I'm exploring when I think about, taste, and write about cheese. In my blog Pacific Northwest Cheese Project, I focus exclusively on Northwest cheese and cheese-makers – here I hope to explore a wider range of cheese and cheese issues as well.

The earliest memory I have involving cheese occurred when I was about 5. A kid was riding his bicycle around our neighborhood with a silver packet in his hand – it was the packet of "cheese" from a box of Kraft Macaroni and Cheese. Look, he said, this cheese comes free inside the box of macaroni – as he gleefully poured bright orange handfuls of dried powder in the hands of anyone interested.
Welcome to the site Tami. You are joining a great group of writers, a great group of readers, and now you'll get invited to the first annual, Food Dude dinner with all our other writers, to be held in November.
A certain euro-centrism reigns in cheese appreciation circles. When I think of good cheese (really good cheese), what immediately comes to mind is an imaginary French or Italian sheep's milk gem crafted from the milk of herds grazing in the Alps. On some level, there's a logic to this; European cheese-making is a centuries-old tradition that produces some of the world's great cheeses. But on another level, many aficionados take an us vs. them approach to cheese appreciation, as if great cheese can only be measured against European standards. I think there's a lot more to cheese than that. For example, when was the last time you read anything about Mexican cheeses? Mexican cheese doesn't carry the same cachet as European cheese – but isn't that reflective of historical and cultural differences that make cheese mean one thing in Mexico and another in Italy? Isn't this also reflective of the fact that we've developed our concept of "cheese" through the European paradigm?
In his Cheese Primer, Steve Jenkins spends a couple of hundred pages detailing the virtues of a range of European (and a few American) cheeses. Although he's famous for being a curmudgeon, he certainly knows what he's talking about. After a recent trip to Canada, though, I checked the Primer to see what he had to say about Canadian cheese. Basically, he dismisses the whole nation in a couple of pages (pages 470-71, if you're following along at home). I can't speak for all of Canada, but I do know that at least in British Columbia, there are a few artisan cheese-makers who'd beg to differ with him. Salt Spring Island Cheese Company's Montaña (an aged cow/sheep's milk cheese) is, in my opinion, one of the best Northwest cheeses being made today.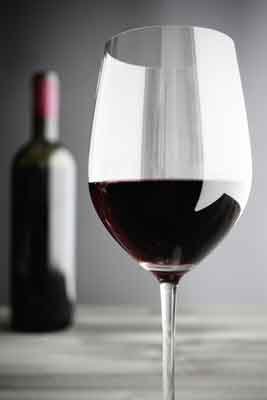 In 1976, California wines beat out French wines in a now infamous blind tasting. Many people attribute the rise of the California wine industry to this pivotal moment in wine history – a point where it was finally acknowledged that California wine could be as good as French wine. We've yet to reach that critical moment with relation to domestic cheese, however. Part of it is simply our own mindset – we're just not ready to think of ourselves in North America as true Cheese makers-with-a-capital-C. No one in Europe is, either. Part is also due to the fact that the North American artisan cheese-making industry is still growing, and variations in quality and consistency abound. Part of it is also marketing – local cheese-makers lack the support of local and federal governments that European cheese-makers enjoy (Brand Oregon doesn't even come close – the Canadian Government's Canadian Dairy Information Centre does much better on this front). And American cheese making's umbrella organization, the American Cheese Society, has only been around since the early 1980's.
While these historical, economic and cultural forces are beyond the control of the average consumer, what we can do is expand our minds and palates by exploring the range of tastes and flavors available to us locally. So next time you're staring at the cheese case at Pastaworks or Whole Foods or New Seasons, feeling like you should buy the Camembert or the Manchego, stop for a moment and direct your attention to cheeses made by domestic producers. Here are some suggestions – all of these cheeses are available here in Portland. Let me know what you think.
Uplands Cheese Company's Pleasant Ridge Reserve, a Wisconsin farmstead cheese made only in the summer months, won best in show at this year's American Cheese Society competition. This is a wonderful creamy, nutty raw milk cheese.
Rogue Creamery's Rogue River Blue – Blue cheese wrapped in grape leaves that are first soaked in brandy – absolute heaven and Rogue's best blue. When I was at the New Seasons in Sellwood a few weeks ago, they had an entire wheel of Rogue River Blue in the refrigerated case, yet to be cut.
Fiscalini 18 month Bandage Wrapped Cheddar – I first tasted this at the Seattle Cheese Festival earlier this year – this is an amazing, deep, complex cheddar from California.