<updated 10.15>
Every city should have a few great bottle shops, especially if that city is known for beer. In my opinion, Portland needs more neighborhood bottle shops; there's something special about buying beer from a place that specializes in beer and beer alone. Here is my guide to some of the best beer shops in Portland Oregon.
A good bottle shop is a place where anyone can go for simple advice—on food pairings, styles, glassware, cellaring, etc.—without feeling intimidated. It should have a good selection, which does not mean carrying the Congolese lager you had on safari ten years ago, but having some standards plus a range of bottles you can't find at good grocery stores.
Beer should be priced fairly; regular beer shoppers will spot ridiculous markups right away.
The responsibility for creating a place that feels accessible and specialized rests not just with the beer buyer, but the staff. Like a good sommelier, a beer seller can make recommendations by smartly gauging a customer's knowledge.
For example, if you know you like dark beers after Labor Day, a good purveyor will ask you just enough to figure out 1) what kind of beers you'll definitely like and 2) what might push your palate a bit, within reason.
Also, I appreciate bottle shop staffers who don't talk down to me because I'm a woman, which unfortunately does happen on occasion.
Here are what I consider to be Portland's true bottle shops. I chose not to include grocery stores with good beer selections, including New Seasons and Beaumont Market, or specialty shops such as Cork and Foster & Dobbs, which carry beer but on a small-scale.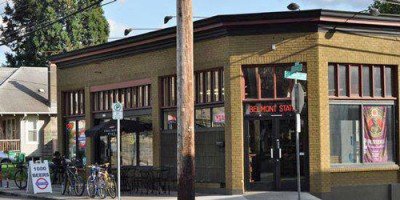 The oldest and most venerated bottle shop in Portland has an impressive selection of 1300 beers (there's a constantly updated list on their website) and knowledgeable staff that will take the time to browse and brainstorm if you ask. Chilled American beer is on one side and imports on the other, which includes some six-packs. Room-temp beers are shelved in between. The aisles are tight, but it's impressive to see such a huge range of beers packed into a relatively small room. If you're shopping for glassware, this is the place. In general, Belmont has a reputation for higher prices; consider it the downside. The attached Biercafe is a great place to hang out. Grab a chilled bottle and drink it on site or try one of the cafe's 17 beers on tap, a rotation that usually features some rarer Oregon beers. I wish the food in the cafe was better. Stick to the selection of Steve's Cheeses.
A brand new bottle shop that plans to become half bottle shop/half bar, along the lines of Belmont Station. The owners have emphasized low prices ever since their opening in September, and the prices do seem a bit lower than other places, especially John's Market and Belmont Station. But I hope the strategy works in their favor. To whet appetites for future bar plans, they offer 5 rotating beers on tap for $3 a cup, and have tables with stools, a couch and beer reference books for browsing. Good selection of about 600 different bottles chosen by owners Craig Goulla and Sean Campbell, who have a preference for west coast beers.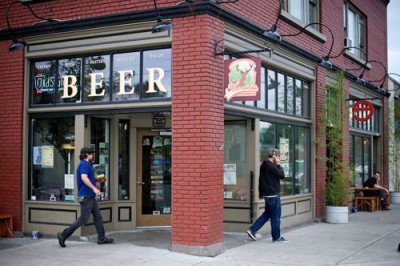 Saraveza Bottle Shop & Pasty Tavern
The new kid on the block is more bar than bottle shop, but the alluring vintage coolers and an extensive list of bottles makes it a to-go North Portland shopping spot. The bar is cozy and is decorated with ironic Midwest kitsch, including bottle cap tables and vintage PBR signs. If you pass up what's on tap, choose a bottle and drink it on site (also an excuse to munch on their tasty pickled vegetables). The Oregon and California dominated domestic list includes a nice geographical range, including some appropriate Wisconsin bottles. International imports are Belgian heavy, with some standard lambics and a few rarer bottles. The list offers something for everyone, but don't plan on receiving too much advice from the staff—service can be slow and/or distracted. The printed bottle list closely resembles what's in the cases, but do some window shopping; seasonal bottles frequently never make it to the menu. Over 250 bottles are available.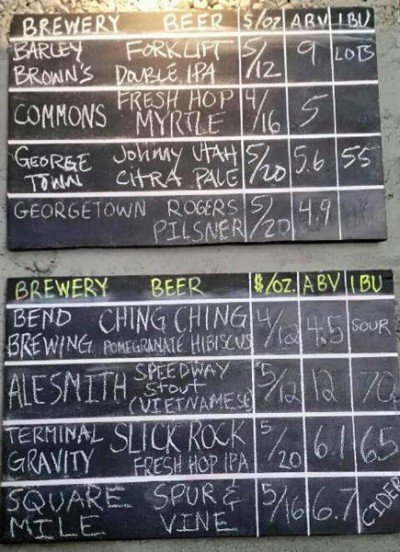 Located behind Fresh Pot, this Mississippi Avenue bottle shop is a one-man show. Owner Mike White camps at a counter facing his two coolers, which hold about 350 bottles of craft beers, mostly American six-packs (he refuses to carry anything from Budweiser or Coors, but does offer the requisite PBR) and 22-ouncers, and limited German and Belgian bottles. There's a notable stock of canned craft beers. The store has a not-messing-around vibe, with minimal decor, a TV hanging from the ceiling and no seating or fussy displays. It's refreshing, especially if you ask White for a recommendation. He's friendly, knows beer, the neighborhood regulars, and is accustomed to making recommendations for non-beer geeks.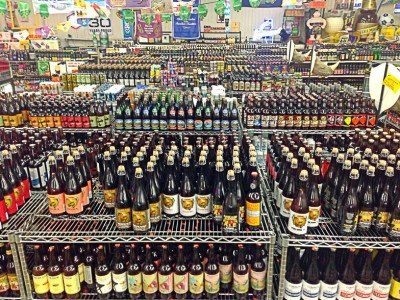 The west side's answer to a serious lack of bottle shops. This hulking, chilly, non-local, non-organic grocery store in Multnomah Village houses somewhere between 800 and 1200 bottled beers in the back of the store. That's a lot of beer—the sight is awe-inspiring. The customers usually seem excited to be there, despite empty boxes on the floor, puddles of water by the cooler and static/classic rock blaring. Walking down an aisle of imported beer from Japan, Norway and Denmark, stuff you won't find anywhere else in Portland on such a large-scale, and end up at a case of Totino's frozen pizzas. The staff can be excited to talk about beer once you convince them you can hold up your end of the conversation, and their recommendations shelf is worth perusing. Otherwise the rows can be daunting. You'll also find over 400 wines available. Regular wine and beer tastings. See the website for details.
Lucy Burningham writes for a variety of publications. Her stories about beer have appeared in The New York Times, MIX magazine, Beer Northwest and Northwest Palate.