Genoa, revamped in 2009, has a completely new look and feel from the original location. Anyone familiar with the original layout, will be startled by the change in décor. The front of the restaurant is welcoming and airy, with a lush, modern feel, soft lighting and a fireplace warming both the ambiance and the room. Sound absorbing materials, as well as the wide spacing between tables, keeps the background noise to a comfortable level. Modern chandeliers pull all the elements together, giving a sophisticated feel, and making it one of the more romantic dining rooms in Portland.
The menu is prix fixe, a 5-course meal for $65, which rotates monthly, focusing on a different section of Italy each time.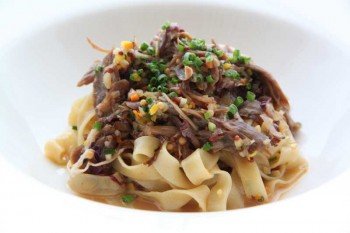 All of the pasta is house-made, and is generally excellent. I loved their Lasagne ai Carciofi. The layers of pasta are airy, with a rich purée of artichokes and Yukon gold potatoes. Though the potato flavor was a bit buried, the raw, shaved baby artichokes were warm and earthy. The Sicilian pesto was strong and bright, with little kicks of crushed red pepper to pull everything together.
The Pasta con Sarde, semolina spaghetti with Italian sardines, was also enjoyable. Though the sardines are a bit overwhelming, the pasta with pine nuts is great, and it grew on me as the ingredients got stirred mixed together. Raisins and capers made for nice texture with little bursts of flavor, and caramelized fennel and red onions gave a long finish.
Three secondi are available on each menu. In October, one of the choices was Pancetta in Vetro di Birra – beer-braised Carlton Farms pork belly with caramelized cabbage, pickled red onion, and apple cider gastrique. The pork flavors were terrific – fatty, crispy belly, with the fat just offset by the vinegar in the gastrique. The pickled onion to the side was a texturally perfect foil to the shimmering softness of the belly.
Throughout the menu, the courses can be hit and miss, with an occasional need to exercise more restraint, but if you are looking for a romantic Italian restaurant, Genoa may just fit the bill.  You can read my full review here.
Address: 2832 SE Belmont St., Portland OR 97214  Map
Phone: (503) 238-1464
Website: GenoaRestaurant.com
Hours: 5:30pm-9pm Wed, Thurs, Sun. 5:30-9:30 Fri-Sat. Closed Mon & Tues
Happy Hour: n/a
Reservation Policy: OpenTable
Noise Level: Low
Price: Expensive