What restaurant has the best burger in Portland?
The category for best burger in Portland received 812 votes. Burgers tend to be a polarizing subject, with strong opinions. For many of us they fulfill a primal call to our childhood, grilling in the backyard, and all burgers compare to that. But the true burger fan leaves all that behind and goes straight for quality.
Despite the explosive growth in this category over the years, there are some perennial favorites. A few items of interest: Stanich's was just named Best Hamburger in the USA by Thrillist magazine, but the restaurant only received 16 votes in this poll. Helvetia is second place, though it has never made the list before. Finally, despite an ever increasing number of Little Big Burgers, they fell off of the chart this year. Maybe it isn't my imagination that the quality has gone down since the chain was sold.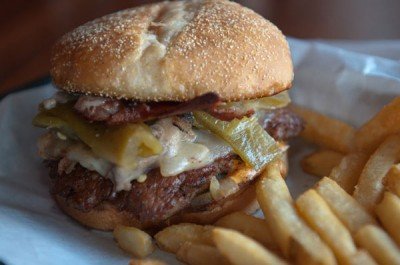 KB continued to hold the top position this year. They offer a classic burger for $9.95. It's 1/3rd pound, 100% beef, and includes bacon on the side and an order of fries. Their peanut-butter-pickle-bacon burger is legendary – Bacon, PB Sauce, Smokey House Sauce, Mayo, Grilled Onion, & Pickle for $9.95.
Personally, I'm not a huge fan of their burgers, but I'm in the minority. I want to go back and try their "Purist", cheese, mayo ketchup – that's more my style. The popular chain is quickly expanding, with ten locations. KB won our poll in 2015 too.
Downtown: 510 SW 3rd Ave, Portland OR. 97205  Map
Gresham: 1868 NW Eastman Pkwy, Gresham 97030  Map
Happy Valley (summer of 2017): 14670 SE Sunnyside Rd., Happy Valley 97015
Hillsboro: 2130 NW Allie Way #610, Hillsboro 97124  Map
Hollywood: 4644 NE Sandy, Portland OR. 97213 Map
Moda Center – A5 Entry (open for Blazer games and select events)  Map
Sellwood: 8728 SE 17th, Portland OR. 97202 Map
Sherwood: 2132 SW Langer Farms Pkwy, Sherwood 97140  Map
Vancouver: 1525 SE 164th, Vancouver WA  Map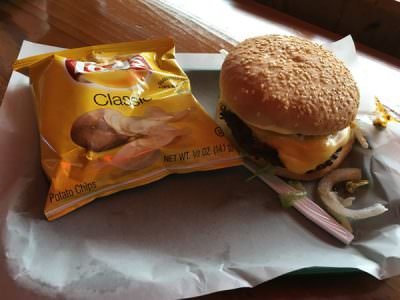 When I worked at Intel, Helvetia Tavern was a regular lunch option. It is easy to find, just off a country road, but it's not where you'd expect it – just an old tavern in the middle of farm fields. They have a café side, a tavern side, and a large patio/deck area out back with a nice view. What really matters is you can order the burger in any of the areas. I hadn't been in a few years, and went back last month – it was still great. The regular burgers come with a bag of potato chips – $5.55, but tell them to leave those in the kitchen and bring the half-order (huge pile) of fries for $2.95. Make a day out of it and take the back roads over to Skyline drive to Forest Park for a hike. Note: cash only, though there is an atm.
10275 NW Helvetia Rd, Hillsboro, OR 97124  Map
The sister restaurant of Le Pigeon, James Beard award-winning chef Gabriel Rucker's restaurants. The double burger has brie, spiced ketchup, onion, pickles and comes with fries for $16. I used to combine the votes for LB and Le Pigeon, but didn't this year since they are now a bit different. Deal alert – go to the early & late hour specials, Mon – Fri 2:30 pm – 5 pm (6 pm in the bar area) or every night from 10 pm to midnight, and you can pick one up for $6.00.
Little Bird: 219 SW 6th Ave. Portland, OR 97204  Map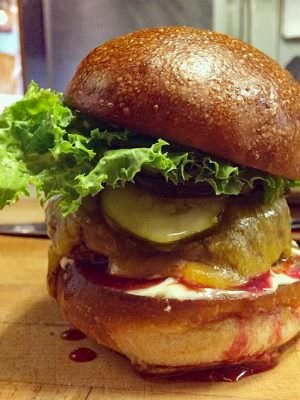 The Grain & Gristle pub has become increasingly popular in our burger ratings. The G&G Burger consists of a brioche roll, pickles, aioli and fries for $13. Cheddar or Blue cheese is $1 extra. You'll find it right at the intersection of NE Prescott and 15th. They have a nice patio area for warm days.
1473 NE Prescott St, Portland, OR 97211  Map
Many people are familiar with Slow Bar, which spawned Slow Burger, but the bar is what got the votes here, and there are differences between the burgers. "1/2 lb. Allen Brothers Angus beef, Gruyère, onion rings, butter lettuce, pickle relish and aioli" for $12. I like them – sloppy, huge! Slowburger has a nice patio area out front that is packed on warm nights.
Slow Bar: 533 Southeast Grand Avenue Portland, OR 97214. Map
Slowburger: 2319 NE Glisan St., Portland 97232. Map (slightly different burger)
I've never had the burger here, so can only say "LM Burger — Balsamic Onions, Bacon, Field Greens, White Cheddar, Pickles, Herb Aioli, Fries $15". I always go for a steak, but will make a special visit just to try this burger. Bonus – LM has an area for outdoor dining.
3155 E Burnside St, Portland, OR 97214  Map
The Higgins burger is limited to the bar (great place for lunch), and is only available in the dining room during lunch service. "It's made from Carman Ranch grass-fed beef on a toasted hearth-baked roll. $16.00
1239 Southwest Broadway 

Portland, OR 97205  

Map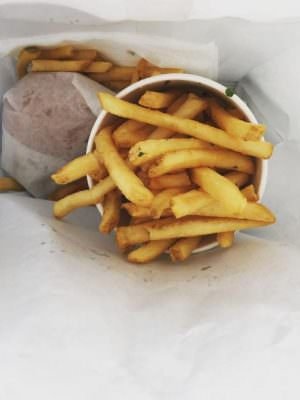 The standard cheeseburger which offers a 15 different toppings to pick from is $7.09. It's also huge – two patties of meat. So is an order of fries – $3.59. More than I can eat, and I'm good at this, so bring a friend and split the fries. If you order the "little burger" and "little fries", you'll still have more than enough food, and it's $2 cheaper. Good option if you find yourself near a location, which are spread around Portland. A very casual, toss your peanut shells on the floor kind of place. You can order online and have it ready when you arrive. One note, the quality can vary from night to night, but it has gotten better of late.
12 Portland/Hillsboro/Vancouver branches  Map
Castagna has made our top ten list every year except 2014 since we started it in 2005. It's one of my favorites too. It is currently $13 with cheese. I can remember it was about the same price on our first poll; people were outraged at how high the price was. Now it seems about right. I haven't had one here in ages, and need to go back. The meat is perfectly cooked and tender, the bun holds up under the moisture. Yup, they have an outdoor dining area.
1758 SE Hawthorne Boulevard, Portland OR 97214  Map
I have to give some respect to Burgerville. I'll admit, I've broken up with them since I starting going to 5 Guys when I need a quick fix (better food), but you can't fault them for their corporate values.
Built on a tradition of serving fresh food made with local ingredients, we continue to partner with neighboring farms and businesses that share our commitment to quality food and regional vitality. From a single restaurant in 1961 to 42 across the Pacific Northwest, we continue to push the boundaries of quality and transparency.
I can't think of another fast food chain that thinks this way. I really like that they stretch the menu with things like asparagus, and they always focus on whatever is in season, whether it be Walla Walla onion rings, strawberries or whatever.
The Tillamook Cheeseburger® $4.99 is Tillamook® cheddar, mayonnaise, ketchup, pickles, tomato & lettuce on a sesame seed bun. You can order online.
My favorite: Little Bird, followed by Cafe Castagna and Helvetia Tavern, but the latter is more about the road trip (not to disparage the burger, it's great). I never 'got' Killer Burger; I need to go back.
2015: Killer Burger, Little Bird, Little Big Burger, 5 Guys, Cafe Castagna, Slow Bar/Slowburger, Gruner Yakuza Lounge, Lardo, Higgins.
2014: Slow Burger, Le Pigeon/Little Bird, Little Big Burger, Killer Burger, Yakuza Lounge
2012: Little Big Burger, Foster Burger, Cafe Castagna, Killer Burger, Gruner, Toro Bravo, Le Pigeon, Little Bird, Slow Bar, Yakuza, etc.
2011: Cafe Castagna, Gruner, Foster Burger, Tasty N Sons.
2010: Cafe Castagna, Slow Bar, Carafe.
You can see a list of other 2017 survey results here.