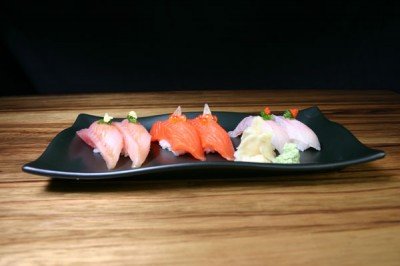 Bamboo Sushi is not your ordinary sushi restaurant. Not only is the fish much better than average, but they have garnered national praise for being the first certified, sustainable sushi restaurant in the world. They take great pains to follow the endangered species guidelines on the Monterey Bay Aquarium and Blue Ocean Institute "avoid" lists. Bamboo Sushi partnered with the Nature Conservancy to fund The Berry Islands Marine Preserve in the Bahamas, with a $250,000 donation. The restaurant has such a devoted following, it laid waste to the competition, placing number one in our 2011 and 2012 Reader Survey for Best Sushi; no other restaurant came close.
This commitment is lovely, but a restaurant is only as good as the food. While you browse the menu, pick a sake from the large selection, or one of the interesting cocktails. As starters, try the char-grilled shishito peppers, tossed with miso butter, bacon and bonito flakes; the ingredients will push most foodie's buttons. I'm a particular fan of Portlands' OTA tofu, and at Bamboo Sushi it's served marinated and fried, with shiitake mushrooms and bonito flakes. For something more unusual, don't miss the charcuterie plate with a daily selection of five different items: picture fish paté, tuna blood sausage, a creamy uni "crème brûlée", wild king salmon inlaid with shrimp, and preserved fish. Five different tempuras are on the menu, all appropriately crisp and grease free, blanketed with a light breading; the soft shell crab a particular standout…
You can read the entire, detailed review here.
2 locations:
Address: 310 S.E. 28th Ave., Portland, OR 97214  Map
Phone: (503) 232-5255
Hours: Daily 4:30–10pm
Address: 836 NW 23rd Ave., Portland, OR 97210  Map
Phone: (971) 229-1925
Hours: nightly 4–10 pm
Website: BambooSushi.com
Happy Hour: Mon – Fri 4:30 – 6:00pm
Reservation Policy: Reservations are accepted for parties of 7 or more Sunday – Thursday in the dining room
Noise Level: moderate to expensive depending on how hungry you are
Price: moderate
Social: n/a