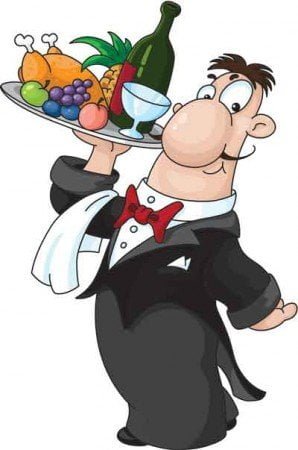 My mother-in-law was a smart, elegant, gracious woman who was the most skillful hostess I've ever known. Over dinner at my in-laws' home one time, we got to talking about etiquette, and she blew me away by defining truly good manners as the ability to make everyone around you feel perfectly at ease. This came as a revelation to me, since at that somewhat insecure time in my life (late 20's) I would probably have defined etiquette or good manners as essentially a stick to beat others with: "I know the rules of proper behavior and you don't." My mother-in-law's words came back to me as I was thinking recently about what constitutes good service in restaurants.
All too often – sadly, increasingly often – I find that upscale restaurants seem to define good service the way I used to define etiquette. The message the staff sends is "Our knowledge is superior to yours, and we've taken it upon ourselves to educate you." Some examples:
1. The 1000-Yard-Stare Greeting: the host/hostess, after taking whatever amount of time he/she thinks is sufficient to make you aware that you're a distraction from more important matters, finally deigns to look in your direction. Unfortunately, you're looked past rather than looked at. (Needless to add, no smile.) Message: There might be someone WAY more important than you just coming in the door.
2. The Seating Dilemma: whether you've made a reservation or not, the host/hostess takes an agonizing amount of time to consult the reservation sheet and look around the dining room before (often with obvious reluctance) leading you to a table. Here, the message is that you just have no idea how complex and delicate the job of seating people in this Big Deal Restaurant is.
3. The Laying on of the Napkin: the moment you're seated, the host/hostess picks up your napkin, shakes it out with a flourish, and lays it on your lap. As if you might possibly screw up this task if you did it yourself.
4. The Bottled Water vs. Tap Water Test: the server asks you what kind of water you'd prefer and exudes pained disapproval if you choose tap water. Of course, this is all about up-selling, disguised as a sophistication test. (The next time this happens to me, I'm going to respond with a short lecture on the environmental evils of bottled water.)
5. The Pronunciation Trap: the menu items are written in their native language, with words like "feuilletage," "alla griglia," or "huitlacoche," and you mispronounce a word, at which point your server corrects your pronunciation. Of course, you feel like a total fool. This is especially painful if you're on a first date.
6. The Laying on of the Napkin, Redux: if you leave the table to go to the restroom, setting your napkin next to your plate, the server (or, somehow even worse, the busser) comes by and ostentatiously picks up your napkin, folds it in half, and lays it over the back of your seat. Aside from putting you in your place ("You yokel, what makes you think it's appropriate to leave your used napkin ON THE TABLE?!"), it signals to the entire dining room that you've gone out for a pee.
7. The De-Crumbing Ritual: after you've finished your main course, the server or busser comes by with one of those little devices that looks like a straight razor and very meticulously sweeps every visible and invisible crumb off the tablecloth. Message: "You slob!"
Well, I could go on, but you get my drift. All of these are minor humiliations that add up to making the diner feel definitely not at ease and perhaps even totally miserable. Why do restaurants think this serves any constructive purpose?? Why don't they instead train their staff to be welcoming, flexible, non-judgmental, and genuinely committed to making every diner's experience as comfortable and happy as possible? Having had some front-of-house experience myself, I know that sussing out each diner's desires and expectations is a big part of the job: some people like warmth and banter, others just want you to bring the food; some want to savor their meal slowly, others are in a rush; and so on. The training of servers should concentrate on honing their skills at interpreting the subtle signals that diners give them, not teaching them pseudo-sophisticated rules and rituals.