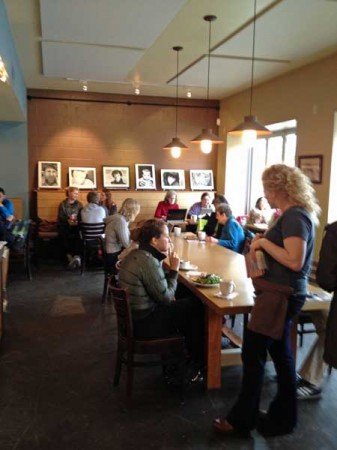 <updated 5.12>
Baker and Spice is nowhere near my house, yet I seem to have developed quite a knack for inventing errands that take me to or near its Hillsdale location. "Ummmm… I need to go to Fred Meyer. Yes, the six other Fred Meyer stores closer to home were plumb out of tulip bulbs, so I had to cruise out to the Burlingame store. Oh, and since I was so close, I swung by Baker and Spice on my way home. You know, because I was right there anyway…"
Before opening their retail shop one year ago, co-owner and baker Julie Richardson's pastries were available only at The Portland and Hillsdale Farmers Markets. Baker and Spice continues to sell a variety of goods at the farmers' markets as well as at a handful of coffee shops around town, such as Extracto Coffee House and SohBet. But to experience their impressive variety and esprit de corps, a visit to the bakery on Beaverton Hillsdale Highway is indeed imperative.
I am a baker. Extremely amateur, of course, but I've been at it since I was seven or eight. I even have a couple of 4-H
trophies from 5th-6th grade to prove it. My first cookbook (besides the hand-me-down Betty Crocker Cookbook for Boys and Girls, circa 1972) was Peter Rabbit's Natural Foods Cookbook. The former exposed me to the delights of painted sugar cookies, Bunny Salad, and the (until now unrealized) Enchanted Castle Cake, and the latter guided me through Beatrix Potter-illustrated Littletown-Farm Carrot Cookies and Tabitha Twitchit's Spicy Raisin Dessert.
Baker and Spice is the ideal union of these two schools: hippy/crunchy/organic and straight-ahead, traditional desserts and patisserie. You can munch a toothsome, hearty, and very generously portioned slice of moist and earthy buckwheat banana bread for breakfast and follow it up with a mini lemon curd tart, or perhaps a flakey almond or chocolate croissant. If sweets aren't your bag, you can choose from a number of savory bread puddings, galettes or croissants. On a recent visit, my friend chose the seasonal galette, which was a pleasing composition of squash, leeks, Gruyère and thyme cradled in a pillowy puff pastry with crisped edges. It was a difficult choice between that and a tempting savory bread pudding of bacon, creamed leeks, roasted red peppers and Gruyère, but she clearly chose wisely. Most of the non-sweet items seem to involve Gruyère cheese in one way or another, although the award-winning Cypress Grove Chèvre of Humboldt, California makes appearances, as well.
But whether they're satisfying your Jones for sweet or savory, the bakery incorporates top-notch imported and seasonal ingredients from local farms and producers into their goods.
Baker and Spice's commitment to sustainable and quality ingredients is reflected in the simple, down-to-earth charm of the bakery's interior. Designed and built with mostly recycled and renewable materials by Richardson's husband and business partner, Matt, there are eight small tables, a 10-12 seat community table and large windows that ample daylight as you nibble, read the paper, and covet your neighbor's selections after your own have sadly disappeared.
It must be said, however, that the reason this joint shines in a town lousy with bakeries, is not because the wheat for their flour was grown without pesticides, or that the menus are printed on recycled paper. Rather, the reason I find myself making the trek to Hillsdale is because their scones, cookies, bread pudding and assorted tea cakes, tarts and flourless chocolate tortes simply taste really, really good.
These are a few of Baker and Spice's standouts, although by no means a comprehensive list: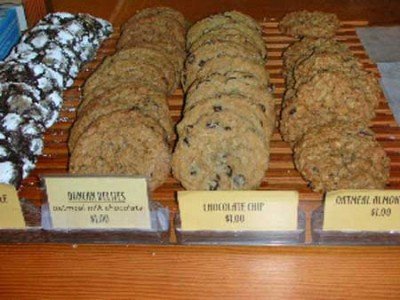 Cookies: I have so much to say about cookies. I love them and often my judgment of a bakery is based on the greatness (or not-so greatness) of the cookies, much in the way a chef is judged by his soup. In this regard, Baker and Spice indeed wins many points. I'm a huge fan of oatmeal cookies in general, and this one has secured solid standing on my go-to-oatmeal cookie list. It is mercifully not over baked (as they so often are) and manages to be simultaneously crunchy and chewy, studded with sweet golden raisins and toasted almonds. The chocolate crackle is rich with deep, dark chocolate. I've tasted the standard chocolate chip, made with milk chocolate and not semi-sweet chips. For my time and gas money, I'll stick with Nancy Rommelmann's tear-inducing cc cookie at Ristretto Roasters.
•Scones: As good as I've tasted, cranberry oat with almond and citrus currant. They are unctuous and solid – not a bit dry or crumbly.
•Morning Breads: The aforementioned banana buckwheat, in addition to garden bread (carrot and zucchini) as well as seasonal varieties such as cranberry orange, which was offered on a sample tray, and I gladly obliged. The (three) piece(s) I tasted were as moist and packed with flavor as the banana and garden breads.
•Croissants/Laminated Pastries: Butter, almond, chocolate croissants, Dijon Gruyère, ham and Gruyère croissants, various twists, hand-pies and sweet buns.
•Bread Puddings: Almond with seasonal berries, chocolate and savory, made from croissants. I tried a Marionberry one during the summer, which was fantastic. A rum raisin with maple is currently featured.
•Breads: Sourdough, French white, baguette, harvest round and assorted buns and rolls. Specialty breads include a sour rye, semolina sesame and a wonderfully chewy and sweet/savory currant loaf, among others. I would not go out of my way for the baguette – it is fine, but certainly not my favorite. I prefer a more dense country style French bread.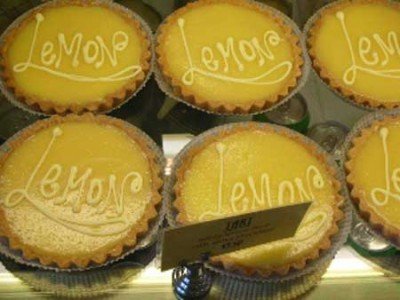 NOTE: The challah is the best in Portland; moist, sweet and slightly cake-y. They are available on Fridays only, of course, beginning at approximately 11am. It is recommended to call and reserve a loaf, since they invariably sell out well before day's end.
•Coffee: It's local Zbeanz, roasted by hand in small batches just down the street. And please note, better than anything you'll find in the ubiquitous chain coffee shop. In other words, for the love of God, DO NOT be tempted to stop in at the well-known store (rhymes with Carschmucks) next door before entering the bakery. When I pass the misguided souls loitering outside the bakery suckling their double-tall macchiatos from white and green paper while listlessly chomping a brick of a chocolate-chip scone, I am overcome with a combination of contempt and pity. Oh well, more cookies and pie for the rest of us…
The Thanksgiving menu lists several tempting items, including a caramelized pecan tart and seasonal pies such as a Spicy Pumpkin, Double Crusted Apple and Double Crusted Pear Raspberry. A dark and molasses-heavy gingerbread cake with espresso glaze is made as a Bundt or a mini single-serving round. There is also an orange-glazed pumpkin cranberry Bundt as well as a rum glazed applesauce Bundt. Bundt cakes really are under-glamorized. They are the schoolmarm of cakes. Baker and Spice, however, has stepped up to the plate in giving the Bundt it's due propers, creating moist rounds that glisten with flavor-infused sugar glazes and stray from the typical varieties.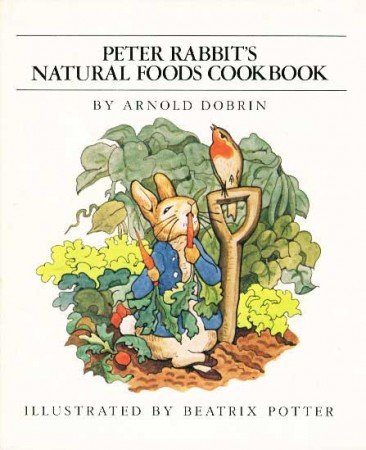 If you are looking for something even more substantial, a small selection of sandwiches and daily rotating homemade soups, made with fresh and inspired ingredients, look and smell delicious.
I still have both of those first cookbooks, which have succeeded in shaping my tastes well into adulthood. I adore a dense chocolate brownie, but I will never turn my nose up at a wheat germ-laced protein-packed oatmeal/muesli based treat. I am a Eugene girl who was raised on sesame honey candy and homemade granola. Luckily, my home baking experience remained somewhat balanced in this regard. That is to say, while I dodged the frequent carob bullets fired by many a well meaning (and apparently taste bud-less) baker, I also licked my way through more than a couple bowlfuls of Tollhouse cookie dough and Cherry Chip cake batter. And while there's nothing fake or artificial about the lovely Pink Cake at Baker and Spice (colored naturally with French raspberry purée), this bakery is a nice reflection of the varying schools that have informed my tastes and love for all things sweet, baked and natural.
This is why going to Baker and Spice is so comforting and familiar; it brings it all together, full circle. So, for a sweet little visit home, a quick trip out to Hillsdale isn't such a long drive after all.
Phone: 503-244-7573.
Address: 6330 SW Capitol Hwy, Portland, OR 97239. Google Map
Hours: Tuesday-Friday: 6-6 Saturday: 7-6 Sunday: 7-3. Closed Monday
Website: Website