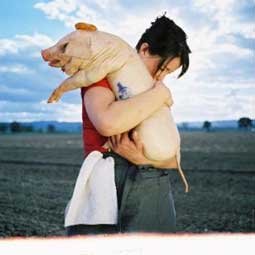 Just about everyone who reads local food magazines has seen this photo of Naomi Pomeroy of Beast. One of the creators of Gotham Tavern, Ripe Family Supper and clarklewis, she is the stuff of local legend. In 2009 Naomi opened Beast, modeled somewhat on her experience with Ripe. Through her travails, she has developed a quiet strength which shows in her food and in the way she moves through her kitchen.
Two seatings are available each night at 6pm and 8:45pm Wednesday – Saturday. The current price is $75 per person.  The menu is six courses prix fixe, with the selections changing weekly depending on what is in season; check the website. Be warned, you will get what they are serving that night – no substitutions. If you don't like something, you'll be sitting on your hands until the next course arrives. Beast is not a vegetarian friendly restaurant, however they occasionally have an evening with an all vegetarian meals; subscribe to their newsletter to be notified when one is coming up
Meals begin with a small cup of soup, which is usually terrific. A cream of asparagus was an anthem to spring – lush, smooth and brimming with flavor. A bit of herbed crème fraîche & trout roe dressed it up just enough to put it over the top. A selection of single bite charcuterie follows. I love the freshly chopped steak tartar on a crispy little toast accompanied by a lovely raw quail egg, and the dessert-like foie gras bon-bon which has a tiny trembling golden square of Sauterne gelée perched on top, giving a hint of taste and cutting the fat. I could eat half a dozen of either one.
One evening the main course was pot pie with braised short rib, wild onion and morels accompanied with glazed turnips and sautéed turnip greens. The combination was fantastic, easily the best of the genre I've ever had. The crust was light, the meat tender and moist. The morels and sauce gave a wonderful earthy depth that made me reach for the bread to make sure I had sopped up every bit. At one meal we had "braised local beef short ribs, rouge d'etamps pumpkin, golden raisin aigre-coux mustard greens with chili & garlic". The beef was tender and flavorful, and the pumpkin provided a slightly sweet foil to the beef. The sauce was excellent, as were the accompanying mustard greens. Overall, it was a consummate winter dish. The same could be said of a slow-roasted pork shoulder with peppers and rainbow chard, a combination that spoke of earth and fall – another fine example of comfort food wrapping its arms around you. If I have any universal complaints, it is that they need to focus on mains which have a bit more meat than small lamb chops, and to pull back a little on the salt.
On the surface the salads may seem simple, but there are frequently lots of subtle tastes and textures. Each of these had an ingredient that pushed them over the edge into the really good category. One night a simple dish of frisée, local apples, house pancetta and candied hazelnuts stood out for the perfectly composed combination of ingredients. Another evening it was lettuces, anchovy, and lemon vinaigrette with shaved radish and raisin-walnut croutons. The croutons were simple, yet imparted a wonderful flavor, which raised it above average.
Salads are followed by a cheese course provided by Steve Jones of the Cheese Bar. The selection is always stellar, and the combination each night is impeccable. They are usually accompanied by a bit of house-made shortbread or fruit. One night we were served a delicate Piemontese tomini cow and sheep's milk cheese from Italy, a gabicton raw cow and sheep cheese from France, and a surprisingly mild blue del monviso raw cow milk variety from Italy. This was accompanied with cracked black pepper shortbread, mars-venus grapes and wonderful champagne-poached apricots.
As with many things in life, desserts at Beast tend to be best when they are kept simple. Chocolate pots de crème with spot on coconut sorbet was a match made in heaven. Among other winners, peach and brown butter tarts that spoke of late summer, while a brown butter crêpe with local rhubarb, vanilla bean ice cream and pistachio praline whipped cream all folded together had too many flavors fighting for attention.
Overall, I think the experience of eating with a convivial group of strangers, all being served the same dishes at the same time is quite entertaining and enlightening. There is nothing like a love of food and wine to bring people together. For the most part, my quibbles with the food are minor. Though the prices are a bit high, you are paying for more than dinner – your ticket includes meeting new people and watching the kitchen. Service is always professional and gracious, without a flaw over all of my visits. I like Beast, and will continue to dine there.
You can see more photos and read my complete, more detailed review here.
Address: 5425 NE 30th Ave., Portland OR 97211 Map
Phone: (503) 841-6968
Website: BeastPDX.com
Hours: Wed – Sat – two seatings 6pm or 8:45pm. Brunch Sunday 10am or 12pm.
Happy Hour: n/a
Reservation Policy: a must. Call in advance.
Noise Level: moderate
Price: pre fix: $75, wine pairing $35. Brunch $35, wine pairing $20
Corkage: $30
Social: none