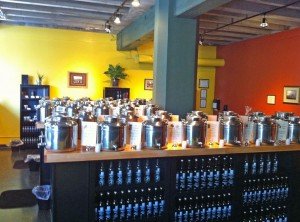 Updated: 12/11 – 2nd store.
I happened to walk past Benessere yesterday, but I could only take a quick peek, because I had the dog with me. Though the store has been open a month, I never heard about it, so I sent a friend in today to check it out and take some pictures.
Benessesre is located downtown at 907 SW 9th Ave. They specialize in a large selection of olive oils and various vinegars. For such a narrow range of products, the store is quite large, and has a nice warm feel.
The first section is a large amount "flavored" olive oils in metal European containers, with little spouts for filling the tasting cups or bottles. I'm not big on flavored oils and would rather make them myself, but I am told the samples my spy tried are pretty good. Towards the back you get to an area of pure, unflavored oils.
Each of the oils is accompanied by a sign detailing it's origins, characteristics and the prices, which are quite reasonable. The staff is very knowledgeable about each product and are able to steer you towards an oil that matches your needs. The little sampling cups are self-server, so you can explore the options at your own pace.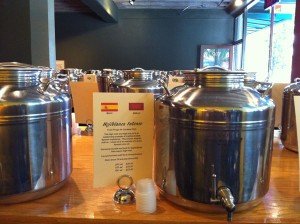 In addition to the oils, they have a selection of vinegars, from the standard cooking types, to different balsamics.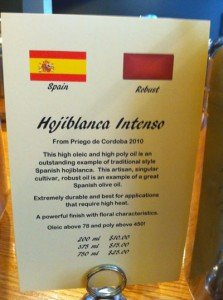 I tried to find a website, or even a phone number to get the store hours, but was unsuccessful. If anyone has this information, drop me a note and I'll add it to this post.
Two stores:
Downtown: open daily, 10:00-6:00 Sunday, 10:00-7:00 Monday through Friday, 9:00-7:00 Saturday.
907 S.W. 9th Ave. | Portland, OR 97205 | Phone (503) 206-5317
Website: oilgoodness.com
Broadway: Open daily – 11:00-7:00 Sunday, 11:00-7:00 Monday through Saturday.
1428 NE Broadway St. | Portland, OR 97232 | Phone (503) 281-6389