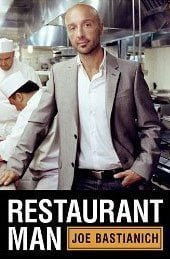 Every so often a publisher sends me a book I'm sure will be lousy, but it turns out to be an enjoyable read. Such is the case with "Restaurant Man" by Joe Bastianich, longtime business partner of Mario Batali. It is a combination of homage to food and wine, and tutelage on owning and managing restaurants.
Bastianich grew up in a restaurant family in Queens, back in the days when a plate of spaghetti and meatballs could pass as Italian cooking. He cut his teeth working in his parent's restaurant, doing his homework in the back, and absorbing the business from his father, a self-proclaimed "restaurant man". It was during these years that he learned every facet of the small business, from washing dishes to sitting in the back of his father's truck where he was "practically waterboarded with bloody chicken juice".
From here the book meanders a bit, beginning with his parents opening Felidia restaurant on Manhattan's Upper East Side, his education at Boston College, and a brief stint as an investment manager on Wall Street. From there he took his year-end bonus and headed to Italy to learn about the food, eating and working his way through restaurants and vineyards.
"I was tasting flavors that would last a lifetime. Flavors I would bring with me into everything that worked later, like what 'real' grilled calamari tasted like. You have to burn it just right, until there are freckles of black blistered char. It was sweet – caramelized and tender, and doused in this angry, bitter olive oil, laced with unbelievably stinky garlic, and hit with chopped parsley, and shot into outer space with this lemon that was so sweet and tart, it made you screw up your face. "
When Bastianich returned to New York, he met Mario Batali. The two decided to open a restaurant together, and Babbo was Born.
Bastianich was more of a restaurant traditionalist, and at first working with Batali panicked him. When they were opening the restaurant they got a quick education on each other's personalities. "… he was coming up with these beef cheek ravioli, and the calamari Sicilian lifeguard style. There was no f'ing Sicilian lifeguards. He was just like, "hey, how do you suppose a Sicilian lifeguard would make calamari?" And then he did it. I didn't quite know what to make of it all; I was panicked, because right in the moment of pressure, and being out in the public eye, I was kind of reverting, to what I knew, which was traditional Italian food. Mario was spinning that food and tradition into something new. He was right of course, and it launched our complete revolution of ideas. We never accepted anything just because that was the way it was done."
From there the book chronicles the close partnership between Joe and Mario and their adventures in both Italy and the U.S. as they opened a long list of restaurants. As their empire expanded economy of scale played into everything they do. When they needed a good house wine, Joe went to Italy and opened two wineries. When they couldn't find enough good fish to supply the restaurants, they became a fish wholesaler, even selling to competitors. Olive oil? Italian tomatoes? They now own shipping containers to bring the products they buy directly from Italy into the United States. Even the gasoline for their vehicles is made from the waste oil of their restaurants.
Focusing mostly on the front of the house, Restaurant Man is an unapologetic accounting of the highs and lows of Joe and Mario's experiences as their empire continued to grow. The philosophy of each restaurant is detailed from concept to opening and beyond, replete with stories about Mario, restaurant employees and their customers.
The f'bomb is dropped constantly, and his writing style is brash, not hesitating to criticize people they met along the way, other vendors, and even employees. It is far from politically correct, Bastianich has some scores to settle – "And then you have a withering douche-bag like Pinot Longo. For five minutes about a thousand years ago, he was able to convince New York that he was some kind of a Tuscan cook. But frankly, I think he was always full of shit." Of Le Cirque, "When I think of who ate there, it's Barbara Walters, Walter Cronkite, Nixon and Kissinger — his customers are all dead or dying. Le Cirque never appealed to a younger audience, it never evolved to accommodate the next generation of restaurant-goers. It was always dominated by Sirio, and he never let his kids perform in the center ring." The latter was especially interesting to me, as I had just finished watching "Le Cirque: A Table in Heaven", which left me with some strong opinions too. He also blows the doors off of restaurant secrets – Desserts are almost pure profit, no bottle of wine costs more than five dollars to make, and some restaurants dilute expensive Parmesan cheese with other, cheaper varieties.
Bastianich also has a self-congratulatory tone that gets annoying at times but it is difficult to dismiss because he's such a successful businessman. I suppose that being overly confident is one of the ingredients needed to make such an entrepreneur, but at times it gets tiresome.
Restaurant Man serves as an education for anyone wanting to enter the restaurant business. Along the way it talks about managing employees and vendors, staging a scene by letting in just the right mix of customers, and the need to have a balance between making art and making a living. "Most people who open restaurants will fail because they lack the fundamental understanding of restaurant math. Either they think they're superstar cooks or they think they're superstar hosts. They do it for ego, and they don't realize that without making money it's nothing but bullshit," writes Bastianich. "If you think you're some sort of glorified dinner host or some artistic cook, you're not going to last a week."
Overall, I liked the book. If you are in or going into the restaurant business, read it. Most people interested in food or restaurants, in general, will enjoy it too.
Restaurant Man by Joe Bastianich.