So I'm writing a breakfast book, and this raises a lot of questions in my head: What's the purpose of the book (other than having fun and making money)? What do I do about places I don't like? What is it that people like in a place, anyway? What should I report on? Is the food everything? What if the food stinks but the place is cool, or the staff is nice? What if it's the other way around? Am I a food critic or a simple reporter?
Café du Berry challenges me on some of these, and there's a very simple reason. My meal was outstanding. No doubt about it. It was a scallop and shitake mushroom omelet, with a lovely béarnaise sauce, potatoes and some fruit. The three of us at the table shared a piece of their French toast, for which I would have viciously fought anyone. That French toast, in fact, might be the single best thing I've had in this so-called research project (more on that later).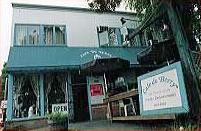 And yet – that omelet was $14, which the server didn't mention. Sure, I could have asked, but a $14 omelet? Rick's salmon benedict was $14, too. And the server didn't mention the béarnaise sauce, which was tasty, but which doesn't generally appear on omelets. In fact, whenever he came around to the table, we were left somewhat dazed by his rapid-fire, straight-to-the-point, not-even-looking-at-us delivery. He would greet us, describe three specials, pour water, and be gone in about 5.2 seconds. Is that efficiency? Rudeness? (At one point, when he described picking strawberries at age 8 – we did drag him into some conversation eventually – I joked after he left that apparently the berry-picking crushed his innocence, and he's never smiled again.)
But the food was outstanding. Well, mine was. Rick's salmon was overdone, and he needed a knife to get through the English muffin, which was both a little stale and a little overdone. Jean didn't happen to like the potatoes, though I did: they were the mashed-potato-type hashbrowns, grilled in a patty, with a slightly peppered taste that I liked. But Jean rightly pointed out that for $7.95, the "French Toast with Potatoes and Fruit" was one piece of the toast, one smallish helping of potatoes, one strawberry, and one half of a banana. That ain't much for $7.95.
The table was cramped. But the hollandaise sauce was good. The padded chairs were comfy, but I kept having to lean forward to let somebody walk by. The service was quick and efficient, even if it never smiled. The white tablecloths and "shirred eggs" and frittata and New York café watercolors on loan from a foundation of some sort all said "attitude", but the folks in there seemed like neighborhood regulars and random visitors, not the snooty art crowd. (We asked about shirred eggs, by the way, and the description involved poaching, I think. None of us really caught it.)
And at the end of the day, there was this: the three of us had a plate each, two of us had coffee, I had an excellent apple/raspberry juice, we had the extra side order of French toast – and without the tip it was $50. I mean, throw in the tip, and breakfast for three was $57!
So, what to do about this place? Is it good? Yes. Great? No. Overpriced? I'd say so. Do they seat you quickly and serve you efficiently? Yes – and this was a Saturday at 9:30. Would I go back? Yes, but only for the French toast. In fact, I briefly considered moving to the neighborhood for the French toast.
Certainly, the place has caused chaos on a certain website where people post reviews (I try to avoid endorsements, unless a check might be cut). Just the headlines reveal what I'm talking about: European bistro on a budget (!), a different French toast experience, THE WORST EVER, Mediocrity, Divine, Awful, Overrated, Best Breakfast in PDX.
And so I have decided to do this: Let you, gentle reader, make up your own, now slightly more informed mind as to whether you'd like to try Café du Berry ? and then write a completely absurd ode to their French toast.
To wit:
In the world of taste, of pleasure, of the dance between flavor and texture, there is a never-ending pursuit of a most fleeting perfection. It's a perfection like the one sought in golf, where one, for whatever reason, occasionally finds the perfect swing and sends the ball aloft along a perfect arc toward its target. There is no "perfect" swing other than the one with a perfect result, for such swing can never be reproduced, and a perfect result depends entirely on the player and the situation, for one doesn't need a 300-yard drive when in a greenside bunker, nor does one need a delicate touch on the tee of a par 5.
When I first bit – but "bit" is too rough, too vulgar. When I first opened myself to the pleasure of Café du Berry's French toast, what occurred in my mouth had the softness of a loft-wedge from 100 yards to the lip of the hole. It had the power of a driver down the gut of the fairway. It stopped my world like a birdie putt just as it disappears into the cup.
They tell me it's a French custard dessert recipe, made with Hawaiian egg bread, thoroughly soaked, then grilled to just crisp on the outside, with a touch of lemon in the finish, dusted with powdered sugar, and served warm, syrup be damned. I could add details like the firmness of the bread and how it played perfectly with the bouncy delight of the custard, or the fluffy wonder of the sugar, or the filling goodness of the result – but these are just words. When your putted ball dives toward the middle of the hole, is it the grain of the grass? The break of the hill? Mere gravity? Please! It is perfection. It is the silent voice of the divine.
Ours is not to describe such moments, nor think we can own them, but merely be present with them, awash in them, grateful for them – and then, sadly, go eternally in search of them again.
(sigh)
Now, is that over the top? Of course it is. I am embarrassed by it, honestly — as I would be by paying $7.95 for a piece of French toast, some potatoes, and one and a half pieces of fruit. It's absurd! So is Café du Berry, to tell the truth. And so is golf, for matter. And there's an excellent chance that before another week goes by, I will play 18 holes of golf and eat more French toast at Café du Berry. In fact, I can't wait.
Café du Berry
Address: 6439 SW Macadam Ave. Portland, OR. 97239  Google Map
Hours: Monday through Friday 7 a.m. to 3 p.m., Saturday and Sunday 8 a.m. to 3 p.m. Also open for dinner, but thereés no French toast then.
Phone: 503-244-5551
Open Since: About 20 years ago
Payment: Everything
Reservations? No
Large groups? Maybe upstairs, especially with some notice.
Wait: Not bad, but probably outside.
Price Range (typical meal with coffee and tip): $15-20
Coffee: Not sure. Not bad.
Wi-Fi/Internet? No
Feel: French café, with French prices and French people working there.
Seating: Maybe 20 downstairs, more upstairs (with booths)
Changes/Substitutions: We were too scared to try.
Portion Size: Decent, but don't expect the French toast to fill you up.
Feel-goods: None that I noticed.
Health Options: I think if you eat the custard-based French toast, or the béarnaise sauce, or the hollandaise sauce 10 times you get a punch card for a free angioplasty.