Coffeehouse Northwest owner Adam McGovern and his loyal talented crew are purists and perfectionists: you get a pared down menu of drinks, a few pastry items and that's it. But that's all you need here where baristas are known to toss a just made cappuccino if the ristretto or foam isn't to their standards. They really don't like to serve espresso and even cappuccinos in to-go cups, feeling it messes with the flavor, and does not honor the ritual and experience of the beverage. Philosophy aside, the staff is warm and friendly and will make you whatever drink you want, whether for stay or takeaway. The old wooden-floored Coffee House NW location is a true neighborhood gathering place on what is otherwise a gritty section of West Burnside, while Sterling Coffee is an example of doing more with less. This newer venture is a collaboration between McGovern and Aric Miller. The space is just a walk-up, a kiosk and roastery tucked away next to Trader Joe's store off of busy NW 21st street. Though there is no indoor seating, they have quickly developed a devoted following. How particular is McGovern? Get this, he has been known to mix his own milk. Yes, that's right. Instead of the standard dairy most Portland coffeehouses use, McGovern discovered that mixing a higher end organic brand with Sunshine Dairy milk yielded the results he craves.
That's the level of passion that sets much of the Portland coffee scene apart from its peers, and Adam McGovern and crew are on their own level. Both locations offer a variety of brewing methods along with roast choices from both Sterling's beans and other roasters. Although the brewing method offerings change from time to time, customers have had the opportunity to choose a quick drip from one of the vacuüm pots, order an individual French press, a pour over, or their own Moka pot.  Coffeehouse Northwest was also one of the first cafés in Portland to offer an incredibly complex mocha and hot chocolate, using very specific high-end chocolatiers such as Michel Cluizel Venezuelan to compliment the coffee beans, finished with a with a dusting of fleur de sel and powered chocolate. Sterling Coffee Roasters will be moving from its current location to another space nearby in May. It has grown rapidly since opening on Valentines Day 2010, to provide some outstanding small batch roasts. These are available for purchase in the shops, online at Sterling Coffee Roasters.com, and of course in drinks at the shops. Mcgovern has an excellent palate, and is able to pick out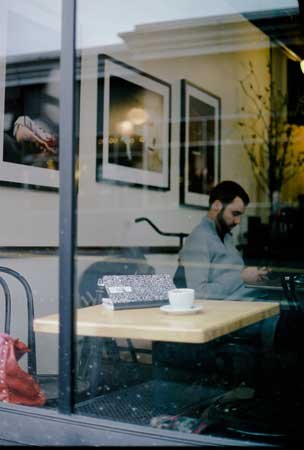 flavors from roasts that I never notice at first, but become clear after he mentions them. His descriptions highlight their fine roasting abilities and sense of humor: Perla Guatemala "tastes like tootsie rolls & honey", and about their signature, Blendo Stupendo, "As luck would have it, so do we: a blend to make a perfect cup of coffee. Every month as we introduce our two new featured coffees we'll also take the time to find what we think is the best combination of them. If you don't know which of our coffees you'd like or you simply want some Sterling coffee, Blendo Stupendo is just the thing for you." The great Gourmand Curnonsky once wrote, "In cooking, as in all the arts, simplicity is the sign of perfection." We carry this motto over to coffee as well, and Coffeehouse Northwest/Sterling nails it. We wrote about Coffeehouse Northwest once before in 2007. You can read it here.