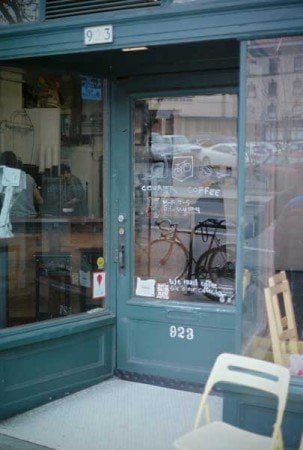 Some Portland cafés are sleek and polished, with expensive build-outs and stone countertops, while others look to a classic, yet polished style with antiques, gilded mirrors, and bow-tied staff. Then there's Courier, who proudly keeps their DIY, almost punk rock aesthetic at the forefront, in a thrift store meets shared rock and roll band house vibe. What began as a home roasting enterprise delivered on a bicycle has expanded – Courier now has a sweet little café spot downtown on SW Oak near 10th Ave. It features a few tables, a limited but focused menu of drinks, food that goes beyond just pastries, a couple of counter seats, and a turntable playing a pile of much-loved records. Yet, what may seem as controlled chaos on the surface belies the fact that Courier makes consistently stellar roasts and drinks.
Owner Joel Domreis began his delivery service about 6 years ago and continues to deliver by bicycle, which is either heroic or insane when you consider the number and location of commercial accounts the business now has.  Customers include all kinds of restaurants and retail places, and even surprises such as the finer Lu Lac Vietnamese restaurant downtown, which uses Courier for their drip Vietnamese coffees rather than the typical cheap canned Café du Monde found in similar establishments.
One thing is certain, Joel and his employees love what they do. They love to talk bikes, cities, art, music and can really get into the details of roasting coffee for hours at a time. They even write a blog that is simply a pleasure to read. Take this recent post explaining their philosophy on slow pedal-powered growth as a business model, "Courier is more about having awesome clients and keeping the coffee at its best, rather than convenience. Delivering what we provide by bicycle is a constant struggle, but if somehow we can keep our route and timing simple, and ourselves well fed, rested, and refreshed then it becomes mostly fun."
The coffee itself, roasted on SE 40th and Hawthorne, stands on its own and certainly stands up against any of the bigger more established roasters. You won't find muddy, silty brews here. It's pour-overs, baby, dripped into Mason jars. You'll have to wait a few minutes to get it. And if you don't want to wait, well, there's a big chain store café just down the street…
Rather than wax poetic about the flavor notes, I'll give the Courier folks the stage to pontificate on their own. This post on their blog from 2009 is a good example, but trust us, the coffee and espresso from beans to grind, to pulls to pours is always on point.
With their hand-pulled manual espresso machines, bicycle ethos, and lack of any sort of computer system that would give a standard food business consultant a coronary, Courier proves that you don't need to play a follow-the-leader formula to create a successful, high-quality coffee business. Sometimes doing it differently is what works best.