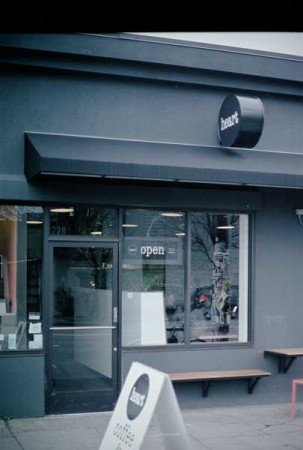 Things you don't need to know about Heart Coffee Roasters but I'm going to tell you anyway: Owner Wille Yli-Luoma is Finnish, and he's a well-regarded pro-snowboarder. Why does this matter? It adds to the distinctive personality that is Heart Coffee. He has a Finnish sensibility around nature and science, combined with a professional sportsman's intensity.
"I don't believe in iced coffee," Yli-Luoma says to me immediately when I ask if he is planning anything iced for the summer. Then he goes on to tell me iced coffee – including the popular toddy and cold brew drip processes – ruins the oils and does not bring out the delicate flavors and aromas found in good roasts. He's adamant that his coffee is treated more like tea, gently, and with a ritualistic precision, in both roasting and beverage making.
Yli-Luoma works carefully with the beans in each batch, keeping the flavors more on the juice and berry side, and adjusting accordingly. This brings out nuances other roasters would be wise to think about but are sometimes an acquired taste. Heart is of the lighter roast school which isn't everyone's cup of amber, but certainly has its fans for a more delicate coffee-tasting experience. The New York Times called Heart "…advanced coffee…"
Heart Coffee Roaster's approach is obsessive, but this obsession does produce an outstanding product that is often both complex and more accessible than some other "rougher" roasts. To me, Heart's roasts are more floral, delicate, and layered than some others in town. Four roasts are usually available at any given time, along with a decaf roast. On their website, Heart sticks to the basic facts of each coffee, listing location, farm, altitude, varietal, and processing. The product descriptions are one-line and to the point. Under Rwanda Coko for example, it simply just states, "Cherry, hibiscus, milk chocolate", while a batch of Guatemala El Limonar reads, "Milk chocolate, peach, lemon, honey". No thesis statements or marketing spin here.
Yli-Luoma is less a mystic and more into the science, botany, and art of coffee. He's entirely friendly and accessible and was more than willing to share his knowledge and spend an enormous amount of time chatting with me, even though I showed up at the café unannounced. He clearly loves what he does.
The café itself is austere but comfortable. I'd call it Scandinavian Zen, although it does have seating, WiFi, teas, cookies or toast, and all the other café comforts. But still, the coffee is the focus here, with the roaster itself taking center stage in the middle of the café.  And yes, Coffee is available by the siphon method. Just don't ask for iced coffee.
Heart is sold at their roastery/café, a few local cafes such as Red E on N. Killingsworth, a handful of restaurants, and on their website. A second small café is now open within West End Bikes on 11th and SW Stark.
I like Heart because of its distinctive personality and balance between art and science. They are pushing the envelope and challenging consumers to taste and experience coffee in new ways, putting it all together to make a consistently stellar product.
Address 1: 2211 E. Burnside, Portland 97214  Map
Address 3: 5181 SE Woodstock Blvd, Portland, OR 97206  Map
Website: HeartRoasters.com