Located in a retail pocket in North Portland near an I-5 freeway exit and Portland Community College, Red E Café can be easy to miss. But it's worth the hunt, as an example of how simple but thoughtful execution can create an exceptional neighborhood café and in-house roaster worthy of national notice. Indeed, Red E has been noticed and was recently featured in this round-up in the NY Times on Portland's DIY coffee culture alongside our bigger, more established coffee brethren.
Mastermind and owner Keith Miller's philosophy is simple, "outstanding quality, friendly service, and great design." The formula sounds easy enough, but Miller goes on to say, "it seemed like most cafés in Portland had two of these elements but were always missing a third." He's right, the one patterned criticism Portland seems to receive is smug, "hipster service"; cold, loud, uncomfortable atmospheres; or mediocre coffee in a stunning space. None of that here. Red E consistently pulls good shots, and staff is well-trained in both beverage and customer service. Also, you'll never hear blaring discordant music here. Indeed, the last time I was at Red E, staff and customers were singing along to a softly played Built to Spill album, clearly a local favorite.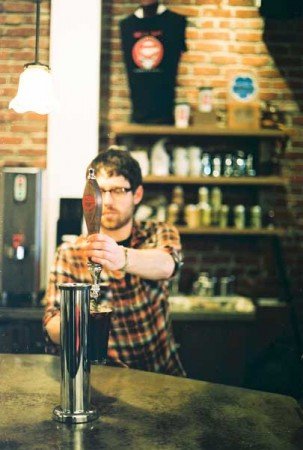 As a long-term veteran and renegade in Portland's micro-roasting and café scene, Miller along with his well-seasoned baristas, have managed to create a space that is still pared down but cozy, with table and counter seating, comfortable built-in upholstered settees, and a leather couched living room-like space in the back. The staff here is wonderful, always ready to help a confused, uninitiated coffee consumer learn about different roasts, blends, and pours, or to simply smile – and mean it – when a customer seems frazzled or is having a bad day. Revolving art shows are well-curated and feature art you might actually want to buy, and in keeping with the community gathering space vibe, they hold a monthly art opening. Indeed, this is a neighborhood space, but one for people who happen to get some of the best coffee in the city.
Roasts these days are focused on Heart Coffee, with 4-6 offerings at any given time along with Red E's own small batches. Miller is a nuanced roaster and seems to have shared love with this author for lesser-known African coffees – especially Ethiopian and Tanzanian. Miller's talent in bringing out the flavors is right on par with Portland's top roasters. Espresso drinks, pour-overs, French Press, and a very generous priced cup of ready-made drip coffee is always available. Red E is the only café in town to offer Cold Brew on tap – it's available at the counter in what looks like a beer tap pour. Genius!
Red E might be the dark horse in Portland's café and roasting scene – understated and small, but a force to be reckoned with.
Address: 1006 North Killingsworth St., Portland, OR. Map