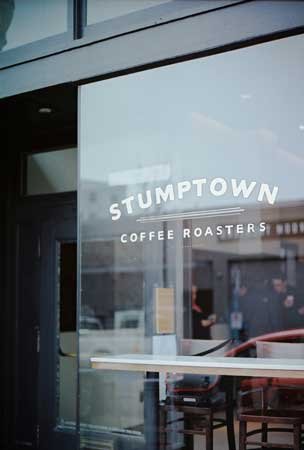 Some companies are game-changers. Not just in their cities or industries, but in changing the overall culture. In the coffee industry, Starbucks is the obvious one. But so is Stumptown, and as Portland's most powerful, "world-dominating" roaster of all time, it brings out more heated debate, love, disdain and yes, admiration than any other "artisan" coffee business I can think of.
Not much can be written about Stumptown that hasn't already been written a hundred times, but I'll just say this. Love 'em or loathe them, Stumptown has given Portland a reputation as a serious coffee city and has turned the industry upside down by cultivating consumers to demand higher quality, and to push cafés into being willing to provide it. Stumptown realized early on that great beans were nothing if the beverages made from them were poorly executed. They have insisted on intense – some might say rigid – training, equipment programs, and wholesale buying requirements. Their own cafés have always been at the forefront of design, which many smaller coffeehouses and larger chain stores have begun to adopt for their own brand.
What started as a small roaster and café on SE Division in 1999, has grown to three Portland cafés, a tasting annex, a roaster, retail mail order, two locations in Seattle, and one in NYC. In 2010, a Stumptown pop-up café showed up in Amsterdam, and there are rumors of expansions into Chicago.
On top of all of that, they have many wholesale accounts around the states, as well as being the dominant roaster in many Portland cafés. Sure, they might not be the KFC of coffee, but in the artisan roasting and café world, this is a big deal, creating what some industry observers call the "Third Wave" of coffee. To add to the mystique, Sorenson has a penchant for DIY culture, bankrolling his workers' bands, and a business model with some unusual perks, like a massage therapist on staff. All of this has created a cult-like status and brand.
In 2011, a hullaballoo occurred when Stumptown took on private equity investment that included changing the registration of the business to a different name, and the fiscal base to Delaware.  The public and media response was what is known as a "freak-out". Cries erupted that Stumptown and Sorenson in particular had "sold-out", and that the company was now no better than the large corporate conglomerates so many of Stumptown fans avoid in the first place. This Esquire piece is almost hilarious in its naïve sophomoric histrionics about a supposed sell-out that, in fact, still has Sorenson running the company.
I have to tip my hat to a business that can inspire this amount of passion. I travel quite a bit and am always on the hunt for the best cappuccino I can find. "Oh, you're from Portland," a barista in cities such as New Orleans, Atlanta or Detroit might say to me in hushed, almost longing tone, "you have Stumptown". We are spoiled for choice here in Puddle City. We often take it for granted, but other cities would be lucky to have our level of quality coffee, and, in the beginning, Stumptown was at the forefront of putting Portland on the map.
Locations –
Social –