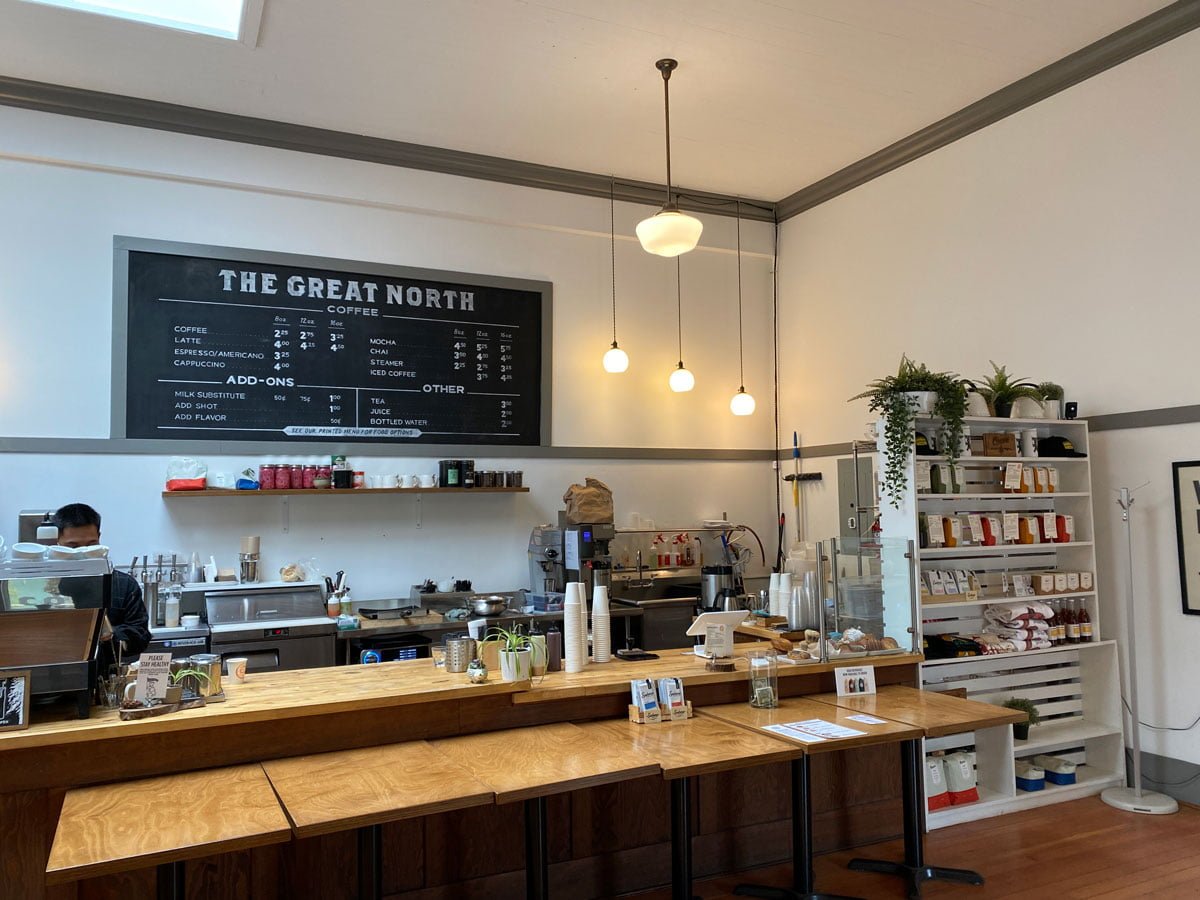 When Matt Brown and Jonathan Felix-Lund opened Great North Coffee in St. Johns five years ago, they came with some serious creds. Matt had worked at Stumptown, Barista Coffee, and Albina Press. Jonathan used to be the head trainer at Stumptown, then for the last few years as the Vice President of Operations at Coava, until last month when he went to work for Clive Coffee. In January 2016, they opened a second location in Vancouver, WA.
I asked Matt what drove them to open a new coffeehouse, he said it was all about being at the right place at the right time.
A number of years ago, Jon and I were neck-deep in trying to open a new school convenience store,  and the city just kept putting roadblocks up for us. It was brutal and a little over the 3-year mark of working on it we'd had enough. I figured it probably wasn't going to happen and Jon suggested we take a "guys night" to regroup. So that's what we did. Went to get tacos at Taqueria Santa Cruz and found ourselves parked in front of the old Fourth Estate space. It had a sign on it that said the owners were moving to Chicago.

Just some of the pastries available at The Great North

The shop, though small, had a similar vibe as the original Albina Press and it had a La Marzocco and solid Grinders, so we sent them an email and asked what they planned to do with the equipment and what the deal was with their lease… 10 days later we had negotiated the purchase, a new lease, and got our business set up. It's now been more than 5 years since we opened and business has been great. LaMarzocco Linea is still the tried and true machine for us, and along with that, we use Mazzer Grinders for espresso and Ditting for Drip. The real key piece of equipment that was a huge game-changer for us during the pandemic was our Turbo Chef. It allows us to cook our breakfast sandwiches perfectly every time.
The coffee beans are from Cova. Pastries are from Dos Hermanos and Petunia's bakeries. All the syrups, sauces, chai, and oat milk are hand-made. The Great North Coffee makes some of the best I've had in the Portland/Vancouver area, and I make sure to get over there when I'm in the area.
Highly recommended.
You can see a map of our reviewed coffeehouses here.