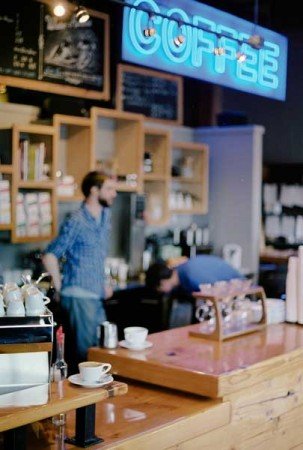 A newcomer on the Portland coffee scene, Water Avenue Coffee started as a pop-up shop named Temporary Coffee during the construction of their permanent space in 2009. They officially opened in 2010 in the up and coming Central Eastside Industrial District, on, you guessed it, SE Water Avenue, next to Clive Coffee in a complex that houses the American Barista School, making this corner a little coffee hub of its own. Now they have added another shop that is listed at the end of this article.
Water Avenue is a good fit for the neighborhood, with a long window seated bar, big shared tables, smaller 2-tops, and a stunning, 50′ reclaimed fir side counter, that looks into the roasting area. It's a place for creative workers to meet, or sit over a laptop, for some café style work time. Water Ave serves a few hearty foods, such as soups, sandwiches and savory vegetable flatbreads, alongside croissants, scones and the like – all made by Portland's top bakers.
Co-owned by Barista Exchange founder Matt Milletto along with former Stumptown roaster Brandon Smyth, the two have put together a café that has a high level of professionalism right out of the gate. These guys clearly know what works in a café and what doesn't.  Milletto roasts on a vintage 1974 France made SASA Samiac 20-kilo coffee roaster. These machines are built quite differently than the vintage Probats loved by other Portland roasters. The Samiac's were custom-built, and feature individual motors for cooling, exhaust, and agitator, as well as a variable drive for the exhaust airflow, meaning that a roaster can have much more precise control throughout the process. They believe this is critical to bringing out different flavors and qualities. It makes for a finely tuned style that is notable in the finished product, which can range from bold and intense to subtly layered, depending on the beans, grind and beverage preparation.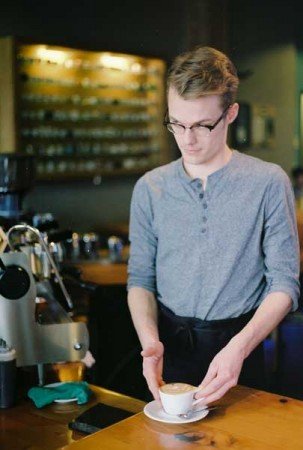 Sourcing is also a big deal for Water Avenue Coffee, and they plan on continuing to expand their relationships with key brokers and farmers. They have a penchant for finding the best, and their descriptions are right on point, "Costa Rica La Magnolia: This coffee is so clean it sparkles. Vanilla, Jasmine, and -of course- Magnolia flowers lightly break through the sweet, milk-chocolate body", or a Mexican Chiapas Co-op described as, "raspberries, milk chocolate covered raisins, sparkling finish."  As we all know, a good roast is only as great as the folks and equipment-making the finished beverage. We are happy to report that staff here are well-trained in both quality pours and top-notch customer service. Wholesale and online retail beans are available as well as the espresso drinks you would expect.
Consumer education, professionalism, and excellent customer experience are at the forefront of Water Avenue Coffee. Keep an eye on these guys. We have a feeling they will continue to evolve from being not only local contenders but a nationally recognized brand.
Address: 1028 SE Water Ave, #145. Portland 97214. Map
Address 2:  811 SW 6th Ave, Portland 97209 – lobby of 6th and Yamhill building. Map
Social: