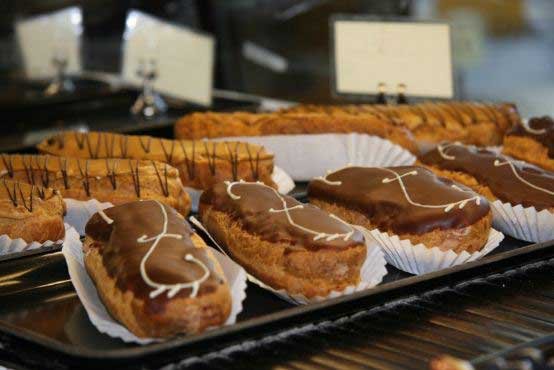 I have a dinner tank and a dessert tank
Note: I think most of us are pretty stressed this evening, and going through old posts today, I thought I'd republish this one from 2005. It just makes me happy remembering this life, and the days when I tended to regularly write stories like this.
When I was growing up, the nightly family dinner was a somewhat formal occasion. We'd sit around the table in relative silence, just trying to get through it as quickly as possible so we could leave before we made a mistake. You see, manners were of the utmost importance to my father. God forbid you accidentally scrape your plate with the knife or commit some other gaffe; a glare would come from him that would make your blood run cold. On one hand, this was great, because I learned manners that will serve me well if I am invited to dinner at the White House. It also taught me to eat very quickly, which served me well years later. There was a time in college when I could get a hamburger at a drive-thru window and have it finished before I pulled out of the driveway, ready to deal with traffic. I didn't exactly savor it, but hey, we are talking Burger King here.
My mother cooked most of the meals. She did not like desserts, so we rarely indulged. However, when it was dad's turn to cook, they were a big deal, a good reason to slow down and anticipate the joys to come. He wasn't the type to throw ice cream in a bowl, but did things on a more advanced level, like baked Alaska, cherries jubilee, or homemade vanilla ice cream with bourbon mint sauce – all very haute cuisine in those days. It was such a special occasion, we always made room, no matter how much we had already eaten. My sister came up with a brilliant explanation that has served me well to this day:
"I have a dinner tank and a dessert tank. Even if I eat until I am full, I always have room for dessert because that tank is still empty."
I have adopted her theory and will argue with anyone as to whether it's true, physical anatomy be damned. It doesn't matter if I'm finishing a huge Thanksgiving dinner and feel so bloated I can hardly move. When my sister walks in from the kitchen with those fresh pumpkin pies, I'm sitting up straight, fork in hand, and ready to go. I could have a ten-course meal made by ten of the world's greatest chefs, and at the end, I'll be looking at the kitchen, wondering what the dessert will be. My biggest disappointment at the end of a meal is that there is no way to get every drop of raspberry coulis off the plate.
Fortunately, I was taught to temper my sugar desires and learned restraint from my mom. She taught me that the main meal can speak for itself, and that it doesn't have to be followed up with whipped cream and drizzled sugar baskets. When she did serve dessert it would be simple – a bowl of fresh-picked strawberries from the farm on the slopes of Palos Verdes sprinkled with a little Kirsch cherry liqueur, or maybe a tiny drizzle of balsamic vinegar. While my dad tended to make things as complicated and impressive as possible, it was mom in the kitchen serving up the day-to-day food that influenced me the most. She always said food doesn't have to be complicated; life doesn't have to be complicated. Live the best you can and enjoy the simple things, get the most out of every moment. Less is usually more.
Stick with me here – this brings me to éclairs; a very simple pastry. Pâte à Choux, an egg custard, a bit of ganache… I have made them many times, an addiction fueled by a very nice Hawaiian woman, on a rainy night, many years ago.
A thousand feet higher in elevation on a steep road from our house was a little restaurant/bakery called Hawaiian Delights. My father mentioned that their dessert list included homemade chocolate éclairs, so of course I had to give them a try. To me, they were heaven: chocolate and pastry cream that I could eat with my fingers. I bicycled up that long hill on a regular basis to satisfy my sweet tooth. Enter my long-suffering friend Jeff. One fall evening after days of listening to my glowing descriptions of the pastry at the top of the mountain, he finally agreed to accompany me on my weekly pilgrimage, and so we set off.
Three-quarters of the way up the hill it started to rain, a hard drenching downpour that filled our shoes and soaked us to our shorts, but we were so close I was determined to push on. I twisted Jeff's arm, and we continued, finally arriving under the white fluorescent lights outside our destination. "You are going to be so glad you came", I told him. "This will be an experience you'll never forget"; and so it was.
We walked in, rain squishing from our shoes, and while people stared, we made our way to the glowing glass case of pastries. Banana cream pies, key lime pies, little fruit tarts; they stared up at us with bright kiwi eyes, but there wasn't an éclair to be found. We were informed by the owner she had sold the last few ten minutes before, to my father who had pulled up in his dry, comfortable Volvo.
A pool of water had formed at our feet, and another one pooled in my eyes. At that moment, I hated Volvo's, I hated rain, and I wasn't exactly pleased with my father. It was all I could do, not to burst into tears. Jeff glowered at me as I turned with slumped shoulders to walk back out into the rain for the long ride home.
We were almost outside when the owner called out. "Wait… I have an idea!" She came from around the counter with an armload of hand towels and took us back into the kitchen, drying us off with an accompanying lecture about riding our bicycles on dark rainy nights. Then, as we sat spellbound, she started separating eggs and dropping the yolks into a double boiler to make pastry cream. Soon the scent of cooking sugar and milk filled the air. As we stood next to her at the stove, she showed us how the double-boiler worked, how to tell when the mixture was getting thick enough, and taught us never to add the vanilla until it was off the stove. She gave us each a tasting spoon and made us close our eyes tightly as we tasted, so we could pay attention to the different flavors.
While the custard was cooling, she made us each a burger, gently forming the freshly ground meat, toasting them, and adding a little teriyaki and pineapple before slipping it between grilled fresh bakery buns. At our age, this was a meal never to be forgotten.
When the pastry cream cooled she brought out some chocolate donut bars that were leftover from breakfast and patiently showed us how to hollow them out so we could fill them with fresh pastry cream. While they probably weren't as good as the pâte à choux version, to my mind they were the best thing I'd ever eaten. After finishing two apiece, we said our goodbyes. By then the rain had stopped, and we hurtled back down the hill, soggy with water streaming off our hair but full of memories that would be part of who I am, 55 years later.