"Mr. Zusman, you had the table for. . .ONE?" the hostess at the hot new place asks, flashing her best paste-on smile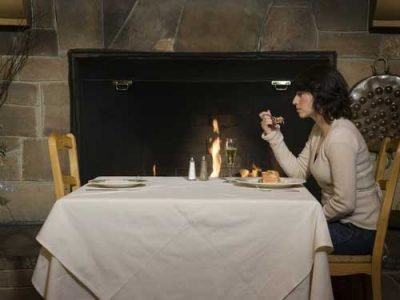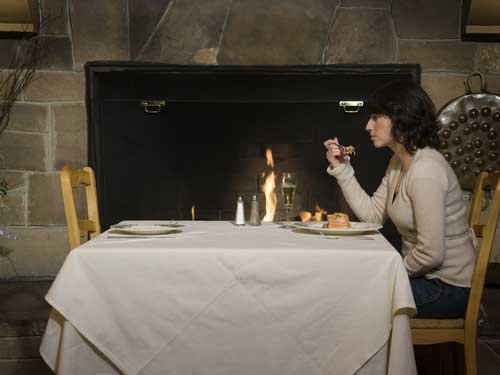 [Before anyone paid me to write about food, just around the Y2K bend, I wrote a few food-related essays for Food Dude. He was the first one to let me try my hand at food writing, something for which I remain immensely grateful. I still prefer the essay form, but good luck selling it if your name isn't Tony Bourdain or you don't have solid connections in New York. Besides, if it's not a list or under 140 characters, most everyone under 25 won't bother. This essay, about eating out alone, mostly stands the test of time. The big differences, a decade later, are (1) restaurants have become far more receptive to solo diners; (2) the smartphone has supplanted tableside reading material; and (3) I'm a helluvalot more confident going into a restaurant myself and have no tolerance for being treated badly. Most of the restaurants mentioned are also gonzo. Hope you enjoy this encore. –mcz]
We have food, the food is good,
And so we will eat together.
So we will eat together
So we will eat together.
When we eat, 'twill be a treat,
So let us sing together
As we march along.
–"Marching to Pretoria"
A meal out shared with a cherished one, family members or a few close friends is a special pleasure. Together we satisfy one of our primary human hungers. Between bites, these moments united across the table afford us the opportunity to discuss our relationship to the world–our achievements and dreams; our joys and sorrows; petty gossip and weightier observations–and anything else including, naturally, the food in front of us. Informality and lack of structure characterize communications at the table. There are no speeches; no one need raise their hand to be recognized; and if there happen to be multiple conversations going on at the same time, all the better. It is all so democratic. This is why table talk, however it plays out, is my favorite form of social interaction.
Take away the dining companions and what do you get? For me, it usually comes down to a Hobson's choice between preparing a meal-for-one-at-home, which I disdain, or half a deuce on the flight path to the toilets.
During many years of marriage, a solo restaurant meal for me was a rarity. It was usually the two of us with or without friends. The evening meal out was an interval to slow down, exit life's freeway and reconnect to one another for an hour or two before sleep then buzzing off again on our professional journeys.
After several years of renewed singlehood, I have formed mixed feelings about going out to dinner myself. It beats eating at home, but I am enfeebled without the society of a partner. I am George with no Gracie, Penn without Teller, Adam absent Eve. I imagine the eyes of other diners burning through to my center, probing the story of my solitary standing. They see, and I envision, "loser" in garish red neon flashing across my chest.
I could ignore everything and everyone and read while I eat, but that looks pathetic and contrived when I observe others doing so. When I have tried the book at the table maneuver, my eyes and mind wander irrepressibly around the kitchen-scented tumult. My primary gustatory mission also beckons. The ever-changing menus of even my favorite stops need to be scanned, my order taken and my courses consumed. I lack the facility to read while I do these things. Reading at the table also seems to show disrespect for the restaurant as host, unless there is a restaurant at the library.
I could try to listen in on others' conversations. At its best, this is like television channel surfing. But the strategy suffers flaws beyond its inherent voyeurism. Others' conversations are often as exciting as a sermon. Those that do hold promise can come across something like, ". . .Owen and Kathy. . .lotion. . . .purple dog toy. . .omigod. . .," followed by chortles of sadistic glee. No fair. If I can not hear the whole story, let alone participate, what is the point? This assumes that distinct snippets can be discerned at all. In the converted industrial spaces that pass for modern temples of gastronomy, concrete, metal and wood dominate the interior surfaces. Conversations bounce around in jumbled vectors then spew forth as one in an impenetrable, red-throated squall.
My internal discomfort aside, experience makes plain that solo diners are not restaurant favorites. It is not as though we arrive without funds or are particularly parsimonious. And there are plenty of us out there. The problem is that because we do not align with the social experience customarily associated with a meal out, we tend to be treated as surplusage. Tables are not built for one. A two- or four-top with only one occupant can be seen as a revenue reducer. As a result, the operator of an upscale establishment is less likely to cater to a guest toting a novel as her sole companion. There is no shiny, happy; no contribution to the vibe. No wonder we solos are too often seated near toilets and kitchens.
"Mr. Charles, you had the table for. . .ONE?" the hostess at the hot new place asks, flashing her best paste-on smile. I am convinced it is really a scalpel-edged critique intended to emphasize my misfit status.
"Yes. Booked a table weeks ago. Been looking forward to trying it." I reply, as though she cares. I can tell that her perception of my statement is much the same as the Far Side cartoon dog that perceives its owner's words as so much "blah blah blah."
"Excellent," the hostess says vacantly. She turns. "Tiffany, will you take Mr. Charles to table 16?"
Tiffany is the standard issue, drop dead gorgeous, twentyish underling. My mind wanders, and I contemplate how the slightest curve of Tiffany's barely post-adolescent hips keeps her lowest of low rise pants in their upright and locked position.
Hostess and Tiffany exchange looks over a nanosecond, my relegation to northern Greenland as assured as an SUV overfilling a "compact" spot. The stroll with the smiling, gravity-defying young beauty is a stratagem to encourage meek acceptance of my fate. It works every time.
I understand the game, so the coarse treatment is neither unexpected nor ego shattering. All I want is a high quality meal that I do not have to cook and clean up after. I do not much care where I sit as long as it is not in the bathroom. The food will be the same. I can soak up a little of the ambiance. Because I have no one to kibbitz with, the pace of the meal will be brisk and I can get in, fed and back home in an hour or so. This will make my dogs very happy. Or, if I want, I can ruminate on each element of my repast or on myriad topics unrelated to the food, such as the latest aggravation at work, the hole in my love life or, vaguely related, the miracle of Tiffany's pants.
Still, I think I deserve better. Why should I be treated like a carrier of loathsome disease? It is not as though I am getting a discount. I want to feel as though I am just as valued a customer as the couples, foursomes and larger parties. That is not asking too much, is it? If restaurant owners (and designers) considered this, it might work better for all of us. There are plenty of places on plenty of nights that could benefit from the imprimatur of the solo trade. All it takes is a little thought and effort.
There are counters to the long march of the lonesome diner. One is, literally, a counter. A fixture I adore at Wildwood, for example, is its service bar. With seats facing the open kitchen's saute station and hearth oven, the customer's natural focus is on the kitchen rather than other diners and missing companions. For those like me who enjoy cooking as a spectator sport, this is as good as it gets. Plus, the line cooks are a gregarious lot if they are not too slammed, so usually there are plenty of opportunities for conversation. Park Kitchen, Nostrana and Fenouil also have service counters. Even if none of them is as perfectly situated as the one at Wildwood, the effort is worth acknowledging.
A like benefit is the community table. One such has been an institution at the Original Pancake House for decades. There is also one at the Slanted Door, a San Francisco high-end Vietnamese standard in the Ferry Building. It is a great idea, especially if you are willing to shmooze with the stranger next door or across the table. Bonds can be built at a community table. A similar idea is in evidence at Roux and used to be employed at the large round tables at Fong Chong, back when its decent dim sum drew formidable crowds. Large tables are used for multiple parties, with the parties' spaces separated by table top dividers. This and the undivided community table are underutilized concepts that ought to be encouraged. Whatever the specifics, I am far more likely to patronize an establishment where an obvious effort is being made to seat solos comfortably.
Another tactic hospitable dining establishments ought to employ is to suggest that servers, hosts and even managers make a special effort to assure that lone patrons feel welcome and wanted. Savvy floor workers do this intuitively. I am not suggesting lap dances or tableside psychotherapy. A few extra moments to chat with us a bit is all I have in mind. Lingering for an additional sentence or two is a noticeable and appreciated gesture. Sincerity counts too. Give me chance to say something more than "I'll have the tomato bisque and the lamb shanks." Some solo patrons might even have something valuable or interesting to contribute to the conversation. The extra effort will not hurt when it comes time to leave a gratuity.
Divorce, death, business travel or other circumstances may deprive each of us, at one time or another, of the comfort and collegiality of dining with lovers, friends and family. We still require sustenance, and a restaurant meal may be the preferred option as long as the experience is not oppressive. There are doubtless those, unlike me, who prefer no human company at the restaurant table. Though I would never deign to tell someone else how to run their business, common sense and compassion together suggest that more restaurants do more to cater to the solo crowd.
"Equal hospitality for all" shall be our rallying cry. Let it be so.