This guide was originally written for the 2009 United States Barista Championship, but it got so much favorable press, I decided to adapt it to anyone dining on a budget. This is a quick guide to places that are very reasonably priced, and close to the Convention Center/Downtown core.
If it's lunch or breakfast you are after, Portland abounds with great options. Lately two new places have been getting a ton of attention: Bunk Sandwiches and Meat Cheese Bread. They both are terrific, and you'll get out the door for less than ten dollars – much less at breakfast.
For a quick breakfast, head to Meat Cheese Bread. The breakfast burrito, full of smoky green chilies, cheddar cheese, scrambled eggs and hash-browns has a huge following. The varied ingredients all come together in a perfect harmony ($4.75). For me, the breakfast standout is the Ham and Cheese, which is made from an over-easy egg and lightly dressed greens, gently cradled between two slices of golden brown bread pudding. The pudding itself is moist and savory, a lovely melody of bread, ham, and bits of cheese. This is a terrific breakfast, rich and satisfying, full of diverse textures and flavors; one of the best breakfast sandwiches in Portland ($5.50). Meat Cheese Bread: 1406 SE Stark St. Mon-Sat 7am-7pm. Map [FD]

Want more of a traditional sit down breakfast? My favorite in SE is Zell's Café. This is an old pharmacy; you can sit at the soda-fountain counter with stools and detailed woodwork from its previous life. The back wall still sports the drawers from the pharmacy. The coffee isn't the best in the world, but you'll be getting plenty of that through the day. Everyone gets a couple of hot little scones to munch on while checking out the menu. I tend to stick with pancakes or waffles, with a couple of strips of nice thick bacon, but that's just me. They have a good selection of eggs and even lunch items. I always get out for less than $10. Zell's is at 1300 SE Morrison St, a short drive from the USBC. Zell's Café: 1300 SE Morrison St. 8am-2pm. Map [FD]

Lots of people like Gravy over at 3957 N Mississippi Ave by Albina Press and Fresh Pot. I'll be honest, it leaves me cold, but there is almost always a line out the door. They are known for huge portions and lots of things with gravy. Duh. Our local indie newspaper The Portland Mercury has a review.  Gravy: 3957 N Mississippi. Tue-Fri 7:30am-2:30pm, Sat 8am-3pm. Map [FD]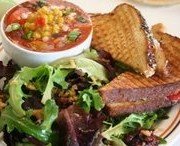 For lunch there are a ton of good options, but I'm trying to keep this close in. There is little worth noting near the Convention Center. If you really need some food, but want to stick close by, your best bet is the locally owned Burgerville. Better than your average fast food, Burgerville features organic grass-fed Oregon beef, and regional and seasonal specialties throughout the year, such as chocolate hazelnut milkshakes and sweet potato fries. It's just a block north of the convention center at 1135 NE M L King Blvd. [CBF]
At least one time, head to Bunk Sandwiches. Yes, Bunk. It's new, but you'd never know it by looking; already a total dive, it's turning out some of the best sandwiches in the city. Think a Porchetta, stuffed full of seasoned moist pork belly and pork tenderloin, imbued with smoky flavor and a hint of fennel. Sautéed onions bring the sandwich to a perfect balance. The eggplant sandwich is perfect: roasted eggplant, red pepper, fresh mozzarella and basil, drizzled with fragrant olive oil and a bit of salt; substantive enough without being too heavy. It is an instant classic and beautifully done – the soft roasted vegetables melt into the fresh clean taste of the cheese and the olive oil, with whole basil leaves creating a wonderful aroma. The menu changes every day, but at least eight sandwiches are available at any one time. If you are in a hurry, go on an off time – during lunch hour there is a line out the door. Sandwiches run about $8. Bunk Sandwiches: 621 SE Morrison St. Mon-Sat 8am-3pm. Map [FD]

Many of you will probably be heading over to Albina Press and Fresh Pot. Just a few blocks away is Por Qué No Taqueria. I usually get a selection of little tacos; most are just $3.00 each. The Porque Tinga is one of my favorites, shredded Cascade Natural beef in smoky pasilla chile sauce with onions, cilantro, and salsa roja. They are small enough that you'll want three to fill up. Another favorite is the Bryan's Bowl – a um, bowl, filled with meat or veggies with beans, rice, salsa, guacamole, queso fresco cheese, crema and tortillas – all for $6.50. If you are heading east towards Crema, there is a second branch on upper Hawthorne. Por Qué No Taqueria – 2 locations: 3524 N Mississippi Ave – Map, and 4635 SE Hawthorne Blvd. Map [FD]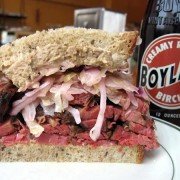 Just up the block from Stumptown in the Ace Hotel is Kenny and Zuke's Delicatessen. Think almost Jewish deli – big open space, huge sandwiches, and a devoted following. They have a huge menu, and are known for their house-made bagels and pastrami sandwiches, thick layers of moist pastrami piled high on good rye. I always get the Reuben. Always. It calls to me. 1038 SW Stark St. www.kennyandzukes.com. Kenny and Zuke's Delicatessen: 1038 SW Stark St. Mon-Thur: 7am-8pm, Fri-Sat: 7am-9pm, Sun: 8am-8pm Map [FD]

Cuisine Bonne Femme is our local food cart expert. Here's her take:
Portland is also known for its army of food carts; Portland boasts over 171 and counting. In fact, some of them are the best bargain food in the city, and sometimes the best food. Unfortunately, most are closed in the evenings and on weekends, but a choice few offer some terrific breakfast, lunch or late night options. Most carts offer some vegetarian items, as well as vegan ones. Here are my top weekend and late night food cart picks; more can be found at foodcartsportland.
Flavour Spot – One of these two crazy little carts is located deep in the heart of North Portland far off the tourist grid, while the other is in close-in N. Mississippi. (easily accessible from downtown by car or bus). For around five bucks fill up on a giant old school thin waffle folded into a sandwich and stuffed with things like black forest ham and oozing smoked gouda cheese, Nutella and raspberry jam, or sausage with real maple syrup. Flavourspot is a local favorite, so expect a bit of a line on the weekends. Trust me though, the wait is worth it. Flavour Spot: 2 locations: 2310 N Lombard St, Map. 810 N Fremont St. Map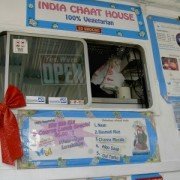 India Chaat House – For cheap, but giant portions of quality Indian vegetarian food downtown, the Chaat House does not disappoint, with things like Saag Panner, Samosa Chaat, or a dozen different kinds of curries and other Indian menu standards. A mere $5.50 gets you a giant container of rice, dal, and at least two other dishes alongside a Frisbee-sized piece of freshly baked tender naan bread. The covered seating area isn't heated, but buck it up and do as the locals do, rain and cold be damned. India Chaat House: 804 SW 12th, downtown. Mon-Fri 11-7, Sat 11-4. Map
La Jarochita – There are lots of taco trucks in Portland, but few in downtown that are open on the weekends. Jarochita makes very decent tacos and burritos, but also serves some tasty Mexican regional specialties such as sopes,huaraches and some very tender tamales wrapped in banana leaves, Veracruz style. La Jarochita: Southwest 5th Avenue at Oak. Map
Garden State – Some of the best Sicilian and other Italian food in Portland can be found at this shiny silver trailer in Portland's Sellwood "antique district." Food is prepared with high quality ingredients from local organic farms and ranches, and includes a wonderful Italian meatball hero, a porchetta sandwich on ciabatta bread, and the best arancini in the city. Garden State: 7875 SE 13th Ave. Map
SE 12th and Hawthorne Late Night Carts – Portland's premier late night "cart pod" contains several local favorites perfect for a cheap gut filling start to a night on the town, or as a way to sober up. Potato Champion makes traditional pomme frites (fries) served with accompaniments such as mayo or ketchup, and a whole bunch of other sauces such as pesto, remoulade – you get the idea. Drinking food of the Quebec gods, poutine is also available. Q, BBQ is half Southern, half Hawaiian style BBQ. Get the smoked BBQ turkey leg. Just do it. Bubba Bernies is all about New Orleans Soul food with excellent gumbo, Jambalaya and Po Boys, while Yarp and Brown Bag Bunny offer things like wonderful chili, pastas, and homemade soups and sandwiches. El Brasero, the sole taco truck on the block is quite good for its tacos and other meats, especially the carnitas, barbacoa, and birria. Late Night Carts: SE 12th and Hawthorne. Lunch Wed-Sun. Map [CBF]
That gives you plenty of lunch options, so let's move on to dinner. There are some great options on the east side. If you like Spanish food, you won't do better than Toro Bravo. Almost everything I have tried there is stellar, and I've tried just about everything. The lamb with apricots and honey showcases the Moorish influence on parts of the country. Succulent small skewers of lamb kebobs are grilled Southern Spanish style with a cumin paste and are perfect at medium rare. Boquerones (fresh marinated anchovies) are loved throughout the country, and Toro's version served with piperade on thin slices of crostini are a highlight – fresh and bright, with layers of satisfying textures and tastes. Prawns presented as "griddle shrimp with chilies" are spicy and succulent and grilled to perfection in their thin shells. Toro recommends you eat them with your fingers, and trust me, you'll be licking them afterwards to get every last bit of flavor. Another great option is the salt cod fritters. These were some of the best I've had either stateside or in Spain. Small finger-sized nuggets, not at all greasy, golden and crispy on the outside and creamy and succulent inside, with a deep cod taste. Other highlights: meatballs with almond sauce and peas, light croquettes with crab, cod and fennel… I could go on and on. Best of all, it's pretty cheap – I usually get out the door at about $25 a person.  Toro Bravo: 120 NE Russell St. Sun-Thur: 5 pm-10pm, Fri-Sat: 5pm-11pm Map [FD]

Another option not far from the Convention Center is Biwa, a great Japanese izakaya bar. It's easy to get caught up in the moment and add up the charges, but there's no need. The happy hour at Biwa, which lasts all evening at the bar, has to be one of the best bargains around, with a $5.00 small bottle of better-than-average sake, $2.00 meat skewers and decent sized bowls of ramen for $5.00. The only catch is that you need to order and eat at the counter to get happy hour prices, which may not work for large groups. However, even at a table during regular hours the cost for ramen is only $9. You'll leave stuffed and happy.  It's not too far from the Convention Center: 215 SE 9th Ave. Here's a link to the new menu. Biwa: 215 SE 9th Ave, Sun-Thur 5-10, Fri-Sat5-11. Map [FD]
Downtown, Clyde Common gets lots of attention for its big community tables, laid back vibe and great people watching. The menu is quite eclectic and inventive. The chef does good things with simple ingredients, witness the roasted cauliflower which has elevated this lowly vegetable into a new form. It is slightly sweet, and slightly caramelized on the outside, while still remaining firm. I love their "Board" with smoked fish, pickled onion, crème fraiche, crackers and a frozen shot of aquavit ($13). If they have the whole roasted fish, get it. It is a simple, perfectly cooked and flavorful fish, crispy skin, sweet and tender meat. Don't be put off by the head (the glazed eye staring up at you, thinking of better days), as the cheeks contain some of the best tasting parts. Clyde Common has offered it as bronzini (sea bass) and the Mediterranean dorade (bream), usually around $20. The bar area rocks with killer drinks and a great burger and fries. They are also open for lunch. Clyde Common: 1014 SW Stark St. Mon-Thu 11:30am-midnight. Fri 11:30am-2am. Sat 5pm-2am, Sun 5pm-10pm. Lunch: Mon-Fri 11:30am-3pm Map [FD]
There is quite a bit of good Middle Eastern food close to downtown. Portland boasts a handful of Ethiopian and other African restaurants, many of them quite good, and all of them located on the eastside of the river. However, one of my particular favorites is Dalo's Kitchen on N. Vancouver, not far from the Ristretto Roasters and N. Mississsippi. Why Dalo's? It's simple: For under $10.00 you can load up on traditional dishes like savory chicken or lamb t'ibs, addictive melt-in-your mouth cooked greens, spicy lentils, and a whole plethora of other vegetable dishes all served with that unique Ethiopian crepe-like spongy bread known as injera. Portions are so large at Dalo's I usually am able to get 2-3 meals out of one entree. Look for unique varieties of Ethiopian beer and some very good Ethiopian coffee. One thing you do need to know about Dalo's though – service is slow. 4134 N Vancouver Ave. Mon – Sat 12pm-3pm, & 5pm-9pm. Map [CBF]
What about sushi? Portland has three kinds of sushi restaurants: 1. High end sushi with nothing but the finest fish prepared by intensely professional chefs, 2. Passable, neighborhood type joints and 3. bargain basement sushi-go-rounds. Prices range accordingly. For the best sushi, expect to pay NY or SF prices, but you won't be disappointed. Hiroshi Sushi on NW 10th, or Murata on SW Market are the best of the best, but you'll pay accordingly.As for cheap sushi, you can fill your gullet just fine at the conveyor belt staples of Sushiland on NW 10th near Davis, or Sushiville on NW 23rd. The newish Bamboo Sushi at 310 SE 28th, one of the nation's first certified sustainable sushi restaurants, is getting some good reviews for its innovation and quality. Saburro's sushi in Sellwood has a legion of fans, and super long waits for its "large sushi". My take? It's not the size that matters, but the motion of the ocean. [CBF]
Hiroshi Sushi: 926 NW 10th Ave. Mon 6:30pm-9:30pm, Thu 11:30am-2pm, 6:30pm-9:30pm, Fri 11:30am-2pm, 6:30pm-10pm, Sat 6:30pm-10pm. Map
Murata: 200 SW Market St. Map
Sushiland: 135 NW 10th.  Map
Sushiville: 1514 NW 23rd Ave. Map
Bamboo Sushi: 310 SE 28th Ave. Daily: 5-10pm Map
There are, of course, many good restaurants I did not mention. I wanted to get a selection of establishments near the convention center. I'm sure readers will have more ideas in the comments section.