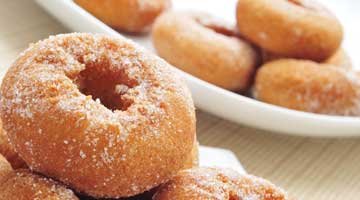 By Emily James
When FD asked me to start writing for this site, I was extremely nervous. I'm not an expert in any manner of food preparation, serving, or procurement. I am, however, an expert in eating and I have my Lifetime Weight Watchers membership to prove it- from a brief moment, back in 1995 when I was 30 lbs lighter. Anyway, the old adage is to "write what you know." And sadly, for me-that means doughnuts. I've always eaten doughnuts, but lately I have noticed a lot more press and attention on various doughnut shops around town, particularly VooDoo Doughnuts and Krispy Kreme. Up until now, I have never visited either, being very happy with my local doughnut shop. In fact I am willing to bet that my local shop (Sesame Donuts) is just as good if not better. So there.
I decided to see what constitutes a really great doughnut. Does Krispy Kreme just have a powerful marketing machine? Is VooDoo worth the hype? How do neighborhood doughnut shops compare to these media darlings?

VOODOO DOUGHNUTS
At 8:30 PM on a Thursday night, VooDoo is doing a brisk business. There are lots of hipster types-who probably would not set foot in a Krispy Kreme if you paid them. Or, they would, but only if no one saw them in there. It's hot outside but that isn't stopping the crowd, all of whom seem to be dressed for colder climates. I order the first thing I see in the revolving case-an apple fritter. My husband orders an enormous glazed doughnut, and a friend the Froot Loop Doughnut. The glazed doughnut was just that-a glazed doughnut, albeit the biggest I've seen. The froot loop doughnut looks good. But I was focusing on my fritter. I am having buyer's remorse. It looks great, but has that greasy mouthfeel that makes me aware of my arteries being clogged as I chew. Despite the hordes of doughnut seeking alternative folk, I am not impressed. The Joy of Cooking (Rombauer/Becker 1975) cites that when cooking doughnuts, the oil must be "impeccable," as sugar & fat laden batters soak up more oil. I think this is where a good doughnut can go horribly wrong, as in the case of this fritter. Someone asks me for spare change, and I hand off the fritter instead. I am asked if I have a bag.

KRISPY KREME
I am fully prepared to hate Krispy Kreme, mostly because of all those stories about people camping out, waiting for the stores to open a couple years ago. I pull up to the drive through, order 6 glazed (not hot, as I do not want to handicap them in favor of anyone else who does not specialize in hot doughnuts) and 6 assorted. I'm back on the road within five minutes. It's a smooth, corporate operation-the exact opposite of VooDoo and Sesame Donuts. The floor gleams inside. I half expect the guy to ask me if I'm interested in Pizza Shooters or Extreme Nachos. It is a far cry from "the crotch of Portland" as the VooDoo website describes their location. The glazed donuts are good. They aren't too big or too small. They have a nice yeasty taste and puffy texture that almost squeaks between your teeth. I turn to the rest of the box. Ugh.
Less is more with Krispy Kreme. The glazed doughnuts are far and away the best things on the menu. The chocolate frosted and maple doughnuts aren't bad. The jelly and crème filled doughnuts are fine, although that's when they begin to cross over into "cloyingly sweet" territory. The worst is the Krispy Kreme "featured donut" -the Strawberries & Kreme. It is everything bad about doughnuts rolled into one. A glazed, strawberry cream filled doughnut was then frosted and then topped with "crumble" (aka more sugar). Yuck. It is an abomination. However, the doughnut is only available until August 17, thank God.
One plus about Krispy Kreme is that there is no greasy aftertaste. In fact, I feel like I have just brushed my teeth. This scares me. Another plus: the drive-through. However, this eliminates any calories burned by getting out of the car and walking into the store, which I would imagine is the only exercise some customers would get.

SESAME DONUT
Sesame Donut is your typical doughnut shop. Basically it has the same color scheme and doughnuts from the Dunkin Donuts that it once was. Favorites in our house are the old-fashioned (plain AND chocolate), the chocolate frosted bar, and the actual sesame donut (a cake doughnut dipped in sesame seeds) is growing on me. This is the shop that has seen me through three pregnancies (seriously, the only thing I could keep down was doughnuts) and is a regular stop on weekend mornings. Here, too, the grease factor is low-occasionally a cake doughnut will be on the oily side. It's not as antiseptic as Krispy Kreme but is pleasant, clean and cheerful. No hipster attitude, just good doughnuts.

VOODOO PT 2
I feel like I need to give VooDoo another shot. I buy a Froot Loop, a Captain Crunch, a chocolate cream filled, and a maple bar. The maple bar is slightly dry and I realize with the first bite that I hate maple bars. I take bites of the Froot Loop and the Captain Crunch doughnuts. I find the dry cereal on top distracting, and the frooty/fortified-with-vitamin smell of the cereal even more so. Yet, the doughnut itself is good. Then it's on to the chocolate cream filled. This time, I am impressed. The raised doughnut is light and airy. It does not have an oily aftertaste. The frosting is nice. The cream itself is cream custard and it's actually pretty good. I'm surprised. I'm not a fan of the fritters, and as far as the maple bar/froot loop/Cap'n Crunch doughnuts are concerned, it is simply a personal preference, though I'm sure there are legions who love the sugary crunch of the cereal. I prefer cheerios, so maybe that is the problem. A doughnut with cheerios on top would be no fun whatsoever.

TONALLI'S DOUGHNUTS & CREAM
Because I am nothing if not thorough, I head over to NE 28th & Alberta to Tonalli's Doughnuts & Cream. It's a nice place, very similar to Sesame Donuts but with a wider array of choices. The kid who takes my order is patient while I corral one of my children and puts the doughnuts in a paper bag and then a plastic bag with handles for easier carrying without me having to ask I have to open the bag as soon as we're in the car as the baby has become a doughnut junkie and is very demanding. I rip a glazed in three parts and we dig in. The glazed doughnuts are very good. By the time I hit 33rd, I have completely discounted the chocolate frosted old fashioned. By Siskyou, I have taken 2 bites of the chocolate devil's food cake doughnut and it has gone back in the bag. At I-84, I decide the chocolate frosted bar is delicious, but I have to give the rest of it to my 2 year old. Since I'm now on the freeway, I wait until I get home to do any more sampling, as a doughnut-related accident would be very embarrassing to explain. At home, I spread the doughnuts out on the table and re-sample. The raised doughnuts are all tasty. The cake doughnuts, without exception, have an acrid aftertaste that signifies that something burned in the oil. I took out the fritter, which could be the exact same fritter I got at VooDoo Doughnuts. It's not, but it has the same greasy mouthfeel, like all of the cake doughnuts. The cream filled falls down as the filling is obviously commercial pudding mix. Which is fine, but it is not very good vanilla pudding mix.
However, my second trip to Tonalli's goes much better. I order virtually the same lineup of doughnuts as the last time, except I add a dozen plain glazed donut holes for easier handoff in the car. This time, all the doughnuts are quite tasty and delicious. I've also begun to realize that all cake doughnuts, by their very nature and regardless of who makes them, are greasier than their raised counterparts.
So what does this mean in the greater scheme of things? Not much. I prefer to patronize the local doughnut shops-the offerings are pretty much the same and I'm supporting a local business. VooDoo Doughnuts and Krispy Kreme are two sides of the same coin as far as I'm concerned. Lots of marketing and hype. Your local shop is just selling a nice piece of fried, sugared dough. I will give an edge to VooDoo over Krispy Kreme (even if they do have a drive-thru) in terms of variety and quality of their products. But I don't think either place is really about the doughnuts.
If anyone remembers the seminal Russell Hoban work, "Bread and Jam for Frances," they will also remember that Frances only ate bread and jam until she never wanted to eat it again. While she jumped rope, she sang:
"I know how a jam jar feels
Full of jam."
I know how a doughnut box feels. It's not good. And at least Frances was jump-roping. I'm sitting on my butt, eating doughnuts. I kept thinking about old Frances and then remembering how when she finally broke free of the bread & jam addiction, she had a very tasty lunch with all sorts of delightful items like hard boiled eggs with individual cardboard salt & pepper shakers. I think that this experiment finally killed any love I had for doughnuts. But now I can tell a good doughnut from a bad one. And quite frankly, even a bad doughnut is still pretty good with a cup of coffee. But I won't be eating one anytime soon.
VooDoo Doughnuts
22 SW 3rd
Portland, OR 97204
503-241-4704
Krispy Kreme
16415 NW Cornell Rd.
Portland, OR 97006
503-645-2228
Sesame Donut
6990 SW Beaverton Hillsdale Highway
Portland, OR 97225
503-297-8175
Tonalli's Doughnuts & Cream
2805 NE Alberta
Portland, OR 97211
503-284-4510