Review of East India Co. in Portland Oregon
[updated 9.17. notes/hours]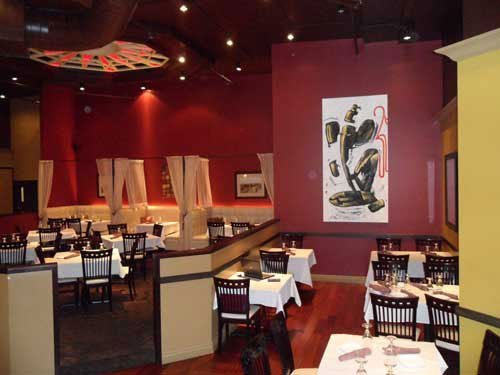 Downtown Portland is dotted with Indian restaurants and food carts. It has gotten to the point where, when making plans with friends, you have to make sure you all are talking about the same restaurant; otherwise, some of your party will invariably end up at the wrong place.  That is what happened to me the first time I went to East India Company.
This restaurant is behind the downtown library, sandwiched into the space between an old parking garage and the Dental Building. Look for the signboard on the sidewalk behind the main library.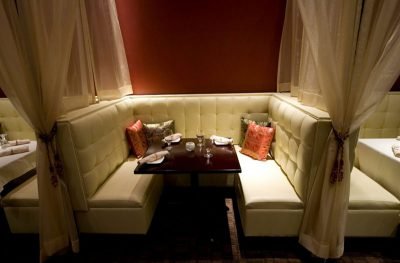 The inconspicuous entrance misrepresents the interior. Just inside, you are greeted by a long bar with comfortable stools. There are two flat screen televisions, but the sound is muted, so they are unobtrusive. Beyond the bar, the space opens into a large, elegant dining room. White tablecloths and candles stand against a backdrop of warm wood floors, earthy pastel colors, and unobtrusive lighting. Overall noise level is low enough so as not to compete with conversation. The room is dominated by a circular glass panel on the ceiling.
The East India Company restaurant is mostly Northern Indian, with entrée prices ranging from $14 to $25.00. The presentation is much better than the norm for Indian food. Dishes are carefully arranged, and a moment is taken to decorate the plates. Along with the plush atmosphere, linens, candles, and casual elegance, this touch makes the somewhat higher prices seem more fitting.
Unfortunately, whether you are sitting at a table or just waiting for a to-go order, on busy nights the service can be slow and disorganized. There is no podium as you enter; you just stand there and hope to get someone to notice you as they rush past. On busy nights, the service doesn't get all that much better when you sit down. The waits to order can be long, and the food can come out in a disorganized fashion.
Before they received a wealth of positive reviews, everything was fine, so I'm hoping the service issues will be resolved once the fuss dies down. Until then, I'd suggest going on slower nights.  They desperately need a front of the house manager, someone who stays out of the kitchen to greet patrons as they enter, makes sure everyone is getting service and drinks are being refilled.
The bar selection could be better. There are nine house cocktails, uninspired and not particularly well executed, with four beers on tap, and four by the bottle. The wine selection is about what you'd expect – 11 reds, 8 whites, and three sparkling wines. 12 are available by the glass, though I've had a few which seemed to have been open a bit too long. The wine menu lacks vineyard designations and year. The markup is about average.
Meals start with papadam, a thin, brittle, spiced lentil cracker that easily breaks into bite-sized pieces. It comes with two chutneys, one a salty, pungent green mint/coriander, and a second, slightly sweet tamarind. They are serviceable, but they don't compare to the plethora of vibrant versions found across the river at Vindalho.
The appetizer menu consists of six choices. Since the restaurant opened, they have greatly improved.  I like the tandoori murgh salat (murg means "chicken".) Bright leafy greens form a bed for a pastry cup, not unlike a curved tostada shell. A filling of potatoes, fresh tomato, peppers, cauliflower and red onion cascades out of the cup and across your plate. Over the summer it tasted like it just came from the garden. The flavors are complex; smoky with an occasional, unexpected spicy- sweet burst of pineapple on the palate.  Another good option is the papdi chaat – potatoes, garbanzo beans, potatoes and chat on a foundation of little cracker-like wafers. The spice is tempered with a creamy topping of yogurt, tamarind and mint chutney. I really enjoyed this dish.
Samosas originated in Persia, and were introduced to India during the Moghul Empire. Traditionally they are triangular-shaped pastry dough dumplings, usually filled with potatoes and peas (aloo), or meat and paneer (kema). The crust should be light and flaky.  At East India Company, they skip the peas, and the overall effect doesn't work quite as well; it's a bit heavy.  Still, the flavors are complex, with a hint of mint and coriander. The crust is fairly thin but forgettable. Not my favorite dish, but it's fine.
The kebabs tend to be excellent – worlds better than most restaurants. You can pick from chicken, fish, lamb or cheese versions. It is hard to find kebabs where the meat hasn't dried out. Here it's perfect.
The murgh tikka (grilled chicken)  is infused with a wonderful array of spices, kicked up by Kashmiri cayenne. The fish, or muchli ka tikka, is flavorful and tender. The prices may seem a bit high, but the portions are big enough to be called an entrée.
One of my favorite dishes is also one of the hottest things I've eaten this year:  gosht vindaloo. Gosht means "red meat", and though the dish is traditionally made with pork, this version is made with moist bites of lamb, potatoes, and onions, and a liberal coating of vindaloo sauce, which is the hottest of all the curries- a mélange of spices, vinegar, tamarind, and herbs, balanced against a slightly sour note from vinegar. I have a Thai friend who tends to put hot sauce on everything, and he whined all the way through the dish. I loved the complex layers of flavor that peaked from behind the heat – garlic, clove, cumin and mustard. The heat varies a bit from night to night, and yes, some days it will set your mouth on fire – get it anyway.
Murg Korma is smooth as butter; tender moist chicken with "cashew nuts, ginger & fenugreek". The mild beginning belies the complexity beneath. At first, I couldn't taste the cashews but then noticed the flavor on the finish. The ginger hits you squarely in the face; the fenugreek is a sly one, peeking through now and then. Makhani means "buttery", so the murg makhani translates to "butter chicken", one of East India Company's most popular dishes. Smoky boneless grilled chicken is simmered in tomato-butter curry sauce and served over rice. If you are used to the version found in the average Indian restaurant, this will be a wake-up: it is leagues above most. The sweetness of summer tomatoes balances the curry and gives it a bright taste; the butter gives a silky mouthfeel. This is a terrific dish.
If you are in the mood for lamb, try laziz paslian, chops in "five greens" marinade. Laziz means delicious, and that is a pretty good description of this dish. While the chops are small, the meat is perfect – slightly gamey, moist and smoky. The marinade balances well, without getting in the way of the lamb and is a bit spicy in the finish. I thought the flavors were long and complex; one of the best lamb dishes I've had in a while. Lamb biryani is slightly less successful. The description is "extra lean boneless leg of lamb tips", and that may be the problem. While the meat was a bit dry, I did like the combination of spices. There was a ton of flavors in every mouthful: saffron, nuts, all offset by the sweetness of raisins. It was topped with a quartered hard-boiled egg. This is another dish that has a bit of spice which lasts quite a while.
Of course, Indian food has lots of vegetarian options, and East India Company has a variety of dishes beyond the ubiquitous biryani. The navratan korma or "nine jewels korma" is traditionally made with nine "seasonal" vegetables, but this version never quite makes that lofty count. Still, the creamy sauce of cashews and raisins is quite nice, and the vegetables aren't overcooked as they are in many buffet-style Indian restaurants, making this quite a nice choice. Another option is aloo gobi, basically a stir-fry of cauliflower, potatoes, tomatoes, ginger and spices. I'm not a huge fan of cauliflower, so this dish didn't bowl me over, but that's just me; it converted a vegetarian friend to Indian food.
Made on premises, the breads are good though once or twice out of many visits the kulcha was a bit past the slight scorch it is supposed to have. I generally order the garlic version with fenugreek greens to accompany my meal, or the onion kulcha with onions, bell peppers and masala spices.
East India Company fills with happy diners during lunch. In the interest of speed, choices are limited, with three different specials available. They all come with a tiny, forgettable salad of chopped vegetables, naan bread, khadi ; a decent yogurt-based stew, and dessert. The Colonel's Lunch is pretty basic, just the curry of the day with rice and sides. The Viceroy's Lunch is more substantial:  samosa chaat, choice of three different kebabs, curry of the day, and dessert. Finally, there is the East India Co. Lunch. One chooses either pakora, a grilled fish which is moist and tender (muchli ka tikka,) or laziz paslian – lamb chops in 5 greens marinade. Also included is the curry of the day.
Lunches like this are difficult for a restaurant to produce, a rush of people comes all at once, and they have less than an hour to eat and get back to the office. Corners must be cut, and I don't think the quality at lunchtime is indicative of what you get during dinner. I have a feeling much of the food is made in advance; once you order, it fairly flies from the kitchen. Portions are quite small, but add up; when combined, you'll probably be inclined to take a nap at your desk. The last time I had lunch here, I found myself telling friends that they shouldn't be influenced by that meal, but should return for dinner.
A word about the to-go food: I must say it is beautifully presented. It is rare that a chef cares about presentation with something you are taking home, but this one certainly does. Papadam is carefully wrapped in foil; each chutney is included in separate containers, and then wrapped again. Curries and rice are separated, and appetizers are artfully arranged in their containers. Compared to most take out, it is really a nice surprise.
Though I have complaints here and there, overall I'm quite happy with East India Company.  I think East India Company is the best of the lot in Portland, and it has steadily improved since they first opened. While prices are higher than you might expect, so is the quality of the food. The owner and chef obviously care, and I will definitely return.
Address: 821 SW 11th Ave, Portland OR. 97205
Phone: (503) 227-8815
Website: https://eicpdx.com
Notes: This restaurant is not wheelchair accessible.
pictures provided upon request by East India Company