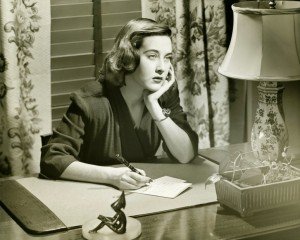 Note: THE CONTEST IS NOW CLOSED
Entries to the 2014 food writing contest are pouring in, so this collection will be a bit larger than the last group.  If you missed the earlier post, you can see all the contest details here. These are the prizes for the best entry as determined by a reader vote:
---
PROVIDING by Dave –
In our neighborhood, Mr. Carpenter's house was the sturdiest and most valuable. In addition to his own brick house, he had built a small doll's house size out building for his daughter, Yetive, because she was a large woman and could not manage the small flight of stairs leading to the front door.
Immediately across the street from the Carpenter's was a small wooden house only big enough for the mousy couple who lived there. I would remember the night that was cut short by sirens. My father attempted to shoo me back inside, but I hung at the edge of the doorway listening to the staticky radio voices say, "… Suicide … suicide in the garage." I could see the shadow of the rope making an awkward shadow across the sidewalk.
The Emery's lived in the poorest house on the block. Gordon Emery was an alcoholic lumberjack. His wife Grace took the brunt of his tirades which had left her the color of grey smoke from a fire completely doused by water. Their one daughter, Rhonda, was the oldest. There were four sons: Eugene, Mike, Arnold, and Babe. Arnold was exactly my age and became my best friend. We listened to the Beatles on a transistor radio hung from the willow as we played trucks and cars in their backyard.
When we came in for water or the need to pee, I noticed Mrs. Emery making dinner over their wood stove. What she prepared rarely varied: ground beef, heavily salted and peppered; white gravy from flour and water; green beans from their garden. Earlier that day I had watched her snap them into a large pot while sitting on their front porch. The dinner plate was finished off with a slice of white bread. I was often asked to stay for supper and I rarely remember a meal that was not hamburger gravy over white bread.
Our house was unique on the block. We had the largest yard. We had picture windows on all three sides of the front of the house. My father's eccentric visions dotted the landscape of our front yard and made us different in the eyes of our neighbors. My father had discovered three 500 pound boulders that he cajoled friends to haul cross-county to our house. There were also wagons and wagon wheels and a rustic split-rail fence that gave our house an askew charm. The item that drew the most comments, however, was the pole that stood front and center in our yard. A lightening strike had created random bulbous gnarls up and down the pole. It gave it the air of a totem pole created by a tribe of gnomes.
Although Arnold Emery was my best friend, he was never invited for dinner. This was somewhat of a relief to me. My father thrived on a wild variety of spices and our meals became concoctions and experiments. One night my father sat down with me at the dining room table and said, "I want you to create the menu for tomorrow night's dinner. Nothing is off bounds." The next night we had steak, baked potatoes smothered in home-made ranch dressing. And instead of vegetables we had two desserts: baked apples with cinnamon and sugar, followed by Purple Cows (vanilla ice cream with grape juice).
The last meal I had at the Emery's was a fried egg sandwich with ketchup. It was lunch on a Saturday. Later that afternoon, Arnold's father had worked himself into a drunken rage that became a tirade against his sons. The older boys, Eugene and Mike, could take care of themselves. Arnold and Babe became my responsibility to protect. I decided that Mr. Carpenter's house would be our best place to hide.
Mr. Carpenter did not seemed phased by our request for sanctuary. He took us into his kitchen and suggested we bake chocolate chip cookies. This took our attention off the dangers of the outside world. Halfway through the process, he stopped. "You know, the best part is the dough," he said. He placed some spoons about and we ate the chocolate chip cookie dough straight from the bowl.
The storm had passed. We placed our spoons in the sink and went out to play.
---
By Caroline – 
Two pound bars of Hersey's' special dark chocolate tucked in the back of the pantry. "Mom!" I yell out. "You shouldn't eat this. I'll buy you something better." My mom, in bed after a hysterectomy, says nothing. Next visit, I find more bars of Hersey's in the pantry. "Mom, I'll buy you something else. It doesn't even have cocobutter. Is it even chocolate?" My mom looks at me and says, "Leave it alone. It's medicine for me". I roll my eyes. Even as a child, I never liked the Hersey bars in my trick or treat bag. After moving 2000 miles away and discovering Godiva, Cacao, Theo, and a host of other gourmet chocolate, I could not understand why my mom kept buying Hershey's. I bring her Godiva, and she buys it on sale for my visits. The Hershey bars are hidden in the back of the pantry.
Another year, other visits and time passes. My daughter's first taste of chocolate happens at grandma's house. She discovers a box of Godiva and makes a grab before anyone can react. Her eyes light up and she signs for more. Two years later, her 18 month brother finds the new Godiva box, but says 'thank you, thank you' as he picks the largest chocolate in the box. His face lights up and he signs for more. My mom offers him a Hershey's kiss. He takes it and the enjoyment on his face rivals that of the Godiva. I pause for a moment. "Mom" I ask. "Why do you like Hershey's so much?" She pops a kiss in her mouth and answers, "when I was young, the only chocolate was Hershey's, M&Ms and Mars bars. We were so poor and this was the only candy I had growing up." My eyes start to tear. I remember the words I said about her Hersey bars. Words that belittled and marginalized my mother and her childhood memories. Words I wish to take back. I looked at my own children and saw the joy and chocolate drool around their mouths- the childhood memories being created. Then I took a kiss, paused as it melted on my tongue, and tasted her happiness.
---
By Ann – 
March 29th- a special date and in the year 1965 it was the first birthday my husband celebrated as a married man. It called for a special cake and I, as a new bride, decided to pull out all stops and make my family's favorite, a chocolate angel food cake with mocha frosting.
The call to Mom for the recipe and a trip to the store for the ingredients and the tube pan-easy so far. It put us over budget and I was concerned about the 13 left over egg yolks but that was a problem for tomorrow because I had a cake to bake!
Flour and cocoa were sifted together the specified five times and the egg whites stiffly beaten, but not too dry. The folding of whites to flour mix was done cautiously and the cake was put into the oven with a feeling of accomplishment by the novice chef. Forty-five minutes later the same novice chef was dismayed to find the finished cake not 8″ high but a mere 4″, exactly the same height as when it entered the oven.
This cake would not be frosted but would not be wasted either; we would feed the ducks at the park. Cake in both hands (it seemingly weighed about 5 pounds), off we went to the park. The ducks greeted us loudly but turned up their beaks at my offering. I guess stale bread has it over freshly baked cake. Soon a seagull swooped out of the sky to ease my embarrassment of being rejected by the ducks. He grabbed a big piece of cake and tried to gain altitude but did so ever so slowly. He finally gave up and about nailed 2 ducks as he dropped the slab of cake he'd been so eager to grab.
A call to Mom provided me with an answer to my heavy, short angel food cake rejected by human and fowl alike. Cake flour, specified in the recipe, is NOT the same as all purpose flour. She offered to make me another proper cake and the birthday was celebrated in style.
---
The Cake by Grant – 
In my memory, one of the all-time greatest treats I've ever had was Grandma's cake with her yummy, smooth, and sweet caramel frosting. I have such fondness for this cake that it makes my mouth water just thinking about it.
When I was young, my family and I went to Grandma's house for Sunday dinner. She was a fabulous cook and always had her caramel frosted cake for dessert. Everyone spoke reverently of this cake. You could see in their eyes that it had very special meaning to them. One reason for her making this cake was that it was simple to make, and another was that Grandpa just loved it. It is hard for me to remember a time when this dessert was not available at Grandma's house.
The first time I tasted this delight, we had just finished our dinner, and Grandma asked me to fetch the cake from the pantry, a room about the size of a good-sized walk-in closet. In it, was a piece of furniture called, a food safe. It was much like a china hutch but not as tall, and in place of glass, there a window screen was stapled all the way around it to keep out flies. The cake rested on one of the shelves in the food safe, I grabbed it. The cake was in a very old, well-used cake pan. As I carried the cake to the kitchen, I could smell the frosting lofting up from the pan. Grandma started to cut pieces and place them on small blue china plates. I took each piece of cake out to everyone who was still sitting at the table. Everyone was still there; no one had left the table. They were all waiting for their little slice of heaven. One by one, everyone got a piece of cake. I could sense the excitement building in anticipation of such a treat. Fresh coffee was poured, an d everyone began to dive into his or her very own piece of cake.
I sat down at the table, my fork at the ready.
That's when my Grandpa spoke up and said, "What was that? I think I saw someone on the front porch. He was looking directly at me and saying, "Did you see that?"
Well, of course, I had not, so I got up from the table to look out the front window. I could not see anyone, nor did I hear anything either. I headed back to the table; after all my cake was there waiting for me, and I was so looking forward to eating it. Let's not forget that yummy caramel frosting. I got back to my chair and found that my cake had been given a frosting-ectomy!
"What!" I said.
I looked at everyone at the table. I looked at each one individually. I looked on everyone's plate. I was missing my frosting.
"Wait, just a minute there!" I said.
I was in distress, but no one was paying any attention to me. I looked all over the table to see if my frosting had fallen off my cake by mistake. Nope, not on the table. I looked under the table to make sure it had not fallen on the floor, nope not there either. No one seemed to understand the problem at hand. Now, it was time to start the questioning, the accusations.
"Do you have my cake?"
"Do you have my cake?"
By this time, most everybody has finished his or her own piece of cake and moved away from the table. It seemed no one knew where my cake frosting went.
"Your cake is right there on your plate," someone said. "What are you griping about? You must have already eaten it and just don't remember."
"I did not eat the frosting! I would have remembered that little point."
I sat at the table with Grandpa; he was drinking his coffee, and me with just a piece of yellow cake, no frosting.
I must have had a pitiful look on my face because Grandpa said, "What's wrong, boy?"
I proceeded to explain that somehow I had lost my frosting. He offered to help me look for it. We looked for a couple of minutes with no success.
Then Grandpa said, "Just go get another piece."
"Ok. I could do that!"
I went out to the kitchen and Grandma cut another piece for me and said, "Keep your eye on this one."
I said, "I will!"
Realizing that something was not as it seemed, I took my new piece of cake back out to the table and sat down next to Grandpa, at his request. I noticed that he glanced up at the front window again.
"What was that?" he says, as he looks towards the window.
I look and then thought, "That's was how I lost the last piece of frosting." I looked back at Grandpa and saw that he had his butter-knife in hand and was ready for action. I grabbed my fork, and stabbed my cake right down through the top of the frosting and through the middle of the cake, all the way to the plate. Turning my head to look out the window, I could see that no one was there.
"Nope," I said, "no one there."
Grandpa started to laugh and cough. He almost fell off his chair. He said that was the first time anyone had ever thought through what happened and figured out how to keep him from swiping the frosting. Grandpa had pulled that same joke on countless people over the years. He'd become an expert at slicing off the top of any cake in one quick movement without disturbing the cake below.
That day I became the favorite grandchild; I could do no wrong. That day I also learned a very valuable lesson: when in doubt, stab the cake.