Almost ablaze, still you don't feel the heat.
Takes all you got just to stay on the beat.
You say it's a living, we all gotta eat.
But you're here alone, there's no one to compete.
If mercy's in business, I wish it for you.
More than just ashes when your dreams come true.
"Fire On The Mountain"
Robert Hunter/Mickey Hart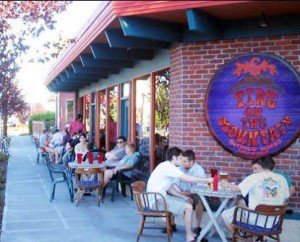 The first time I drove by the 60's rock poster-inspired sign on North Interstate Avenue, I flashed back to June 12, 1980. That was the night the Grateful Dead played "Fire on the Mountain" as Mt. St. Helens presented Portland with an ash shower shepherded by an odd windshift. This was just a month after the big blow. It was a powerful and eerie experience. Heading home post-concert, it was as if a powdery gray snow was falling on a balmy pre-summer night. I do not remember much about the show beyond this striking cosmic coincidence. Other elements of the evening were powerful, too–if you know what I mean–and many other Dead shows would follow over the years.
Twenty-six years down the road, memory fails again when I try to recall why I was driving south on North Interstate early in 2005 and noticed the "Fire On The Mountain Buffalo Wings" sign. No matter. I made a mental note to give it a try soon. I did so the following weekend with my customary weekend dining partner, daughter Gracie. Since, I have visited again and again–with and without la niña–enough times to declare that FOTMBW resides on promised land at the pinnacle of my cheap eats "A" list.
The little building in which FOTMBW nests is a storefront with a few windows looking out onto the street and the MAX tracks. Sidewalk parking out front or nearby is easy. Inside, tables and bar stools seat perhaps 30. A few of the tables are decorated with rock and roll concert tickets under glass. A small television above a short bar usually shows sports with the volume off. The audio track sometimes is the Dead–establishing that the restaurant name is no fluke–other times it is music of the 70's or perhaps later. Usually, it is loud, once in a while excessively so.
Customers place orders at the bar. Those waiting to eat in are given table stands with vintage baseball cards rather than numbers, though I'm not sure why since servers know where to go. For those with a slightly twisted sense of humor–as owners Jordan and Sara surely have–pay attention to the name of your player.
There is a windy story about the birth of authentic "Buffalo-style" chicken wings. The details are unimportant (and are revealed on a wall sign at FOTMBW for those who must know). It suffices to say they are another happy accident inspired out of desperation. In simple terms, we are talking about deep-fried chicken wings bathed in an emulsion of butter and hot sauce.
This generic description, however, fails to do justice to the hot wings at FOTM. Here, the wings are broken down into convenient drumettes and winglets; deep-fried to order in hot clean oil; then coated with one of a well-stocked palette of sauce options. Five of the sauces are true to the basic vision, but span the Scoville scale from mild for the lightweight to "El Jefe" for those who enjoy (or pretend to enjoy) searing habañero heat. Between are medium, hot and extra hot. I favor the last. The extra hots seem attuned to the original Buffalo-style vision without causing the unfortunate outcome associated with too much capsaicin in a no longer so forgiving digestive tract.
Besides the standards, there are at least another half dozen nontraditional coatings, some of which merit a new tradition. Favorites are the "soon to be famous" spicy peanut which is at least notorious among those who have tried it. Think satay sauce, but a little less sweet and–depending on where you get your satay–a little to a lot hotter. The second must-have special sauce is the Jamaican jerk, a brightly flavored combination packing moderate heat in addition to aromatics which might include a bit of ginger, allspice and a few other ingredients that remain a mouth watering mystery. A third regular, but unfamiliar-in-Buffalo taste is the raspberry habañero. Here, the light fruit flavor contrasts with and mellows the intensity of the pepper–which, thankfully, is doled out with a lighter hand than in the El Jefe.
Skip the sweet bbq sauce. It is a lightly smoky, but excessively syrupy, cloying concoction that my daughter is more likely to order before I will again. The other thumbs down is a failed tequila chipotle concept. It had a gloppy texture that did not coat the wings. The flavor reminded me of a partially dehydrated puttanesca sauce from one of those fast foodish pasta joints.
Stick to the standards, plus the spicy peanut or jerk, and your taste buds will be rewarded. Bear in mind the house rule is one sauce per half dozen wings. Blue cheese or ranch dressing for dunking, plus celery sticks, accompany every order.
Prices are abundantly reasonable: $5.95 for a half dozen wings; $8.95 for a dozen; $12.50 for 18; and on up, with the price per wing descending as the order size increases. According to the menu board at FOTM, the price on a million wings remains negotiable. Perfect for the next time you have over 100,000 of your closest pals. A dozen is usually plenty for one.
If wings are not your thing, you should probably go somewhere else, though FOTM does offer a handful of other choices. Meatless (though not vegan) "wings" cost the same as their fowl counterparts. A vegetarian sandwich, featuring roasted red pepper, grilled eggplant and feta cheese is also on the menu for $7.25. Other chicken-based choices rely on hot from the fryer, boneless chicken breast meat lightly battered and virtually greaseless. There are five chicken sandwich variations, each with a different sauce, all served on ciabatta rolls. Cost is $7.75; plain chicken, $7.25. The same chicken meat can be ordered unadorned with french fries in adult ($7.00) and kid ($3.95) portions.
To tempt the more health conscious, there is a plain green salad ($2.75), and charbroiled chicken can be perched atop three other salads: the Buffalo ($7.75) with the signature sauce; Oriental ($5.45) with the greens accompanied by mandarin orange segments and chopped celery, topped with Asian dressing, slivered almonds and chopped green onion; and Jamaican Jerk ($5.45), in which the greens get an assist from pineapple chunks, red onion and the same inscrutable jerk sauce that comes with the wings. The salads are nothing special, but if their availability is the only way to persuade that special someone to come along while you gorge yourself on wings, it is good they are offered.
A popular stop on the cheap eats circuit, FOTMBW draws an eclectic crowd–from neighborhood folks to river crossers bearing small children–and the place is routinely busy from the lunch hour on. Phone-in to go orders are an especially good idea on major sports event days. If you decide to eat in or forget to call first for take away, trivia game cards at every table help ease the wait. Here is a trivia question: What was the second song of the second set when the Dead played Portland on August 26, 1983?
Answer: Fire On The Mountain (as if you couldn't guess).
Phone: (503) 280-9646 (Interstate) or (503) 230-9464 (Burnside)
Address: 2 locations: 4225 North Interstate Ave, Portland, OR. 97217, and 1708 East Burnside, Portland OR. 97214
Hours: Mon-Thurs, & Sun: 11am-11pm, Fri-Sat: 11am-12am
Website: PortlandWings.com