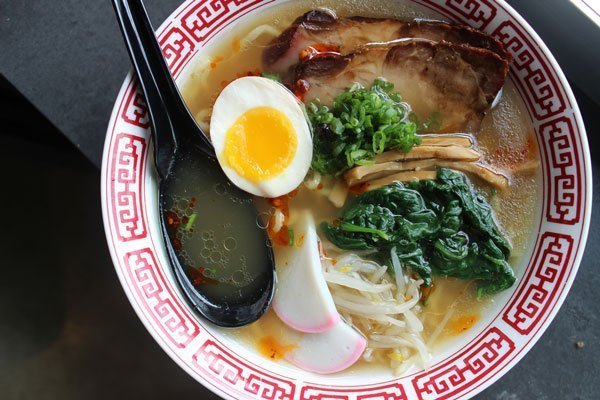 Noraneko is a new ramen focused jewel box by Gabe Rosen and Kina Voelez of the popular Portland restaurant Biwa. Expect the same quality and industrial cool meets cozy vibe, but in a street front rather than a basement setting. The space is divided into an atrium like area in the front, with long two-top tables and a counter overlooking large windows, while the back has a smaller table and counter section. There is ample room to order and wait for take-out as well. Located in the South end of the Central Eastside industrial district, Noraneko looks out over the Hawthorne Bridge, with the benefit of Portland's fantastic west hills sunsets. It's a great spot for lunch, an after work nosh, or late night nourishment.
The menu is small, perfectly chosen for ramen enthusiasts of all stripes. Clear pork broth shio, the deep flavors of shoyu, the salty funkiness of miso, or the complex, "I can't believe it's vegetarian" versions are all winners. You can add on traditional marinated Ajitsuke Tamago egg with its soft, but cooked yolk; extra garlic, or two different types of Chasyu pork. The noodles are made by the well-regarded Sun Noodle – soft, with a chew. These are not ramen wanna be noodles, and illustrate that Noranako has honed their craft to provide a perfect balance between great broths, noodles, and ingredients such as sliced fish cake or chopped scallions. Simplicity and tradition – zen in a bowl.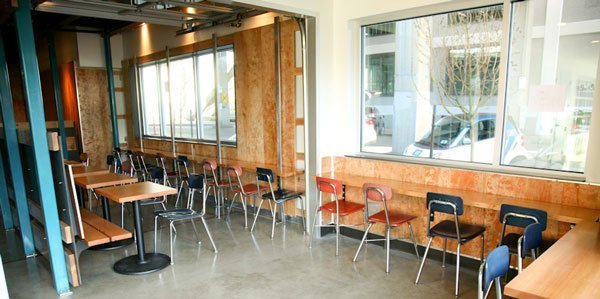 Other offerings include items such as the cutely named "1980s salad", chopped veggies of the day, sesame seeds, and almonds in a mild vinaigrette – the perfect bright compliment to the ramen. Fried or steamed gyoza are tender with fillings focused on the meat, not a bad thing in my book. Then there's the Karaage, the seasoned boneless fried chicken found in many Izakaya and some ramen joints. My biggest complaint with Karrage in Portland is it's often over cooked, over seasoned or cut incorrectly. Not so at Noraneko, when larger than nugget chicken pieces come out a golden hue –a nice light crust that doesn't compete with the juicy chicken underneath. With a slice of lemon spritzed over the top, this is "The Art of Japanese Cooking" textbook good.
In a nod to sister restaurant Biwa, Noraneko keeps the tea, sake, beer, wine, and Soju – Korea's most popular alcoholic beverage and cocktail tradition. Items like an Ume plume or Ginger Gimlet go down smooth and probably way too easy. Classic rifts with the Biwa/Noraneko twist include drinks such as Yuzu citrus whiskey highball, and "Chuhais" (alcohol drinks made with Shōchū, carbonated water and flavorings such as oolong tea, grapefruit, or cucumber). A new addition, fresh pressed juices including grapefruit, carrot, and beet-apple are also available, as are house-made sodas.
Open from 11 am until 2 am every day, Noreneko is a drop-in, easy neighborhood ramen spot that inner Southeast Portland is lucky to have. As it is located in a building under the Hawthorne Bridge, parking in the area can range from open and free, to a mess depending on day of week and time. OMSI is right down the street, as is the popular Esplanade. However, Noraneko has a few dedicated parking spots in the front.
Noraneko: 1430 S.E. Water Ave., Portland OR. 97214  Map   (503) 238-6356