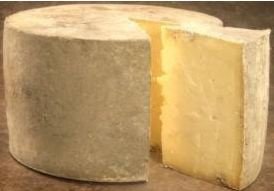 by Tami Parr
Now that spring has officially arrived you'll be seeing more and more local cheeses in stores as Oregon's artisan cheesemakers go into full production for the year. You might even say cheese season has arrived! And with the start of the Portland Farmer's Market (as well as others around the area) local cheese is now readily available directly from the cheesemakers themselves. I'm offering this list of picks to get you started this year exploring all of the great locally made cheese that's available and waiting to be tasted.
Willamette Valley Cheese Company's Brindisi Fontina – Rod and Melissa Volbeda make Dutch cheeses like Gouda and Havarti that reflect the Volbeda family heritage, but they've stepped out a little bit with this Italian style Fontina. Named after Rod Volbeda's mother (Brindisi is her maiden name), this cheese is available in a softer, more buttery style or an aged variety. I'm particularly partial to the aged Brindisi, a straw-yellow gem with small holes and a big flavor. Widely available at retail outlets and farmer's markets.
Rivers Edge's soft ripened goat cheeses have won me over….the first time I tried Pat Morford's Full Moon (brie-style) cheese I was amazed by the complex flavors she coaxes out of her goat's milk. Must be the marine climate (Pat's farm is close to Newport)! Rivers Edge soft ripened cheeses come in several varieties including the Mary's Peak pyramid and an ash-coated pyramid called Cape Foulweather, and there are plenty of other variations to try. Available at Curds & Whey, New Seasons and Market of Choice, as well as at the Oregon City Farmer's Market.
Rogue Creamery Smokey Blue – These days you can have Rogue Creamery's Smokey Blue crumbled on a salad at Burgerville, but next time you're in the market for some blue cheese, it's worth picking up a wedge of this gem. While you might be suspicious of a smoked blue cheese, the smokiness of this cheese is subtle and mingles with the concentrated blue, pungent flavors to create something really special, almost sweet. Widely available around town, at most farmer's markets, or from Rogue Creamery's website.
Fraga Farm Goatzarella – Jan and Larry Neilson at Fraga Farm make great organic goat cheese, but I especially like their goatzarella. A fun and addictive take on "regular" or cow's milk mozzarella, this goat cheese is stringy just like you'd expect but also has a tangy goat flavor that's a nice change from the bland rubbery stuff you may be used to. This is a good snack or picnic cheese, and also melts well. Fraga Farm products are available at local farmer's markets, Market of Choice, Alberta Co-op, People's Co-op and Food Front.
Juniper Grove Farm Tumalo Tomme – For me, this is one of the best cheeses being made in Oregon today. Tumalo Tomme is an outstanding example of what a master cheesemaker like Pierre Kolisch can do with a little time and good milk. This raw goat's milk, washed rind cheese, made in the shadows of the Three Sisters Mountains, brings a little bit of central Oregon to your tastebuds. Consider this instead of the Manchego, the British Cheddar or the Tomme de Savoie that you might otherwise bring home…you'll be impressed. Juniper Grove Farm Cheeses are available wherever fine cheese is sold, and at most local farmer's markets. And while you're looking at Juniper Grove cheeses, check out the Redmondo as well.
Visit Tami's excellent site: Pacific Northwest Cheese Project