History, Trade, Commerce, Warfare: "In the Center" with Dave Machado
Nel Centro, Dave Machado's latest venture, is a hard-hat-only area in late March. Standing amid buckets of grout and workers using acetylene torches, Machado explains how he came to open his third Portland restaurant in the eight-thousand-square-foot space on the ground floor of the Hotel Modera.
"You remember what this place was, that skuzzy Days Inn bar?" he asks. I tell him, I do, and how depending on your mood, the purple lighting and soiled carpet and solo drinkers put you one step closer to either writing the Great American Novel or suicide.
"It was pretty bad," he agrees. "And the space – everybody in town looked at it and nobody wanted it."
Everybody?
"Greg Higgins, Bruce Carey and in between," he says. "It was under demolition and everybody went, ooh, location!"
The location, on SW Clay and Sixth, is pretty amazing.
"It is. But then you walk through the space and think: it's just too damn big. I looked at it back in March of '08; did a walk through, went home and forgot about it."
The people behind the hotel, however, convinced him to take another look. "They also own Hotel Andra, up in Seattle," he says. "Tom Douglas has a restaurant there."
Tom Douglas who owns Serious Pie?
"Yeah, and also a bunch of other restaurants," says Machado, who also owns Altabira City Tavern and Citizen Baker. "So I came back and looked again, and look at this." He turns north, west and south, toward the hi-rises just beyond the floor to ceiling windows. "You have the Portland Building, you have the Oregonian across the street, and PSU owns all those buildings," he says. "And if you look on Sixth and Fifth [Avenues], you will be absolutely blown away by the number of brand new buildings. It's staggering."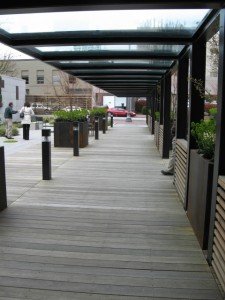 Machado's eyes ask, are you seeing what I see? I am; the landscape is monolithic. I don't think there's a restaurant in Portland with this kind of big city view. "And one block over you have the Wells Fargo Building," he adds. "You have six thousand tenants, including [a hundred] attorneys at Davis Wright Tremaine, and they have to eat lunch somewhere."
Where do they eat now?
"It's not that there aren't other restaurants in this end of downtown. You have Higgins and Carafe and Veritable Quandary, and they're busy," he says. "But there aren't enough restaurant seats at this end of downtown, not with the arts scene you have around here. It's a five-iron shot to the Schnitz, a two-iron to the Keller. I've got a hundred and twenty parking spots underneath me, and a hundred and seventy-four hotel rooms above – you have a built in breakfast crowd."
He's going to need a breakfast crowd if he plans to fill Nel Cento's planned two hundred and seventy-five seats.
"Yeah, but not all of them are in the restaurant," he says, mentioning the five discrete dining areas, the private room with the big slab of Doug fir at which folks can dine communally, the three thousand square feet devoted to banquet rooms.
Banquet rooms?
"In hotels, banquets always make up for loss leaders," he says. "Like room service; you always lose money on room service."
Machado knows about hotel dining. He spent years working for Kimpton, first in San Francisco and then in Portland, where in 1991 he opened Pazzo in the Vintage Plaza Hotel. "Opening [in Hotel Modera] is like coming home for me," he says, leading a tour of the spaces that will become Nel Centro's two kitchens, its rotisserie; pointing out where the Calcutta marble walls will be, and the leather booths, and the giant four-sided bar.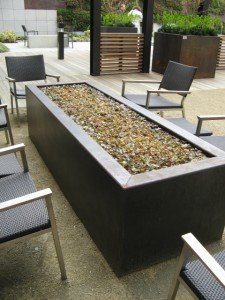 "And if there's a better public space in Portland, I don't know what it is," he says, walking directly from the bar to the courtyard, with its oblong fire-pits and slated wood partitions and thirteen-foot-high "living wall" of stone and steel and lichen-like plants. Designed by Holst Architecture in conjunction with Lango Hansen, the courtyard is urban in a way other Portland public spaces have not yet tried to be, both spectacular and serene, looking more like an adjunct to a museum.
"And it's open to anyone," he says, taking a seat at one of the fire-pits. "You can just sit here and read a book." Which, in fact, a woman is doing as Aubrey Lindley, owner of the certifiably chic Cacao, wanders in.
"What is this place?" he asks, mentioning he's on his way to a meeting but had to check out the courtyard "because it's just so gorgeous."
Not as gorgeous is the current economic climate. While any restaurant venture is risky, at any time, right now it's especially fearsome. Yet Machado seems remarkably poised about the prospects of Nel Centro, which means "in the center," perhaps because at fifty-four, he is without illusion.
"Look, restaurants are always real estate deals," he says. "You can window dress them to be something else; they're food, they're cuisine, they're feelings, they're good times. But they're always real estate deals, because it's a space, and a lease, and equipment, and debt. This deal [Nel Centro] comes at a time when not many people want to take a risk. The deal to get into this hotel space is extremely… beneficent."
They want to make it nice for you.
"They want me to succeed in the worst way."
Success, he says, is not about being "a market leader or an educator or innovator"; about foams and hemp and menu arcana that make the customer feel ill equipped to order. "You make food and open restaurants for those that will come in and purchase food and enjoy the restaurant," says Machado. "Since I don't use investors, I don't use partners and it's all tied up in my own house and my own money, I can't afford to have failure, or even a near-miss. I can only live in a world where they're open and they're generally full. And Lauro and Vindalo generally are."
The menu at Lauro is heavily Portuguese and Spanish, with some Arabic influences, and Vindalo is "Spice Route" cuisine, broad swathes of land and peoples and cultures and time. While Nel Centro is equally informed by history, its locus, Machado says, "is very, very finite."
"Both sides of the border in Italy and France, the city of Nice and the city of Genoa, really kind of make up what we do," he says. "I'm taking classical recipes from those cuisines. An example: a beef daube the same way it's done in Nice, the same orange peel, the same thyme; we're putting a pig's foot in it. The same giant, twenty-five pounds of chuck cut in cubes. It's classical."
Also on the menu: salt cod croquettes, bouillabaisse with red pepper rouille, and breads, pastas and desserts from pastry chef Lee Posey.
"She was my pastry chef at Pazzo for five years, and she's spent the last decade running Pearl Bakery," he says. "She's looking for a challenge."
Speaking of a challenge: the press release says the wines at Nel Centro, put together by David Holstrom, are going to be "playful" and "cerebral." What does that mean?
Machado chuckles. "Dave is a cerebral guy; he's got a degree in Slavic languages. He's very smart, and also very impish and I try to keep Dave in a box. I say, 'Dave, you can't say what you just said…"
Because no one will understand…
"He's just weird that way but I love him because he's really smart," he says. "Dave comes to me and goes, 'I'm having a trouble with the price points, but if you allow me to go to Sicily, everything is going to change.' So I said, you know, in Genoa, a lot of Sardinians and Sicilians came up to do trade, especially in their cheeses; so I said, if they have trade, and they have cheese that gets transported up there, we're going to go on it."
Because you demand a proper historical connection before you put an item or a wine on the menu?
"Yeah," he says. "I'm very, very historical; everything is history, trade, commerce, warfare: what is the tie-in? As Americans, we're so…" He pauses. "We don't know that the port of Venice and the port of Genoa control almost all food products from the Arab and Asian world in the fourteenth, fifteenth and sixteenth centuries. They control everything because they have finance. They're supplanted by the Portuguese and the Spanish, and later by the Dutch, and later by the English-and the only reason is that each one has finance! The Portuguese and the Spanish, through the Inquisition, get rid of all of the Jews, who are all of their financiers. And guess where they go? They go up to the Netherlands, so the next era of discovery and the next era of trade is the Dutch! It's all about trade, it's all about finance; it's all about warfare: who fought for who could control whom.
"That's what makers me crazy about Portland and the bloggers," he continues. "They get all fundamentalist, about authenticity and food. It's like, where do you think that food came from? Where do you think a dish in Italy came from? It came because some Portuguese explorer put in tomatoes or fava beans. It was a result of trade and commerce that you get cuisine. You didn't get cuisine in a vacuum; you got cuisine because people brought you products."
I tell him, don't get me started on provinciality, as though we should only eat foods from within ten miles of here. That I'm a little more curious than that, actually, curious about coffee and chocolate and chiles and other things that do not grow in the 97_ _ _ zip code.
"You get to a Luddite way of dealing with the world," he says. "People become fundamentalist about food; you want to say, stop; stop. Stop. Be a little more open."
So you've got your eager pastry gal and your wacky wine guy. Who's the chef?
Machado measures his answer. "I'm writing all the recipes and developing all the food in conjunction with my team," he says, but I've talked with him enough to know, there's going to be an addendum.
"This is an often asked question, and it's a difficult one to explain," he says. "People like to identify with the chef, so they look at a white coat or chopping in the kitchen; they have these images they need to have validated. But a lot of the stuff I'm doing, I'm the editor. I'm running the business, every aspect, from the cocktails to the menu to the uniforms to the logo; I'm doing all of it."
Machado looks toward the bar area. "I built and positioned that bar so that if you come into the hotel, and you walk down the lobby, the first person you see is a bartender who says, 'Hi. Welcome.' The other bartender is the first person you see from the other door [on Sixth]. I hate when you go into a restaurant and you say, 'How does this work? Where do we go? Who are we and how do these people feel about us?' There are so many details in a business like this. Will I go in [the kitchen] and cut something or sauce something or flip something over? Absolutely. But that's a young man's game; it's for twenty-five-year olds."
Speaking of young men, how did the hiring go?
"First Craigslist ad got five hundred in twenty-four hours," he says. "Before this particular economy, [we'd get] twenty, sixty, maybe eighty. I have mixed feelings about this: it's good for any employer; plenty of supply. In terms of pure capitalism, it's a buyers market. But it's not a good situation, because it says that the economy is contracting at a rapid rate. When you have qualified chefs saying, I'll be a cook, or qualified managers saying, I'll wait tables, then everybody's throwing their hats in and saying, I'll take whatever I can take."
And some are throwing in the towel.
"Yeah," says Machado, and we talk off the record about who in the restaurant business is on top and who will go under. Which extremely well known restaurants are on rent abatement and which one owes $480,000 in back taxes.
"I've had people apply for jobs behind their bosses' backs because the restaurant stopped paying staff altogether," he says. When I ask how this is possible, why employees would stay without being paid, he likens it to the Stockholm Syndrome. "They still have a job, the bosses are nice…" Machado shrugs.
"Have you been to Toast?" he asks.
I haven't.
"You gotta go, 52nd and Steele," he says. "One of the things I've enjoyed the most this year, my breakfasts at Toast."
This is part one of Nancy's interview with Dave Machado. You'll find part II here.
Nel Centro At the Hotel Modera
1408 SW Sixth Avenue
Portland, OR 97201
503-484-1099
www.nelcentro.com