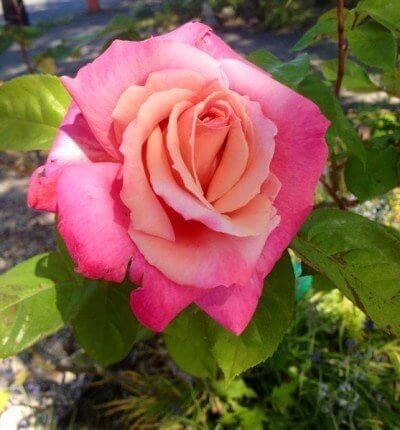 I don't do a lot of personal writing here anymore, but in this case, I'm making an exception with a tribute to my sister, who recently died from cancer.
Pam was a quintessential Berkeley hippie. A free spirit, child of the 60s, early commune resident, fanatical about alternative medicine, and as far left as you could go – a fervent believer in every government conspiracy. There were many times talking with her when I wanted to bang my head on the wall in frustration. Pam was also a mother, daughter, sister, and teacher, who had a knack for dealing with children, and unbridled love for her work.
Truthfully, we had little in common, with the exception that we were raised by two parents to whom food, wine, and travel were a large part of the essential elixir of life. Those same obsessions passed down to the two of us, and though we quickly learned to avoid many subjects, we loved nothing more than to cook and indulge in good food and wine, hopefully, while listening to great music.
She was a frequent visitor to Portland, in love with this city and our food scene. Pam took particular pleasure in reading my reviews of the places we had eaten at together and had strong opinions on every component of our dining experiences which she didn't hesitate to share, whether I wanted them or not.
I had nothing but admiration for the gusto with which she made her way through life. She lived for the moment, never for tomorrow, and once she was diagnosed, she fought for every moment of life.  At one point, just after finishing a long course of chemotherapy and radiation, still getting used to wearing a colostomy bag, she called me, so excited that she could barely speak. "Are you okay?", I shouted. "Hell no! she screamed back. I'm in the mosh pit at the Springsteen concert!" Pam loved everything Bruce Springsteen. Later I said to a friend, "Who does that? Who leaves the hospital and goes to a concert, months from death, laden with medical devices, so weak she can hardly get around?" "Your sister does", she said, "and you should be damn proud of that." And so I was.
A few months ago she was more or less confined to bed. The thought of any food was more than she could deal with. I was at a loss of what to talk about; our common ground had been pulled from under us. For the first time, food was off the table. Instead, we ventured into death and fear, lost love, and her hopes for our family.
The week she died, I wrote her a letter. I don't know if she was able to read it; in the big picture, it was just important for me to write.
"Do you know that most of my treasured dining moments have been with you? Sitting in your kitchen one rainy evening in 1982; you made a risotto out of wild mushrooms we had picked that afternoon. To this day I have never tasted a better risotto. Remember that fall night at Genoa restaurant in Portland with you fifteen years ago, when the waiter recognized me from when he and I had worked together at John Ash restaurant so many years before. Losing ourselves in the tasting menu at Park Kitchen on a warm summer night in 1999? Exceptional sweetbreads at Beaker & Flask? Another evening, dinner with you at Ten-01 was so memorable – the company, cocktails, food, wine, everything; it is one of the first experiences that I think of when someone asks me about my favorite meals of all time? Multiple dinners in the early days of Oliveto in Oakland, The Slanted Door restaurant, and Greens in San Francisco?  Then there was our final dinner together last winter at Chez Panisse. We both knew that your path was short. I could only imagine how much pain you must have felt, and yet I was important enough to you that, no matter how difficult it was, you were going to make sure that I could experience another dinner downstairs at your favorite restaurant. I went with full intention of writing about it, but was so overwhelmed by the entire experience, I never managed to put many words on paper."
On my last visit to see Pam, she was too sick to get out of bed and angry at the world. I told her that I would be driving up to Healdsburg that afternoon for lunch before heading to Portland. Her eyes brightened. "Remember John Ash? What a restaurant that was back in the day! You have to go to Downtown Bakery and have a croissant… they are so wonderful!"
I crossed the bay, relived memories, visited old friends, and had lunch and a glass of sparkling wine. Afterward, I strolled across the little square to the Downtown Bakery and bought two croissants and a tart, and later that afternoon, wound my way east, through Anderson Valley, Knights Valley, Napa… a warm sunny day, all the windows down, the hills emerald-green with bright yellow mustard painting the vineyards, and Tom Waits singing San Diego Serenade. It was an incredibly wonderful moment, too wonderful perhaps, and I was suddenly overwhelmed and burst into tears, remembering making the same drive many years before in happier days with both of my sisters. I did what anyone with a bag of croissants would do at such a time – tore open the paper and bit into a pastry. The crust shattered into the wind, blowing back and sticking to the tears on my cheeks. And so I laughed, and sang, and screamed, and cried, and worshiped the beauty of the vineyards and mourned the loss of a beautiful life.
A few nights before she died, Chez Panisse was reopening after a fire. In one of our last conversations, she said, "I've got reservations for opening night! You have to come!" A few days later she slipped away.
One day I will return to Chez Panisse. I'll eat downstairs, save a chair, and think of her and that last reservation. Who knows, maybe I'll drop a pinch of ashes into a plant on the way out. She'd like that. [Note – I fulfilled this wish.]
Thanks for permitting me a self-indulgent bit of writing. Now I can get back to writing this site with reviews and the frequency I used to. Oh, and personal friends, please don't share this on my Facebook. Anonymity reasons.