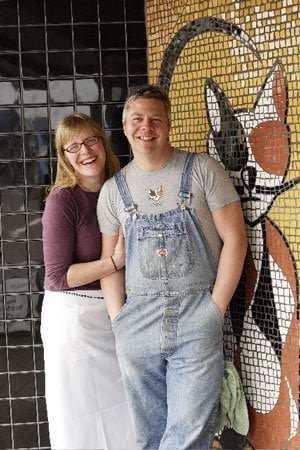 Chef Adam Sappington, fresh off of a 11-year culinary tour of duty at Wildwood Restaurant and Bar, is back in the food saddle again as he opens The Country Cat Dinner House and Bar at 7937 Southeast Stark – on the corner of Southeast Stark Street and Southeast 80th – in the east of Mount Tabor Montavilla neighborhood. The Country Cat, which will serve what is being described as "regional American food", will be open for dinner only Wed-Sun from 5pm to 10pm. Prices will range from $4 to $23, with a kid's menu also available. Adam's wife Jackie will be making the desserts and Country Cat will offer a full bar including wine and beer.
We recently took some time with Adam as construction was rushing to be finished to learn a little about his cooking style and what Country Cat is all about:
Nino Marchetti: Tell me a little bit about why you are setting this restaurant up here.
Adam Sappington: I wanted to be in one area and make the connections with the farmers and foster the relationships with the people in the community. I found this spot a year ago [and fell for it] once I saw this as a gut feeling of "this is the neighborhood" I wanted to support.
NM: What's the idea behind the name Country Cat?
AS: We've been working on this for about 24 months. I'm from the Mid-West and grew up in country style neighborhoods and food style. I wanted to bring that into the name as well as something that was the antithesis of cool and I think cats are cool.
NM: Why did you move from Wildwood to here?
AS: It was the point in my life personally and professionally where the timing was right. I had learned all I could learn from Wildwood at that point. I was at the point where it was time for me to get to this level and make the leap. I was able to fulfill a dream I've been working for my entire career.
NM: Why have you picked the Montavilla neighborhood?
AS: The whole deal for me…I'm a blue collar kind of kid. I wanted to get back to my roots with the food and wanted to be in a neighborhood where I could foster those kinds of feelings towards business and food in general. It has a main street feel and a neighborhood essence about it. I wanted to capture a neighborhood and wanted to go out a little further than most people have. Montavilla was it from a gut feeling.
NM: Talk a little about the cuisine style of Country Cat.
AS: It's regional American cuisine. I go back on my white table cloth experience and what I grew up eating and combine the two together. Its deep roots American food – fried chicken with braised bib leaf lettuce, grilled asparagus and creamy Tabasco vinaigrette. I wanted to bring the fresh approach of Portland food and Oregon farms and reach out across the United States also to bring regional dishes out here so that the feeling and flavor of food that inspires me could be on the table.
NM: In terms of localness versus bringing foods from other parts of the country are you going to stick to seasonal to those parts of the country?
AS: I'll do it when, for example, there's a clam bake in that part of the country or when Maine lobster is really in season. When there's chili season down in New Mexico I want to be able to get some chilis from the Santa Fe market and bring them up here for a chili dinner. It will primarily be local foods of course.
NM: What's the atmosphere of Country Cat going to be like?
AS: It's like country cool with a southern roadhouse feel. It's all hickory booths, copper on the bar and cork top tables. I wanted to bring the check floors I remember as a kid. We harken back with the big beautiful ball pendant lamps…and lots of wood to create a very warm, comfortable feeling.
I'm also doing an open kitchen because they create that theater in the restaurant. I want to be able to see everyone and not be in the back behind a wall. I want to be able to be with the customers and in the environment. I want to be able to walk off the line and be quickly able to tell someone thank you. I want to be accessible to the customer.
NM: Why do you like booths in your restaurant?
AS: Everybody wants to sit in a booth. It's a feeling of place. It's sitting on wood and being in the environment which creates a really nice feel all the way around. It's primarily booths here – about 75 percent of the seating.
NM: What do you like to make at home?
AS: Fried chicken…I also like to braise short ribs. We cook a lot of Asian food at home. My American roots definitely come out though.
NM: Do you have a favorite cooking show?
AS: The one that really drew me into this is Great Chefs on the Discovery Channel about 15 years ago. It went into the kitchen, putting the chef on the spot to have them cook something that was real and on the spot. It gave the feeling of being in the space with the chef.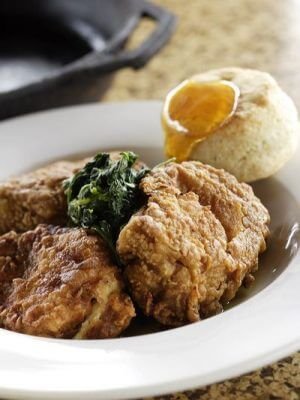 NM: Growing up what kind of food did you tend to eat?
AS: My mom always cooked tons of fried chicken, huge steak…blue collar food man. A lot of proteins…pretty much Mid-West staple food. I had a wonderful childhood…we always sat at the table together, every night. We all took that moment to sit down at the table to have a family moment. That's what I want to create here.
NM: ten 01 recently had a few not so good reviews done on it. How do you avoid having that same stumble out of the gate which happens sometimes in a big profile restaurant?
AS: I don't really know…I'm just doing what I feel is right for the time, neighborhood and place. To avoid those types of things is really hard to put your finger on. I feel very confident on the vision…this is a really well thought out move for me. It makes sense to me and I hope it makes sense to everybody else and that's the only thing I can really hope for.
NM: Anything else you want people to know about Country Cat?
AS: I just want to encourage people to come and know it's a great price point. It's a very family oriented place. Kids under 10 years old eat for free on Sunday. I've got kids and want to provide an environment for families that have children so that they feel like they're going to get the best experience even if their child is having a meltdown in the middle of dinner.
The Country Cat Website is CountryCat.net
Nino Marchetti joins us here at An Exploration of Portland Food and Drink via the San Francisco Bay Area. A transplant with his wife in the last year and a half, Nino did a weekly food column for a newspaper which focused on profiles of local farmers, restaurateurs, winemakers and others as well as food trends.
Upon moving up to the Portland area, Nino began writing about the local food scene. He has contributed to Northwest Palate and is a regular contributor to The Oregonian as well as PDX Magazine.