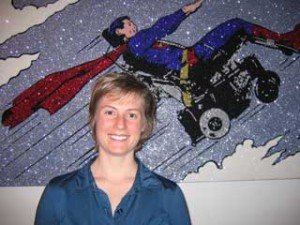 With her pixyish hair and lithe physique, Adrienne Inskeep may look like Peter Pan, but the chef of Siam Society, the restaurant she owns with her husband, Paul Van Slyke, is absolutely grounded; by her own admission, perhaps too.
"I am definitely a taskmaster, and almost to a fault," says the 26-year-old, who since opening the Thai establishment last October in an historic power company substation on NE Alberta Street has had the place referred to as the "best high-end Thai restaurant in Portland" and her coconut-creamy Sexy Beef described as "foreplay."
Inskeep took some time on a Monday, when Siam Society is closed, to talk about life as a chef, the scarcity of kaffir limes, and why, in a perfect world, she'd be cooking out of a straw hut.
When and why did you start cooking?
My first exposure and my first real interest was when I moved to San Francisco, and I really experienced the whole idea of California cooking using fresh, local ingredients. That really appealed to me, after living in Texas and North Carolina. [She laughs.] It was really a new experience for me and I just loved it; I loved going to [specialty supermarket] Berkeley Bowl and just seeing rows and rows of produce; it's just a Mecca of food… At the time, I hated my job; I was working as a legal assistant, and I realized I really hated sitting at a desk, and I'm not cut out for paperwork. I needed to do something where I had more activity.
I had a friend who was Brazilian and she'd just graduated from Berkeley. She said, 'I'm going back, you can come and live with me and my family and I can find a job for you.' I said, sure, why not. My major in college was Spanish Literature, and I'd taken some Portuguese, and I thought, this will be a great experience to practice my Portuguese and—Brazil!
That was when food was just the focus. I was working in the health care field, but every day I was like, 'What are we going to have for lunch?' I was privileged to live in a very upper-class family, and they had—well, almost everybody has a housekeeper and a cook who live with them, so we had this fantastic cook, and every night there would be this huge spread of food, and I was eating things I'd never seen before, fresh heart of palm and dende oil and all kinds of different ingredients, and I couldn't get enough of it.
I'd started dating Paul [in San Francisco] right before I left for Brazil, and he came down to visit me, and we took a trip to a different state up in the northeast, where there's a lot of African influence and we just ate our way through our trip, and it was amazing, and that was when it clicked; when I decided, I wanted to do it.
You and Paul later migrated from San Francisco to Eugene. Did you start right off working at Mekala's, the Thai restaurant owned by Paul's parents?
Yes. It was my first professional kitchen job. My future mother-in-law has been cooking from the time she was an infant, her family was making noodles from scratch at four in the morning—this was in Bangkok. She was selling food on the street her whole life, and then she'd had the restaurant for almost fifteen years. But I was kind of lured to Eugene with the promise that, oh, you'll only be here for six months and then we'll be moving to Portland and you'll have your own restaurant.
And how long did those six months take?
Three-and-a-half years. But it worked out really well, because if I had tried to open a restaurant three years ago, with only six months experience running a kitchen, it would have been a total disaster.
When did you and Paul decide to open Siam Society?
Almost four years ago. We had the novel concept four years ago to open a Thai restaurant when there were no Thai restaurants on Alberta Street. We thought, wouldn't it be a great idea! Well, since the inception of the idea to its coming to fruition, there have been four new Thai restaurants on Alberta Street. But it's a good thing, because it forced us to change our concept a little bit, because now we can't just put out mundane Thai food, 'cause it's been done; it forced us to be a little more creative and raise the bar on our quality, too.
When did you know you were ready to make the leap to chef?
I think it was over the summer. Things had been kind of stagnant at the [Siam Society] building, and we were getting frustrated. It had been growing and growing and growing—and then reached this plateau, and I realized, we gotta do it now; we just have to make that final push. This was after some huge discussions and crying and 'I'm so nervous—but we gotta do it! We gotta do it!' And then, okay; we'll do it. I don't know if I knew I was ready, but you gotta take that leap.

What aspect of your daily routine do you most enjoy?
I love going in, in the morning, getting there with Paul. The first thing we do is sit at the bar and Paul will make me a latte. [Full disclosure: Siam Society gets its coffee from Ristretto Roasters, my husband's business.- NR] We go over things that we need to do, and kind of sit and hash out things; what went well the night before, what do I need to do today; I have my little lists.

And what do you enjoy least?
I think 3:55, right before we open at four o'clock, and I just get that rush and heart palpitation, 'Oh my god, what's it going to be like tonight? Am I ready for tonight?' And then, when Paul comes back to me; I know he's trying his best to be calm, and he goes, 'There is a full house,' and it's so quiet in the kitchen; nothing's happening, because nobody's ordered yet, and then all of a sudden, it just keeps coming and coming and coming. You just put your head down and keep going. It's my least favorite, but it's exciting.

Do you have a signature dish?
I guess it would be what people know us for, and our bestseller, and I'd have to say, the massaman curry. It's so different from any other Thai restaurant. It's my mother-in-law's recipe, one of her genius moments.
Have you had any disasters?
My mother-in-law is amazingly creative and nonconformist, and she's able to improvise; she's always coming up with wacky ideas. She's also a huge advocate of French food; if she could eat French food and cook French food instead of Thai, she would.
We had this crisis [at Mekala's], where we lost six people in the kitchen in one day, and my mother-in-law was kind of like, 'Adrienne, you are now the one who is carrying the weight.' I didn't know how to do anything. I'd just gotten in there; I didn't know how to make any of the curries because it was this really highly guarded secret recipe; I didn't know how to do any of the back-end stuff… She hadn't been making the curries either in like fifteen years… and she was trying to teach me how to make all the curries and she didn't know how to do it and so she said, 'I have an idea; instead of using coconut milk for red curry, let's use whipping cream, and milk—it's French!' I thought, I don't know about that but… okay; we'll try it. And it was terrible; it curdled, it was disgusting. That was a rough couple of months; I remember customers complaining, 'This hot-and-sour soup is terrible! Is there a new cook in the kitchen?' That was very humbling—but a great learning experience. I wouldn't have learned unless it was trial by fire.
What are your favorite ingredients to work with?
It changes, seasonally, but right now I love squash. The northwest, you kind of get into the comfort foods in the winter time, and I love making squash curry; in fact, I ate it three days in a row with fresh Oregon hazelnuts on top—which probably isn't very Thai, but you work with what you have here. I like to use kombucha squash; it's really nice and orange, sweet and goes really well with the red curry. I love to work with fresh kaffir limes when I can get them, but those are kind of rare; I have to get them from L.A.
What ingredients do you think are overused?
Specifically to Thai food, I think chiles are overused. I think they're used as kind of a compensation for a real balance of flavors and texture and complexity of food. It's like, 'Oh, just make it really spicy.' I hate to say it, but it does kind of irritate me when people say, 'Your food's no spicy enough.' That's because there's more going on than just spice.
How do ensure quality control in your kitchen? Are you a taskmaster or do you let your cooks riff?
I am definitely a taskmaster, and almost to a fault. In fact, Paul was reprimanding me the other day because, as a good manager, I should be delegating the work, but I tend to do a lot of it myself, just because I want to ensure the quality and I don't trust people to care as much as I care. In fact, I was just given a new nickname by my kitchen crew, it's really unflattering, but they call me Hawkeye. [She laughs.] It's bad, but it's because I do this thing where, every time a dish comes out, I'm like, 'Did you put in that, and that?' and I'll taste it and say, 'Not enough sugar! Too such salt!'
I do it because, right now, everybody's looking at us. A lot of people are coming in for the first time, and if they have one bad experience, they're not going to come back again. But if they come in four, five, six times, and yeah, they have one thing that's kind of off, maybe they'll forget that, because they know it's been perfect before, but right now is a critical time.
Do you think having a pastry chef is important, and do you have one?
I do think it is important; unfortunately, I can't afford one right now… There are a lot of things I'd like to do [with dessert] but I don't have the time.
You think it's important to have a pastry chef, but if you're a Hawkeye, do you think you'd be able to trust her to do her job?
I think… at the beginning, it would be hard. And you said, 'her.'
Yes, because most pastry chefs are women.
Yeah, they are.
And more chefs are men. Why do you think that is?
I don't know. A lot of times, women are the ones who cook at home for their families, but I think the industry is a brutal one; it's physically exhausting; I'm carrying fifty-pound bags of rice and sugar—and my mother-in-law is saying, 'Put that down! You're going to kill yourself!' And of course, she did same thing herself and blew out her knees, which is why she doesn't want me to do it. But just like she is, I'm too stubborn and impatient to wait for someone else to do it for me. Yeah, it's dirty; cleaning up a kitchen after a busy night is gross, and a lot of it is not very glamorous, it's hot, and hard work.
Which part of your body hurts the most at the end of the night?
I think my feet, my legs—sometimes, depending on how the night has gone, my head.
Do you cook at home?
I really actually don't cook at home at all, anymore. But I guess the restaurant is kind of my home, now.
What and where do you eat when you're not working?
We definitely like to go out on Mondays. We like to try different places, especially new places that have gotten a lot of hype and press. When we first got to Alberta, Ciao Vito was one of the best places I'd eaten. You can tell he [chef Vito Dilullo] is super-focused on the quality of his ingredients, and that he's super-dedicated.
More recently, I really loved the [Alberta Street] Oyster Bar. The food was great, but more than that, it was just really friendly, a good feeling in there; I think it's Peter [Hochman] who's the owner, he's very, very friendly; his staff is very friendly, and then Eric Berchard came out and talked to us a little bit. In fact, he's come in a few times to just shoot the shit with us and have a beer at the bar; he came in last night.
Do you get involved in local food politics, in the gossip?
It's something that's always in the back of my mind, because people are judging you and I definitely don't want to get off on the wrong foot with the public. But, you get so caught up in your everyday routines that you don't… it's not something I really sit at home and worry about. I just do what I do and hope people enjoy it.
So, image is not something you cultivated.
Right. We've never been super-concerned with our image. I mean, yeah, it is the first thing you see is the interior before you even eat. But we're not super-hip, we don't try to be trendy; we just try to be really friendly and I think that works. The interior turned out a lot cooler than we ever thought, it is kind of hip. I was like, hey, I guess we are a little bit.
Do you have a best-loved well-worn cookbook?
I have a couple. My favorite cookbook for recipes is, Cracking the Coconut
, by Su-Mei Yu; she's amazing, her recipes are great. But my favorite book just to read and to look at the pictures is, Thai Food
, by David Thompson. He was really pushing the envelope with his Thai food; he's Australian, he's not Thai, which is kind of cool, because it proves you don't have to be Thai to cook Thai food.
Have you taken flak for being a non-Asian cooking Thai food?
Oh, yeah. I think there are definitely preconceived notions of Thai food when you go into a restaurant, and of the people working there. I remember people just being appalled, 'You're not Thai!' or 'You don't have any Thai cooks working with you?' No, but that doesn't mean I don't know how to do it, and I've worked with a lot of Thai cooks, and frankly, I don't want to sound negative, but I don't like working with Thai cooks; a lot of male Thai cooks are very prejudiced, especially against females, and especially against Americans. I don't want to have to take that in my own kitchen.
Did you intentionally choose to be a chef in Portland?
[She laughs.] Not at all! In fact, when Paul told me four years ago that he bought this property in Portland and did I want to come and open a restaurant with him? I was still living in Brazil; we weren't married yet, and I didn't know anything about Portland—I'd never been here. But I've really fallen in love with it.
How do you feel about Portland, as a food and restaurant town?
I think people in Portland are extremely knowledgeable about what they consume, much more so than in Texas or North Carolina; maybe only San Francisco can compare with it. You hear it ad nauseam: local, sustainable; organic. It really is a way of life here, and I really appreciate that, and I think people are very adventurous in dining.
If you could make one request of the average Portland diner, what would it be?
I would ask them to leave all their preconceived notions behind when they walk through the door at Siam Society. Obviously, you can't do that, but I think there's a certain stereotype when you're going into a Thai restaurant, and I think we shatter a lot of those. And some people love it; some people want to be surprised, and some people don't. We've come across a few people who really haven't liked their experiences there. You're not going to please everybody; that's just part of life.
What is your dream restaurant? And are you running it now?
I am, but I think eventually, if I could be anywhere else in the world, I would be in Rio, on the beach, maybe a little straw hut or something. One of the best lunches I ever had was this crab stew, in one of those little huts; I didn't even think they had any means of cooking inside of there, but I know it was fresh. If I could just have that lifestyle, that would be ideal.
Do you have any advice for prospective restaurant chefs?
You have to have very thick skin, because you're putting product out, and people are going to react to it, either good or bad, hopefully good, and you have to learn to take it with a grain of salt. And, you have to be really willing to work hard, extremely hard. That's really what it comes down to, more than having a great product, it's having the dedication to put it out, over and over and over again, every day, while being judged, and working as the dishwasher when the dishwasher doesn't show up.