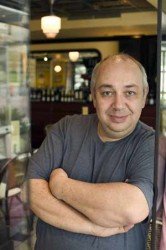 Pascal Sauton, chef and owner of Carafe, laughs easily, charms effortlessly, and exudes the sort of corporeal bonhomie one associates with the proprietor of a French bistro. Born and trained in France, with cooking sojourns in New York to South America, Sauton deliberately set down stakes in Portland, because, he says, "Oregon is a candy store for chefs." Over cappuccino, Sauton, 48, explained why he prefers women in his kitchen; why restaurants could use more local support, and the why, if they were easier to catch, he'd have anteater on the menu.

When and why did you start cooking?
It goes pretty far back. I was going with my parents every summer in a little hotel in Brittany, maybe twenty rooms, and during the day I used to love to go into the kitchen. The chef was really, really nice, he was the owner; he took me a little bit under his wing; I was in my early teens, and we'd go hunting and pick mushrooms and fishing and we went to the market and doing all those things, so I quickly became very impressed.
I developed an interest then, and I finish high school and realize that school was not really what I was for. [He laughs.] So, I decided to go into cooking, and I had to look for an apprenticeship… Here, there are a lot more cooking schools than there are in France. So, just like in Portland, people go to the WCI [Western Culinary Institute], go the CIA in Hyde Park [Culinary Institute of America]. In France, you don't really have that. You have cooking schools, but they're attached to an apprenticeship program.
I ended up going to Lasserre in Paris; at the time it was three-star Michelin. That's really when everything started. We were twenty-five in the kitchen, so, it was divided into different parties; I was commis, which is kind of line cook, and chef de partie, and the last year I was there, I was chef de rotisseur, which meant I was responsible for everything that is grilled; roasted without heavy sauces, and fried. During the three years, you do all the parties.
How long were you cooking professionally before you thought, I can be the chef?
[He laughs.] I did somewhat a little bit of a mistake, in my career, and that was to become chef too early. I've never been sous-chef; I left Lassarre and became chef at a little restaurant in Paris, in Les Halles. It was not a particularly amazing restaurant; it was pretty simple, and I was co-chef with a friend.
How old were you then?
Let's see. I started at sixteen, so, twenty-one. I should have definitely, at the time, taken more of a sous-chef position and keep learning… but I wanted to be the chef right away; I wanted the excitement of it. But it would have been nice if I'd continued my education in other restaurants, learning from others.
I stayed maybe six or eight months, and then I was at a succession of different restaurants in Paris, and then, I went to South America, in French Guyana. A friend of mine was opening a restaurant over there; he give me a call, say, you want to come? And that was really exciting, opening a restaurant in Cayenne, the source of the chile pepper, and I was like, yeah, sure, why not? So, I went there and that was an amazing experience.
Exciting because you had this entire other range of foods not only available, but that you had to work with?
Exactly, that's a very good point, because that's where I developed a lot of my interest in cooking with local ingredients; I didn't have a choice. When we talk about local ingredients over there, that's anteater, that's crocodile, that's monkey, that's snake.
What is anteater like?
Anteater is probably the best meat I ever had. It's very mild, and very, very tender. Delicious.

Will we see this at Carafe?
No; I'm not about to go run after them.

Do you have a philosophy when it comes to cooking?
Sure. I have a few—I have too many! I basically want to be very honest, that's the main goal of the restaurant. We want to offer a good value with good food that is not overly simple or overly complicated. It's just traditional bistro food. It sounds simple, but it really is not. It has a lot of technique that has gone into it. Those dishes are kind of the base of French cuisine so they need to be done very well; even a simple steak frites, you know—meat and potato—require a few techniques and knowledge in order to do some good French fries from scratch and have a good piece of steak. It is homey and it is somewhat comfort food, but it's not minimalist. We want to keep the prices the minimal we can offer it for, and use incredible ingredients, and that's the reason I moved to Oregon, because of the ingredients, the proximity of the wine valley; I always feel like Oregon is a candy store for chefs, you have pretty much everything you need. Besides the wine, you have the dairy and the produce; incredible farmers; they are so passionate about growing or raising animals for us, and it's just a thrill everyday.
What aspect of your daily routine do you most enjoy?
Probably relating with my staff; it's also the most difficult, but it can be the most enjoyable. I have a very, very young staff. Nobody in my kitchen has more than three years experience… I'd much rather take young people that have a lot of passion and a lot of excitement about the industry, and teach them what I do, so this way they don't have bad habits already, and I can basically teach them from scratch… We're very traditional French and it's a very good base I think to come learn with us, and then you can catapult into the world.
I'm going to give you an example. I had a girl who started with me over two years ago. The only experience she had was two weeks at Chez Panisse. I interview her, and I was like, my god, she really has something inside, you know? So, she came in, and she didn't know much; she know a lot about food, but not about cooking, which is precious; people who have a lot of excitement and interest about the food, you know you can do something with them. Last night was her last day at the restaurant, and she's going on and her next position is going to be sous-chef with Dylan Coolidge, he was the chef at Lucy's Table, before they sold, and now he's going to be reopening the restaurant at that hotel, the Mallory.

Do you have favorite ingredients you like to work with?
It goes back to the seasonal aspect of it. I'm going to love strawberries because I eat them only three weeks a year; I love tomatoes because I eat them only eight weeks a year. So, what I really love is when something comes in season and I haven't had it for a year and all of a sudden, yeah, it's going to be my favorite ingredient for that week.

How do you ensure quality control in your kitchen? Are you a taskmaster, or do you allow your chefs some freedom?
The way it works is very simple: I am very adamant about giving freedom to my staff because it's important for them to be able to get responsibilities and to grow within the restaurant. However, basically the menu is what it is, and everything on the menu has to be done pretty much the same way over and over so we can assure consistency. On the other hand, we have everyday a $20 three-course menu [where] they basically write the menu… They always run it through me, of course, and I will give them instructions or criticism, but it's kind of their thing, and they really love that.
Do you think having a pastry chef separate from yourself is important?
Yeah. [He laughs.] I'm a mess when it comes to do pastry. I can't do it; I've done it but you know what? I just can't do it. To me, it takes too much time; it's too precise.
Why do you think there are fewer female chefs than male?
I have more female cooks than men; way more. I have two guys and five women. I don't know, they keep telling me it's because I'm French, but I don't believe that. I love women in the kitchen; they're a lot cleaner, a lot more organized; I know you're going to quote me on that but that's fine. I think they bring also the mature. Sometimes, kitchens can be really macho, and I don't really like that… It's me and a bunch of young people; everybody has their responsibilities, and if they start fighting against each other, that's when they see my bad side. I'd very adamant about everybody respecting each other; there's no nitpicking in the restaurant, whatsoever.
Which part of your body hurts the most at the end of a shift?
All of it, especially at my age; I'm not a young puppy anymore. So at the end of the day, it's the feet, the back. I don't know any chef who doesn't have back problems.

Where do you eat when you're not working?
There are so many that open that it doesn't give you a whole lot of opportunities to go back, but if I have to name one restaurant where I went the most since we're in Portland, it would be Paley's. I think [chef] Vitaly [Paley] is extremely talented; he constantly changes himself; he's the most inspiring guy that I know in town, definitely. He's the one with whom we have the best relationship; we'll sit down at a bar with a cocktail and for a couple of hours just talk about food.

Are there any restaurants you've wanted to try but haven't been able to get there yet?
I would love to go to Simpatica for dinner; we have been for brunch and loved it. They do that dinner, kind of like ripe, reservation-only. I think those guys [proprietors John Gorham, Ben Dyer and Jason Owens] are just great; they work so hard and they're so good and they love it so much; a lot of passion there, just incredible. I had an incredible array of appetizers at Georgio's; the food was wonderful, clean and really delicious; very creative. I love going to Gotham; I think Tommy [Habetz] is a fantastic chef; he's fun and just has fun with the food and it shows.

How important do you think it is for you to know what else is going on in town?
Oh, extremely important. I don't see anybody as a threat, or competition. I might think, oh, too many restaurants have opened, and then I think, well, I was one of them a few years ago, so, who am I to talk about that?
Did you intentionally choose to come to Portland to be a chef?
Yes, absolutely. I came to Portland about ten years ago to do a [truffle] dinner with Philippe Boulot at the Heathman; we knew each other from New York. He took me fishing and visiting a few wineries and I was just… It was just amazing, to see the product and Philippe was so enthused; I could just see in his eyes that it was a great place to be, and even though I was here only for three days, I made my choice to come back.
Are there any ingredients that you have trouble getting here in Portland?
Yeah; absolutely. I've always been wanting to use fresh capers, and I couldn't find it. I just talked to a farmer [in Hood River] who says he's going to try… And then I'd love people to do Belgian endive; you can't find that. [But] we have a range of farmers and they always ask what they can grow; I got one to grow coco blanc beans for us.
This is a two-part question: how do you think Portland rates as a food town, and as a restaurant town?
You're approaching a very picky subject with me here, because I'm not very politically correct on the answer. I really feel that a certain category of food writer in this town is more interested in creating a food scene. A lot of people in the industry say that there is no clientele for high-end restaurants in Portland, and I disagree with that. I don't feel there is enough support from the writing industry especially, to support high-end restaurants. It seems like the restaurants that get the most attention are restaurants that are opened with the minimal amount of money, and they do what they label as "simple food," and it is a bit simple; as far as I'm concerned, way too simple. I think a restaurant should offer an experience, and I think that, unfortunately, there are chefs in this town that open a restaurant on a shoestring, which is not really interesting to sit in, and then offer food that is too simple. Hence, they're creating a clientele that doesn't ask for something a little bit more sophisticated and interesting.
So, yes, Portland as a food town is a good food town; I totally agree with that. But it's not a great restaurant town; there is maybe one or two restaurants in this city that keep me interested to go back, one of them being Paley's. But most of the restaurants that I've tried in the past couple of months that opened, didn't interest me whatsoever. They're just not adventurous; they're a bit more worried about doing something that is authentic than something that is good. And I'd much rather go to a restaurant and have something that is good and not necessarily authentic.
In other words, some of the new restaurants are asking to be liked for being quirky or authentic as opposed to being excellent?
Absolutely; absolutely.
Do you think the food writing in Portland tends to be supportive as opposed to being critical?
I agree with that. It needs to be supportive anyway; if you have an interest of being in this town, then it's normal that you want to support anything that's happening. However, I think that some writers… I'm not sure what I should say. [Sighs.] I just want to say that most of the places that were very high-end in this town failed, and they didn't fail only because of the clientele. I think the clientele is very, very ready to have a few high-end restaurants. Maybe not too many, because we are still a small town; this is not New York or Chicago, but if those high-end restaurants would get more support from… from some writers, let's put it that way, they would be a lot more successful; they would be able to make it.
As you mentioned, there's a faction that claims Portland can't financially support high-end restaurants.
Ah! There's so much money in this town, and there are so many people that not only are wealthy, but are also foodies. They're going to go to France and they're going to New York and to Chicago and they're going to come back and say, my god, I went to Bouley or Trotter's or Garnier in Paris and it was fantastic.
They spent $200 on dinner there and not here.
Exactly. [And] I think it's because writers are not doing their jobs… You need more support, more serious support. I feel sometimes that writers in this city are more worried about creating a food trend, meaning, shoestring restaurants with simple food. I'm not criticizing that food; that food is good; I'm happy with the fact that Apizza Scholls is there, and Ken [Forkish, of Ken's Artisan Bakery] is opening a pizza place, and those are the places I'm going to go the most, but god, I would love to go to a restaurant that is going to knock my socks off.
Are there any dishes you'd love to serve but you suspect the locals won't order them?
Vitaly and Philippe at the Heathman and me, sometimes we sit down and we talk, and I say, god, I put sweetbreads on the menu and I can't keep enough in the house, and Philippe will go, oh, I can't sell them. We are a French bistro, so things that other guys can't sell, sometimes I can; like sardines; I have no problem. [But] we don't sell a lot of high-end things because I want to keep my prices pretty much under $20 for entrees. So, you won't see rack of lamb.
If you could make one request of the average Portland diner, what would you ask?
I'd be tempted to say, be more adventurous, but really, people are; they try new things. I'd love them to spend more money. Get the dessert and a nice bottle of wine! When we opened, my wife and I were adamant that we wanted people to be able to come and have a hamburger and a beer, or a four-course dinner with a $100 bottle of wine, and you can do that… Maybe if I have something to ask, it would be to have people order more courses, not just an entrée and salad, but to have an appetizer, a little cheese; I would really like that a lot more, because it's really more of an experience.
What is your dream restaurant and are you running it now?
The one thing that's difficult for us is, we're across the street from the Keller Auditorium, so when there's a show, we end up doing 120 covers in 45 minutes, and it's really… that's one aspect I don't really like. So my dream restaurant would probably be what I have now, but in a different location.
Still in Portland?
Absolutely. I love Portland.

What advice can you give to anyone considering a career as a chef?
Really think about it. I see a lot of people that are in this industry and they don't like it, and they're wasting their time, because you know that within two, three years they're going to be selling real estate.
Any funny or terrifying cooking stories to share from your career?
Have you seen that book, Don't Try This at Home? That's the story of top chefs all over the world, telling horrible stories. I do have horror stories. One story that I witnessed, I wasn't the chef; I was just visiting, a girl was cleaning the [stove] hood, and another cook was cleaning the fryer, so he put the boiling oil in the stock pot, and she stepped down and her foot went into the frying oil that was just burning hot. No more bathing suits for her. That's kind of the worst; it's pretty bad. Personally, I had a lot of things happen. I think the most funny was, when I was in New York, I was a chef for a catering company… in December we were having about four or five parties a day, everything off-premise, and one time, we were doing an opening of the movie She-Devil; I was going to the Museum of Moving Image in Queens, and we had another party [in] downtown [Manhattan], and when I got to the party, I opened the back of the truck and realized I had the wrong truck.

Did you serve the other food?
No, we made it, we switched. We made it. We always make it.
Update 10-2011. Pascal is no longer involved with Carafe, but has opened Milwaukie Kitchen & Wine at 10610 SE Main St., in Milwaukie. (503) 307-8189. Our thanks to Pascal for taking time to be interviewed. Food Dude
Nancy Rommelmann is a frequent contributor to the Los Angeles Times Magazine and Bon Appetit; lead baker/bottlewasher for Ristretto Roasters, her husband's coffee roastery and cafe in NE Portland