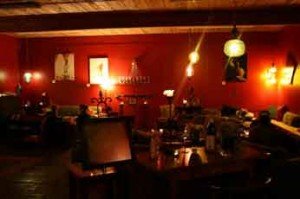 Erin-Marie Palmer was the owner of The Wine Cellar in Beaverton as well as Shaker and Vine in Portland [ed 2016 – now closed]. Palmer is best described as a feisty, well-spoken local wine expert who has no qualms about expressing her preferences for what makes a great glass of vino. Shaker and Vine is a quirky, hip reflection of this passion set in what is otherwise a very unremarkable strip mall. Palmer took some time out from her schedule to answer questions for Portland Food and Drink about her viewpoints on the local wine industry and how she came to be so knowledgeable.
Please tell us a little bit about your background in the wine business:
When I was little I dreamt of having dinner at my friend's homes; homes where the TV was on, hotdogs were served with soda and chips and there was some sort of frozen sugar treat for dessert. I had these dreams while sitting at my parents' large dinner table discussing politics, religion, and social services over a glass of Oregon pinot noir and some sort of hard-to-pronounce Italian dish served with homemade bread and chased with a fresh batch of crème Brule. Oh, how hard my life was! My parents, both well educated and successful business people, believed in seated meals engaged in conversation; and seemingly appreciated that conversation always flowed better with a good glass of wine. From an early age, my sister Shan and I would sip our glass of wine (served in tiny liquor glasses) and listen to my father, the scientist, talk about winemaking and viticulture while my mother, the artist, would sketch wine labels for the local wineries in Eugene. Wine was a language we understood as well as we understood Catholic mass delivered in Latin, it was our family's language and, like all languages, we became more and more fluent over the years.
By 25 years old, I had landed an amazing job working in software. I was enjoying wine more than ever, as I finally could afford the quality of wine we'd be taught to enjoy. The company I worked for went through 3 major rounds of layoffs after 9/11 and I was very grateful to have stayed on. Sadly, what I didn't understand was that by the time I got laid off there were no jobs left for a young sassy chick in the software business. That was that. I was no longer part of the dot-com glory days. It was time to get a job. As many Catholic families do, mine took a majority-rules vote and threw me into the wine business. After all, someone had to work on the inside to snag us a few VIP winery tours a year.
I started in 2002 as a private cellar manager working with high-end cellars in collector's homes and offices. In early 2004 I opened my first wine shop, The Wine Cellar in Beaverton, and quickly became immersed in wine sales and education. With that shop going strong, I opened Vino Vixens, the naughty, edgy wine shop; she's so fun to hang out with.
What is the idea behind Vino Vixens? Talk a little bit about the atmosphere of your shop and why you think it makes a difference in how people enjoy the wines you serve. I've read you specialize in picking wineries that use organic practices for producing wine. Can you explain a little about this business choice?
Vixens was born of many needs; the first of which was that Portland desperately needed a hip bar that's comfortable for the non-smoking 30-60-ish crowd. The second was that Portland is only minutes from some of the best wines in the world and we should show our support for their businesses. The third need was to continue to run businesses that are values-based to show other business owners that it can be done.
As a seasoned business owner, I know the push-and-pull of profit and doing the right thing; and that sadly, they often are diametrically opposed. However, I believe that they can work together.
To meet the community needs, we opened in an area of town that I've heard referred to as "sketchy". My projects-business partner, Loren Davis, has worked tirelessly to restore a mall that was falling apart and all but abandoned (Davis and I are not partners in Vixens, I own this separately). This includes his "no tagging policy" which has us out painting over tagging (graffiti) on the day it appears. By selecting a part of town that needs fresh life, we help attract other investors and business owners, which is good for the neighborhood property values and reduces crime. Additional community values are demonstrated by our choice to join organizations like PABA (the local chamber of commerce that is dedicated to businesses that are owned, operated by, or stand in support of the gay community) and POVA (the visitors association which helps to attract quality conventions to the area).
Our global view includes recycling. We recycle all empty wine bottles, boxes and other materials. Most business owners don't do this because it takes time, which is an added payroll expense. We do it because we are obligated by our existence on this planet. Also, our shop was built using nearly all reclaimed or recycled materials. Furniture was found on Craigslist, the wood floors are original wood from the original Jim Beam distillery in Kentucky, nearly all wood is salvage, lighting is antique, and even the paint is recycled! The bar is strictly non-smoking for the benefit of the wine and our guests.
Most of the wineries we work with are family-owned, boutique-style (less than 2,000 case production) and most feature organic and biodynamic farming and winemaking practices. We believe if we work with other businesses who have made a commitment to excellence that we show support in a way we can feel proud of and that we help guarantee that good will always win out over evil.
What is your general impression of the wine scene here in Oregon? World-class or third world?
Oh, no questions exist in my mind that the Oregon wine scene is world-class! This is the most amazing community to be a part of. Our wines are terrific and only getting better. As I said, as a 30-year consumer of Oregon pinots, I've seen it all. The good, the bad, and the occasional ugly Oregon wine; but it always moves forward. We always learn from past vintage mistakes, from poor vineyard management choices, from chemicals and clear-cuts and we've gone from struggling to strong and amazing. Our land is terrific; with the diversity of soil types and the abundance of micro-climates, we are positioned to grow countless types of grapes that will be impacted in a variety of ways by the land. To me, even more exciting than the grapes and the land is the quality of the winemakers. The quality that you can judge in their fantastic wines and the quality of their spirits. We have the most incredible people working at all levels of the Oregon wine industry.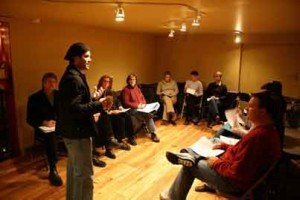 When I travel around the country teaching wine classes and people ask me about the wine culture out here I'm always tempted to lie to them, to downplay how perfect it is because I don't want them to come ruin it; but more so I want them to know WHY Oregon is so great so that they will spend the money on our grape juice. I want them to know about how Oregon winemakers have helped each other out countless times during sickness and even death. I want people to know how often winemakers work in a shared facility and work as a team; spending numerous nights behaving as crazy insomniacs so that each one of them can achieve their best vintage ever. I want them to know how often one winemaker will lend out their facility to a start-up winemaker so that that person has somewhere to show their wines over the big release weekends. I want them to know that most Oregon winemakers use organic farming practices and wine-making practices because it's right; not because it's fashionable. There is so much camaraderie in the industry on all levels that I think of us as one big family. Find another industry where a bad day is made better by more work or where people hug the first day they meet. Tell me where else people take their dogs and children to work. Where else can you call up your friends and have them help at the drop of a hat because it's harvest week. It's not even all of the wine business; many parts of the world including most of North America, have lost the romance and joy of winemaking; it's Oregon. Oregon has embraced this wonderful culture and when you can pair that with great juice it's just a win. It's perfect and getting better.
What are some of your favorite Oregon wines and why?
It's too hard to pick one favorite Oregon wine. For bubbly, Buzz and the gang have done a great job with Domaine Meriweather. Their sparking is so pretty and so bright and such a great way to start a Sunday morning or to accompany a Dungeness crab feast. For Oregon Pinot Noir, I am a huge fan of Matello's owner and winemaker Marcus Goodfellow's Hommage A & D. This wine is so lovely you hate to swallow it; instead just taking the tiniest of sips and letting it melt in your mouth. Crafted to complement the fruit not show off his winemaking muscles; Marcus has nailed this both in quality and in price (retail $28). For Oregon Pinot Noir Dry Rose there's no comparison to what Dean Fisher is doing at ADEA. Shattering the industry idea that rose is boring and light, Dean-O throws down with a full-bodied dry rose that just begs to be paired with sushi and a good book. For whites, the tiny production from Thistle is a treat. Ex-banker, Jon Jennison, makes a tasty Pinot Blanc that makes scallops dance for joy.
Are any restaurants in Portland getting the marriage of food and wine right? If so, who/ why?
This would imply that I don't work 7 days a week and actually get out. Sadly, I don't get out much and when I do, I tend to take my own pick of the night and pay the corkage fee. What can I say? I'm a purist; I want what I want.

In your opinion, what makes a perfect glass of wine?
I've been on record for years that the most perfect glass of wine I've ever had was an '86 Perrier Jouett Fleur Champagne. While not the most expensive bottle I've ever had; it was the perfect way to have a Champagne of such pedigree. I was in a barn at a friend's house, cleaning out the cobwebs in preparation for a barn party. There we were, filthy, with yellow rubber gloves on our hands listening to Lyle Lovett, drinking PJ from paper cups. The laughter and conversation of the night was so perfect and there we were, committing one of the biggest sins in the business; drinking high-end bubbly without proper glassware. I'll tell you what; I will always take the glass of wine that comes in a paper cup when I'm camping with my husband and children, or the swig straight from the bottle when I'm at the beach with friends or the glass thieved from a barrel at the winery. It's the glasses of wine that freeze as photos that make my top 20. I've forgotten all the black-tie dinners and formal toasts, but the nights when we've laughed until we've cried are the ones that I love.
Nino Marchetti joins us here at An Exploration of Portland Food and Drink via the San Francisco Bay Area. A transplant with his wife in the last year and a half, Nino did a weekly food column for a newspaper that focused on profiles of local farmers, restaurateurs, winemakers, and others as well as food trends.
Upon moving up to the Portland area, Nino began writing about the local food scene. He has contributed to Northwest Palate and is a regular contributor to The Oregonian as well as PDX Magazine.