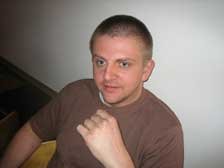 Since returning to Portland in 2002, Morgan Brownlow has seen his star rise higher, faster, than any local chef in recent memory.
After two years with Ripe and Family Supper, he became partner and founding chef at Clarklewis, which won the Oregonian's Restaurant of the Year for 2004, barely three months after it opened. More, according to his peers, when Brownlow is on, he is the best chef in Portland.
The "on" part ended in December, when, after a three-month hiatus from the restaurant, Brownlow left the Clarklewis, for good. Currently without a kitchen, the 35-year-old, fifth-generation Oregonian is both ruminative and deeply romantic when it comes to food; his hands draw pictures in the air as he describes a dessert of "salty Marcona almonds and big bowls of little clementine oranges for people to peel and leave the peels on the table." He is speaking a still life, seeing in his mind what he's done, what might yet be done.
Over a cappuccino, Brownlow explains why he didn't finish cooking school, what "danky" means, and whether he'll be cooking anytime soon in Portland.
When and why did you start cooking?
I come from a very social, eating and drinking family, which included just glorious smells around the house; parents cracking bottles of wine and candles lit. There are deep roots in my family, as far as people cooking. I used to prep cook for my dad when I was a kid, and I did my first catering gig with my mother when I was 11. It was down south of Wilsonville, on the Willamette River; a wedding. I did a lot of the hors d'oeuvres.
When did you know that would cook professionally?
I was doing a lot of drawing and sketching of food before I started cooking in restaurants. Then I turned 15 and my dad said, 'Well, it's time you get a job.' I managed to find a little teeny brand new restaurant on the Beaverton-Hillsdale Highway, called the Windmill Inn. I walked in, and the chef said, "What do you want to do?" I said, "I just want a job." He said, "Start tomorrow," and the rest is history. He took me under his wing; I was still in high school. He was into a lot of the fancy, culinary-competition show-food of the time, which really played well into my artistic sense, and that's kind of what launched me into it.
How old were you when you left Portland?
When I was 19; I moved to Sun Valley, Idaho and worked in a 25-seat restaurant. Then I came back to Portland and worked at a new concept [restaurant] with horrible food. There was a French master chef involved, and again, I was still kind of involved in the culinary competition stuff, and that's when I had the opportunity to go to Europe to the Culinary Olympics, with Oregon Culinary Team, which we started that year. When I got back from Europe and had been exposed to food and culture over there, I realized Portland was too slow. This was pre-Zefiro. Basically, it was, seasonal vegetable/pick your starch. Steam table, rice or potatoes, sautéed vegetables. That's what Portland was stuck in. I had friends in San Francisco who said things were happening down there in the food world. I threw a party, quit my job, and was in San Francisco ten days later with $60 in my pocket.
Who'd you start working with down there?
I started working with Cory Schreiber. Cory was a Portland boy, as well. That was at Cypress Club, beautiful, beautiful multimillion-dollar restaurant. Working with Cory was amazing; he was the first chef that really taught me about cooking from the seasons and sourcing local products. That was the biggest inspiration.
Cory shortly thereafter moved back to Portland and opened Wildwood. I stayed as sous chef, and then I went just down the street to work with Traci Des Jardins at Rubicon, right after she got her James Beard [Rising Star] award [in 1995, for chefs under the age of 30]. Traci's food was kind of French-American; very refined, but pure; a lot of finesse; just beautiful exposure to doing some finer food.
How long were you cooking professionally before you felt ready to be chef?
A lot of times, chefs get the notion when they're young that they're ready for more than they can bite off. I held my first true chef job when I was at Stars in San Francisco. I was 28. Not to say I didn't perform the job well, but there was a lot that I still needed to learn. For me, polishing that off was, having an experience with Paul Bertoli [chef at Chez Panisse and, later, Oliveto] and slowing my mind down, and having him make me think more intimately about what I was doing with food.
You mentioned earlier that you came back to Portland, in January 2002, because you wanted to show Portland what you'd learned.
Exactly. Every chef always wants his own restaurant. The Bay Area was supersaturated with restaurants, and it takes a lot of money to open a restaurant in the Bay Area. I wanted to come back to Portland to slow life down a bit, but I [also] wanted to expose Portland to what I'd learned and give Portland a little bit of me. I sent out about 100 resumes, pretty much to every restaurant in town. There were only two people that actually contacted me: Genoa contacted me, and Michael Hebberoy [of Ripe] contacted me. He was like, "What the hell are you doing in Portland?"
Can your style of cooking be attributed to a specific style or restaurant?
My time in Oliveto was a huge influence on me, even though I was dabbling in the style of what Oliveto was doing prior to being there. When I spoke with Bertoli the first time, he was like, "What do you want to learn?" I told him, curing Italian meats and the art of making balsamic, two very unique things; there were very few people in the United States that are actually masters of doing this. I'm always in my life searching for new things about food that I can learn and strengthen and [use to] deepen myself.
Did you train professionally?
At 16 or 17 I was enrolled in the American Culinary Federation apprenticeship program. I found it to be kind of a joke; especially the schooling part; going to a class and having someone tell me how to hard-boil an egg. I already knew how to hard boil eggs at that point in time. A lot of people wanted me to go to CIA in New York, but what I realized, especially for me, being an artist type, I'm very hands-on; I absorb information in the instance, as opposed to reading about the instance.
Is there any chef, living or deceased, who you would love to have the chance to learn from?
I always thought to fully understand Italian cooking you needed to go back to the roots of it, and for me, that's Roman times. I'm definitely into meats and the kind of carnal, primal aspect, so that goes into Pellegrino Artusi, [and his book], The Art of Eating Well. He's just an old Roman guy; very simple; that simple refinement is kind of the basis of what modern Italian cooking was extracted from.
You don't have a kitchen right now. Do you want to talk a little bit about what's been going on since you left Clarklewis for good in December 2006?
I took three months off for the first time in 20 years of cooking, which was probably the most beautiful thing. I've been spending a lot of time working in multiple situations where I'm creating food. [I went] to Kurtwood Farms on Vashon Island; it's one of the only organic Jersey raw cow's milk producers in the United States. [The owner] believes in having the land itself sustain itself, so the only thing that comes onto the land is salt, black pepper, Maker's Mark and wine. We got 20 chefs from Seattle and did a whole hog slaughter/butchery class where we took down a very large, 400-pound-plus hog, named Jackson, and proceeded to teach these chefs in Seattle the essence of the whole pig itself. Which relates to a new venture I am going to be working on, which is starting to write my first book. I have such a close connection to hogs and butchery; I am going to do my own perspective on this matter.
On top of that, I did another gig at Lark, which is a restaurant on Capital Hill [in Seattle]. Jonathan Sundstrom is the chef there; totally great guy. I met him through Nicky's Wild About Game competition; he won it the year after I did. He asked me to come up last year to do a Beast Feast with him. This year, I did another. It's basically a dinner of innards, using all the crazy random cuts from the animal.
You mentioned earlier that there have been a lot of people approaching you here in town, about consulting, about chefs' positions.
I'm sure a lot of people would love to eat my food in a restaurant right now, but I'm focusing on some different things. I would never replicate what I did at Clarklewis. That happened, and it's carrying on. But for me, it would be more a reemergence than showing Portland another side of me, which they haven't seen yet. I've had at least six solid offers from chefs and restaurateurs in town who've wanted me to be involved in a new venture, but I'm really not wanting to jump into a full-on restaurant right now. When I turned 30, I really decided, I wanted to live more and work less, and a restaurant consumes a lot of your time.
There is one gentleman I've been speaking with for about six weeks. I'm going to be doing a chef-in-residence type scenario with him and this new project. Which will basically entail working with the chef in partner that he's in the process of hiring; to bounce creative ideas off, and to give me a venue to do classes for the public and do intimate events for the public, also.
Speaking of events, several weeks ago, you went to Seattle to do a 'one pot' with Michael Hebberoy. How did that go?
I spent a lot of time [at his house] reading books and staring out at that lake [Lake Washington]; sitting there, drinking coffee and watching a bald eagle fly up. It's kind of paradise. Michael and I always talk in lingo; he knows how I think. I was like, "Do you want danky Spanish or do you want Artusi Italian?" He was like, "Let's do danky."
I don't speak the lingo: what's "danky"?
Kind of dirty. So, I did Spanish-style little fishes to start, with cumin Arbequina olives and some nice big loaves of crusty bread on the table. I did a little chicory salad with lots of anchovy, celery root and shaved raw onion. I did a marmitako, which is a classic fisherman's stew, which actually means, 'from the pot,' which I thought was appropriate. And then very simply for dessert, some Spanish cheese in a reduction of sherry, some salty Marcona almonds, and big bowls of little clementine oranges for people to peel and leave the peels on the table. And I skipped a course: clams, kind of salty, garlicky, briny, cooked with sherry and wild nettles. I did that for two nights.
Was it like getting together with an old girlfriend, hanging out with Michael?
It was pretty easy, yeah. [Laughs.] We know each other well, so, there was no worry or unknown expectations. He always let me do what I wanted to do, and there's a lot of trust involved in that. There's a lot of respect there, and he gave me an opportunity right now that… those opportunities aren't happening for me in Portland right now, outside of taking a full-blown chef job. I'm good with commitment, but I need to explore more right now.
What aspect of your daily routine do you most enjoy, and least enjoy?
I most enjoy butchering, and the creative aspect of writing a daily menu, and letting the product inspire me. That's why I love the seasons; there will be that one day when you get that one special product that will make you sing and smile. That for me is what's so exciting about working with people who really put so much love and passion into growing something, and then you get to put the same emotional energy into it as they do. What's least enjoyable? That is a tough question; probably the politics and finances of a restaurant or business. I'm a chef; I love cooking. When you're a restaurant owner or a manager, there are a lot of different things that don't make it as glamorous. It just takes away from what I really want to do, which is, make people food.
What are your favorite ingredients to work with?
Of course, pork. It's been written that I have a fennel pollen fairy; I haven't seen the fairy for five months or so. I've always made a joke that I want to start Olive Oil Anonymous help group for olive oil addicts, because I love olive oil.
Are there any ingredients that are overused? Or, ingredients you would just as soon not work with?
Tomatoes out of season.
Is there a dish that as far as your concerned could be blasted into space and no one would miss it?
Yeah, it would be stacked food. I always chuckle about the fact that you have to knock your food over first to eat it. Obviously, me being a kind of purist, I like food to show its beauty itself, and not be over-manipulated. When I worked with Bertoli, it was about, having a conversation with the food, and the food will tell you what it wants. You can't tell the food what it wants; it doesn't work that way. Not in my book.
How do you ensure quality control in your kitchen? Are you a taskmaster, making sure every recipe is followed to the letter, or do you allow your cooks to riff?
I'm a very technique-driven person, and that technique comes from the heart and the passion. To fully achieve that bliss point with cooking, it needs to come from the inside. I don't use recipes; you have to feel it. As far as the taskmaster, I am very adamant about tasting all the food and really bringing it to that point where it makes you sing. I always told anybody working for me, never call me chef, or sir; my name is Morgan. You don't have to say you're sorry; we're just making food here. And, never take anything personally. I'm sure there are some individuals who've worked for me in Portland that don't particularly like me; maybe it's a conflict of personality. But I do know there are a lot of great, amazing people who have learned a lot from me.
Such as?
David Padberg [Chef de Cuisine at Park Kitchen] would be a superstar on that. When David came to work for me at the beginning, he was amazing as it was, but I think I guided him a little, and he has amazing technique and palate and I respect him pretty highly.
Which part of your body hurts the most after a shift?
If it's a butchery day, probably my shoulders, from carrying a hog into the restaurant.
Do you cook at home and, if so, what do you make?
I really don't cook at home a lot; I like to go out.
Where do you go and what do you eat when you're not working?
I like ethnic food, mainly because I don't cook it professionally and they do it better than I do it. I've actually become a Pok Pok junkie. But I also like trashy food. I actually have a – I hate to say this – I have a chicken strip fetish. [Laughs.]
Where do you get your chicken strips?
Um, there's this little lunch spot I go, where I get a chicken strip sandwich that has bacon on it and it's kind of like a club sandwich.
Is it… Carl's Jr.?
No, it's called the Space Room.
Oh, the bar.
Yeah. I just like to balance out the good with the bad; the evil, and the good.
What local restaurants have you wanted but have yet to have a chance to try?
There are a lot of restaurants that I really want to try in town. But of course, that's all financially involved. I really want to check out Troy's place, Lovely Hula Hands. It's funny because I was looking at his menu and I could see a progression in him, which is nice to see. I haven't had David's food at Park Kitchen, so, I need to get in there and say hello to him.
How important do you think it is for you to know what's going on, food-wise, in Portland?
I'm definitely curious. Portland makes slower, subtle changes. I'm on the sidelines watching how things are changing. It's fun being on the other side because, when you're a chef, there's always a spotlight on you. It's kind of like being a famous movie star, and to escape that, it's nice; to not be the focus.
Have you actually felt yourself stepping out of the limelight?
I have. But there are also fewer expectations involved. I hold myself to high expectations when I'm in a [working] situation. I'm a perfectionist. That's why right now I'm perfecting other things about food. I'm going to make however many variety of cheeses I want to in the next few days, on the farm.
Do you have a favorite food memory?
Yes. I was in this market in Frankfurt when we did the Culinary Olympics. It's called the Kleinmarkt, and it's off this little square in kind of an old part of Frankfurt; huge amazing market. First time I'd ever seen a market of this nature, in my life. There are a lot of exotic things you can't buy in the United States, because of US regulations, and I came across this fruit that I thought was totally bizarre. It's called a mangosteen. The guy at the stand broke one open for me and I tasted it and thought it was the most amazing thing in the world, not to mention the structure of it. So I bought a dozen of them, and then I left the market, sat on a bench, and proceeded to draw the mangosteen and do rubbing from it; basically, have it come to life on paper, because I knew I couldn't bring it back to the States, so I knew I would always have a memory of it. Last time I had one was actually in Vancouver BC; you can get them there.
Are there any specific ingredients you have difficulty getting here in Portland?
That would be fresh citrus. I got really spoiled with that in the Bay Area, where citrus in the winter is all around you. I'd have people stopping by with grocery bags full of Meyer lemons. Unfortunately, citrus doesn't grow in Oregon in the winter, or, not in any kind of quantity that you can make it work in a restaurant.
How do feel Portland rates as a food town?
I think Portland has made it way high lately… Out of Portland and Seattle, I'd say, they're neck and neck, with Portland edging ahead, what with all the recognition that chefs lately have been bringing to town. I'd say Portland is about an 8 right now.
How's the gossip in this town?
Portland has a lot of gossip. But, living and growing up in Portland, I kind of see the angle of that. People talk. Is it good? Well, it's not bad. I always love opinion; I like people saying their opinions, and if that brings gossip, that's fine in my book.
Are there are dishes you'd love to serve but suspect the locals won't order them?
I often have done dishes that I know there will be only one or two people out there that will really understand it. That's the fun thing. Doing something like, a pig ear and watercress salad, or fried pig's brains.
I'd order the first in a second, and the second, I'd make someone else at the table order it so I could taste it.
Actually, pig's brains are almost a little nondescript in flavor. They're about 92% fat, so they're very creamy; like the creamiest sweetbread you've ever had. I had this regular [customer] who brought in their Italian family, an old Italian [woman], and I asked her, "How would you like them done?" and she said, "There's only one way to prepare them." Very simply, dredged through flour, then egg, and fried in good olive oil, as simple as simple can be.
If you could make one request of the average Portland diner, what would it be?
To understand the cost of buying organic. I think sometimes Portland doesn't understand that some restaurants spend more money purchasing organic, as opposed to other restaurants that purchase conventional products. There's a lot of price comparison, but you have to look at, at least a 20% increase in price all across the board on menu items when you're purchasing organic.
What is your dream restaurant?
My dream restaurant is a farmhouse, close to the city, that has land where I am getting my dairy; I'm getting fresh eggs right there. There's a huge garden. It's tranquil; it screams beauty. To me, it's ideal. Is it a fairy tale? Who knows?
Running your own kitchen means long hard hours, sweating profusely, and dealing with petty bickering among your employees. Is it worth it?
Of course, [but] it takes a certain type of individual to be in the restaurant business. It's not for everybody. You have to have to have a definite, creative, kind of unique funkiness about you to really make it work for you. There's always going to be bickering; that's human nature. But what it comes down to is, being passionate about it. That's why you do it.
What advice can you offer to anyone considering a career as a cook or chef?
Be wary of culinary schools; some are better than others. It would be a shame for you to realize, you've spent way too much money to get something you could have gotten working closely with somebody. Think long and hard about it. You don't become a chef to be rich, unless you're working for some huge corporation; you become a chef because it's what you love to do. Get close to somebody that will take you under his or her wings and guide you in the right direction, and work for people who will teach you. And don't stop at one; absorb all that you can.
Do you have any humbling or humorous anecdotes to share from your cooking career?
Humbling, I think, is when you sense a bit of failure. Or, when maybe you're perceived as being a devil. [Laughs.] I have one kind of funny occurrence. It was when I was cooking at the James Beard Dinner in New York, with clarklewis, and I was doing one of the classic favorite dishes at clarklewis, risotto alla pilota. It was one of my courses at the Beard House Dinner. I handed a pan of pilota, and it was this crazy Le Creuset or Cuisinart pan that had a totally wrong-sized, wrong-shaped handle, so when I picked it up, it immediately spun upside down and dropped the whole pile on the floor. Luckily, it wasn't all of it, but it was one of those moments when you're just like, "Oh… shit."