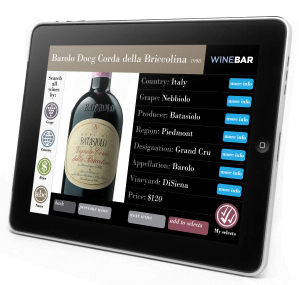 The Plethora of Information Included on an iPad Wine List Drives Sales
At Bone's, Atlanta's most venerable steakhouse, a clubby place of oak paneling and white tablecloths, the gold-jacketed waiters now greet diners by handing them an iPad. It is loaded with the restaurant's extensive wine list, holding detailed descriptions and ratings of 1,350 labels.

Once patrons make sense of the touch-pad links, which does not take long, they can search for wines by name, region, varietal and price, instantly educating themselves on vintner and vintage.

Since their debut six weeks ago, the gadgets have enthralled the (mostly male) customers at Bone's. And to the astonishment of the restaurant's owners, wine purchases shot up overnight — they were nearly 11 percent higher per diner in the first two weeks compared with the previous three weeks, with no obvious alternative explanation.

Other restaurateurs who are experimenting with iPad wine lists, from Sydney to London to Central Park South, report similar results.
Restaurateurs find not only are patrons buying more wine, but they are buying more expensive wines. Part of this is because of the additional information available on the iPad wine list, including wine ratings by Robert Parker.
Incentient, a Long Island company that makes wine-list software for the iPad, has received orders from 40 restaurants, up from 5 a few months ago, said Jennifer Martucci, the vice president for product development, sales and marketing. Celebrity restaurateurs like Gordon Ramsay and Todd English are among the pioneers. Some restaurants, including Bone's and Naples Tomato in Naples, Fla., have developed their own software.